Ocon 'a bit sad' to see Vettel disqualified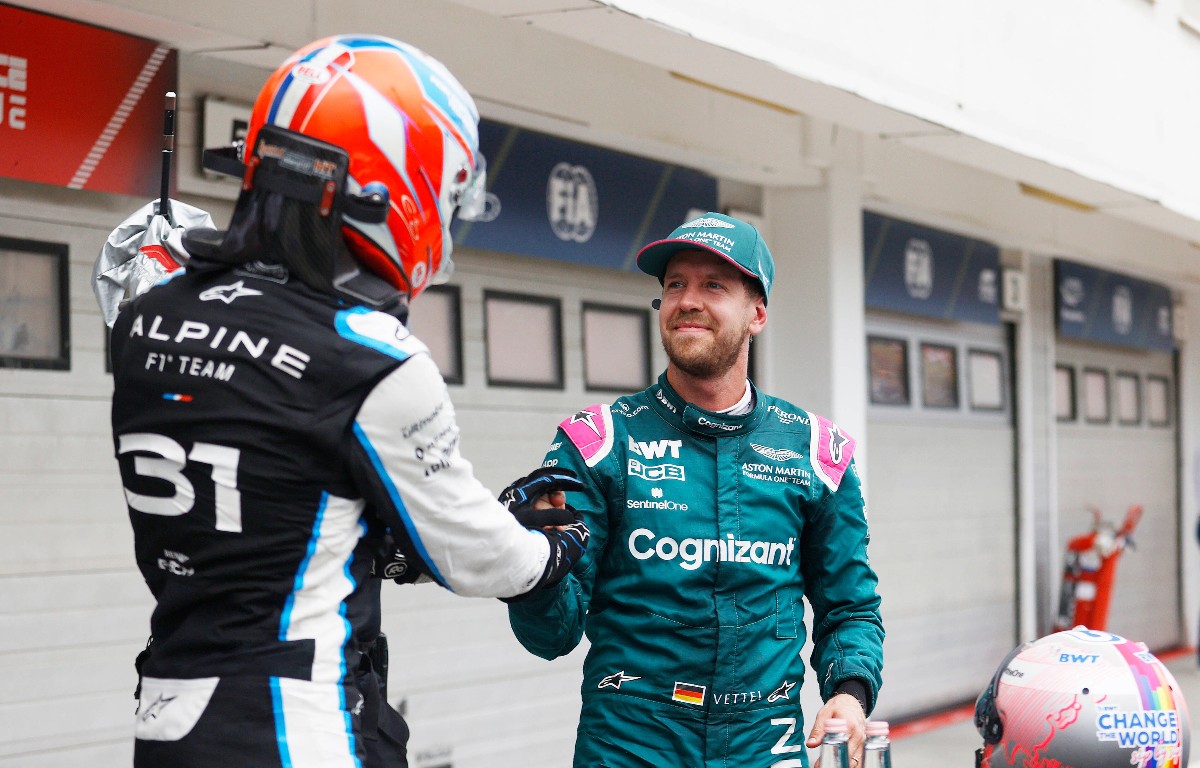 Esteban Ocon says he was "a bit sad" to see Sebastian Vettel disqualified from the Hungarian Grand Prix as he "did such a good race".
Following Turn 1 carnage, the two drivers battled it out for the win in Budapest for the entire race, with the Frenchman just about holding off the German.
While he crossed the line in P2 though, Vettel had the result taken away from him afterwards as the required one-litre fuel sample was not able to be taken from his car.
Aston Martin appealed, arguing there was enough fuel and that data showing there was a fuel pump failure was relevant and new evidence which therefore granted a right to review the decision.
However, while the FIA acknowledged it was indeed new evidence, they stated ultimately there was less than a litre left in Vettel's tank regardless and the reason for that is irrelevant.
"For the assessment of whether or not the one-litre requirement was broken, it does not make a difference why there was less than one litre," said the governing body in a statement.
"There may be a couple of explanations why at the end of a race the remaining amount is insufficient. In any case, it remains the sole responsibility of the competitor to ensure the car is in conformity with the regulations at all times and it shall be no defence to claim no performance advantage was obtained.
"In order to be able to affirm a 'relevant' fact, Aston Martin would have had to present facts that actually more than one litre of fuel was remaining.
"The explanation why this requirement could not be met is not relevant to the decision as to whether a breach of the regulations has occurred."
Torquing Point - The battle for fifth
Finley Crebolder and Charlotte Lines from Planet F1's Torquing Point podcast discuss the close battle for fifth between Alpine, AlphaTauri and Aston Martin as we reach the summer break.
Check out all the latest Sebastian Vettel/Aston Martin merchandise via the official Formula 1 store
Therefore, the disqualification stands, which hugely benefits Ocon in terms of the standings, with Vettel now nine points behind rather than nine points ahead of him.
Nevertheless, the Alpine driver is still sad about the outcome.
 "I am a bit sad for Seb," he said, as per RTL.
"Because he did such a good race and in the end getting disqualified, it's not something we like to see.
"We like to see racing on track and to keep that position after. But that's how motorsport is sometimes. Motorsport is cruel. 
"It's obviously not a great thing to see and a sad end for him. But Seb is coming back from that, I am sure."