Ocon wants to hang P10 tyre on the Alpine factory wall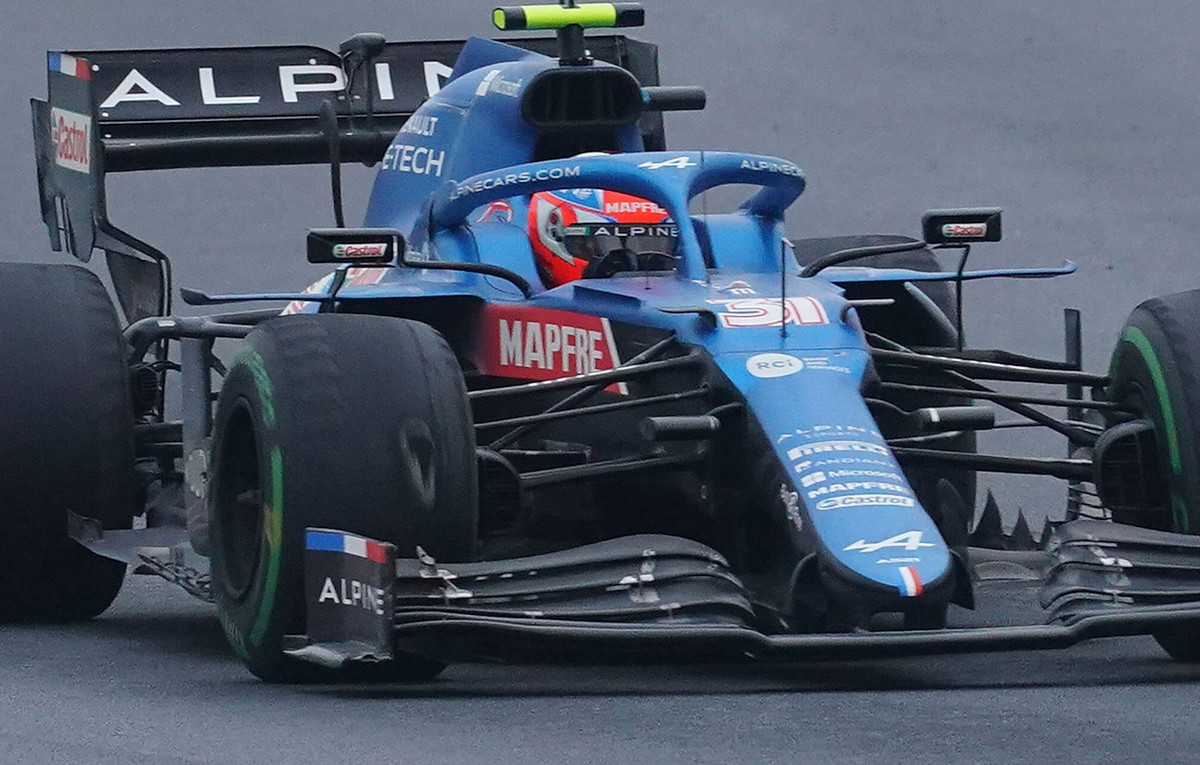 Completing the Turkish GP without making a single pit stop, Esteban Ocon wants to hang his front right point-scoring tyre "on the wall" in the Alpine factory.
While Charles Leclerc and Lewis Hamilton both made an attempt at completing the Istanbul race without stopping, Ocon was the only driver who pulled it off.
And he did so with a point-scoring P10 finish.
Putting in his final lap of the 58-lap race on intermediates that were so badly worn they were slick tyres, it was clear that aside from having no tread, there was also a huge chunk missing from Ocon's front right Pirelli.
The tyre, and the driver, held on to break a 24-year record, the Frenchman the first driver since Mika Salo back at the 1997 Monaco Grand Prix to compete a race, one that didn't include a red flag stoppage, without making a pit stop.
"I don't know when is the last time that nobody had a pit stop," said Ocon. "It was a risk today that we took.
"It paid off in the end because we got a point out of it.
"It doesn't look great in the end, that tyre… I think we'll hang it on the wall in the factory.
"It's good because, as I said, it paid off."
Esteban Ocon was the only driver to go the whole race without stopping, but he probably wouldn't have got much further from the looks of it 🧐#TurkishGP 🇹🇷 #F1

(📸 @OconEsteban) pic.twitter.com/B9Tf0bt4T3

— PlanetF1 (@Planet_F1) October 10, 2021
Get the new look Alpine merchandise via the official Formula 1 store
"There was a lot of discussion, but in my head it was pretty clear that we had to try and get something out of that.
"Last year I had the incident in the first lap, and basically from there on I drove on intermediates the whole race as well.
"So I thought if last year was the case, maybe this year we could do the same, and this year we did one more lap then that, so it was good."
Ocon, though, concedes it was a good thing the race was only 58 laps in length as one more and he reckons he would have suffered a puncture.
"It was tricky at the end, a couple more corners I would've lost that point," he said.
"It's good to have a reward in the end, I'm pretty pleased to get that point for everybody.
"One more lap, I think we would've got a puncture. It was a risky bet. We made it work."
Ocon is up to 46 points for the season, putting him P11 on the Drivers' Championship log.
Eventful weekend for Alonso and Ocon at Alpine
The Turkish Grand Prix was very eventful for Fernando Alonso and Esteban Ocon at Alpine.