Esteban Ocon wants Mick Schumacher to be next Alpine team-mate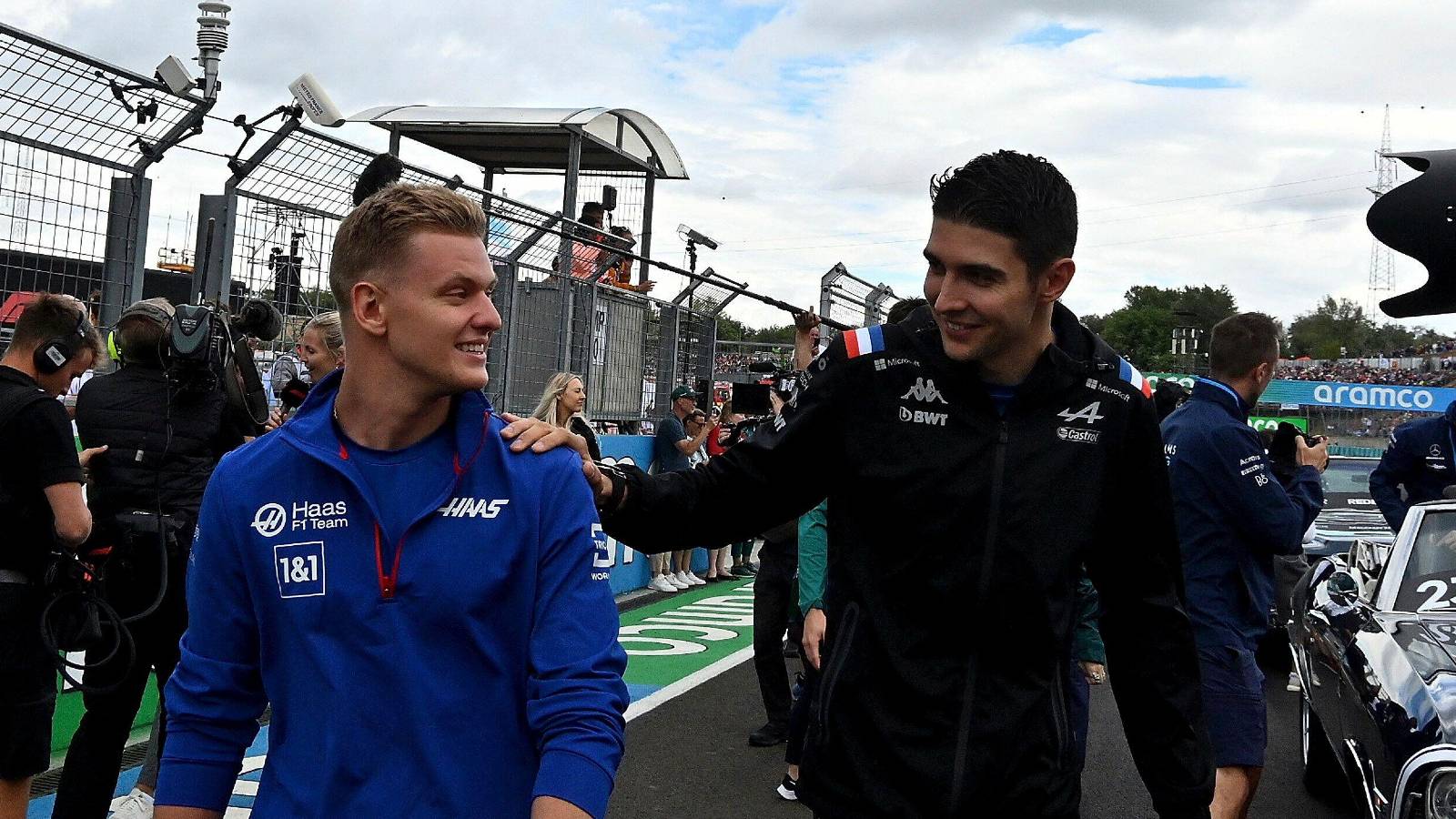 With Fernando Alonso set to leave Alpine, Esteban Ocon would like "good friend" Mick Schumacher to become his new team-mate.
It was back at the Hungarian Grand Prix where 'silly season' kicked into gear once more for Formula 1, Sebastian Vettel announcing ahead of the event that he would retire at the end of the 2022 season.
That was followed by Aston Martin announcing that Fernando Alonso would replace the four-time World Champion, leaving a vacancy to be filled at Alpine from 2023.
It seemed that Alpine reserve driver Oscar Piastri was going to take that spot, Alpine sure believed so when they announced it in a press release, only for Piastri to dismiss this and claim that he will not be driving for Alpine next season.
The French outfit has work to do then if they are to replenish their line-up for 2023, with two names now seemingly standing out.
First up is Daniel Ricciardo, who will leave McLaren at the end of 2022 after the early termination of his deal. It was Renault, the former incarnation of Alpine, who the Aussie in order to join McLaren.
And now Haas' Schumacher is emerging as a contender to make the move to Alpine. He would be Ocon's preferred choice for his new team-mate, even though he is not getting involved in that process.
"I am not really discussing about that inside the team," said Ocon, quoted by The Race, when asked if he wants to get more involved in Alpine's driver search.
"I completely trust Laurent [Rossi, CEO] and Otmar [Szafnauer, team principal], the bosses, they are going to be pretty busy. I am sure they received hundreds of calls for that seat. No, I am not into that at all.
"What I would like is for Mick to race with me, that is clear because he is my good friend, but that is not going into the bosses' ear. I'll let them decide."
Schumacher was also quizzed on his future, since his position at Haas beyond the 2022 campaign appears very much in doubt.
The German racer though made it clear that he is "happy where I'm at at the moment".
The possibility of joining Alpine was then brought up, a team that his seven-time World Champion father Michael Schumacher drove for back in the 1990s, when it was known as Benetton.
Once more though, Schumacher refused to be drawn to comment on the speculation.
"Again, I'm happy where I'm at and I'm looking forward to the next races."
Esteban Ocon and Mick Schumacher would be an exciting combo
If Piastri is on his way to McLaren as has been reported, then Alpine could set themselves up for many seasons to come by bringing Schumacher into the fold.
It took some time for Schumacher's Formula 1 career to get going, P8 at Silverstone and P6 in Austria ending a run without scoring a point that dragged on for far too long, but history shows that once Schumacher finds his footing in a series, he generally excels.
The Haas VF-22 has been rather inconsistent, though Alpine this season have established themselves as a leading midfield outfit alongside McLaren, so should that continue into 2023, then Schumacher would have a predictable level of performance underneath him. He would also be free of the tension which appeared to have built between he and team boss Guenther Steiner.
As for Ocon, while he may not always hit the performance heights that Alonso does on a consistent basis, which is tough as the two-time champ is seemingly as strong as ever, Ocon often enough is right there pushing the Spaniard hard, so has shown Alpine exactly what he is capable of.
Alpine would certainly have reason for optimism with a line-up of Ocon and Schumacher from next season.