The 17 World Champions that belong in an exclusive Formula 1 club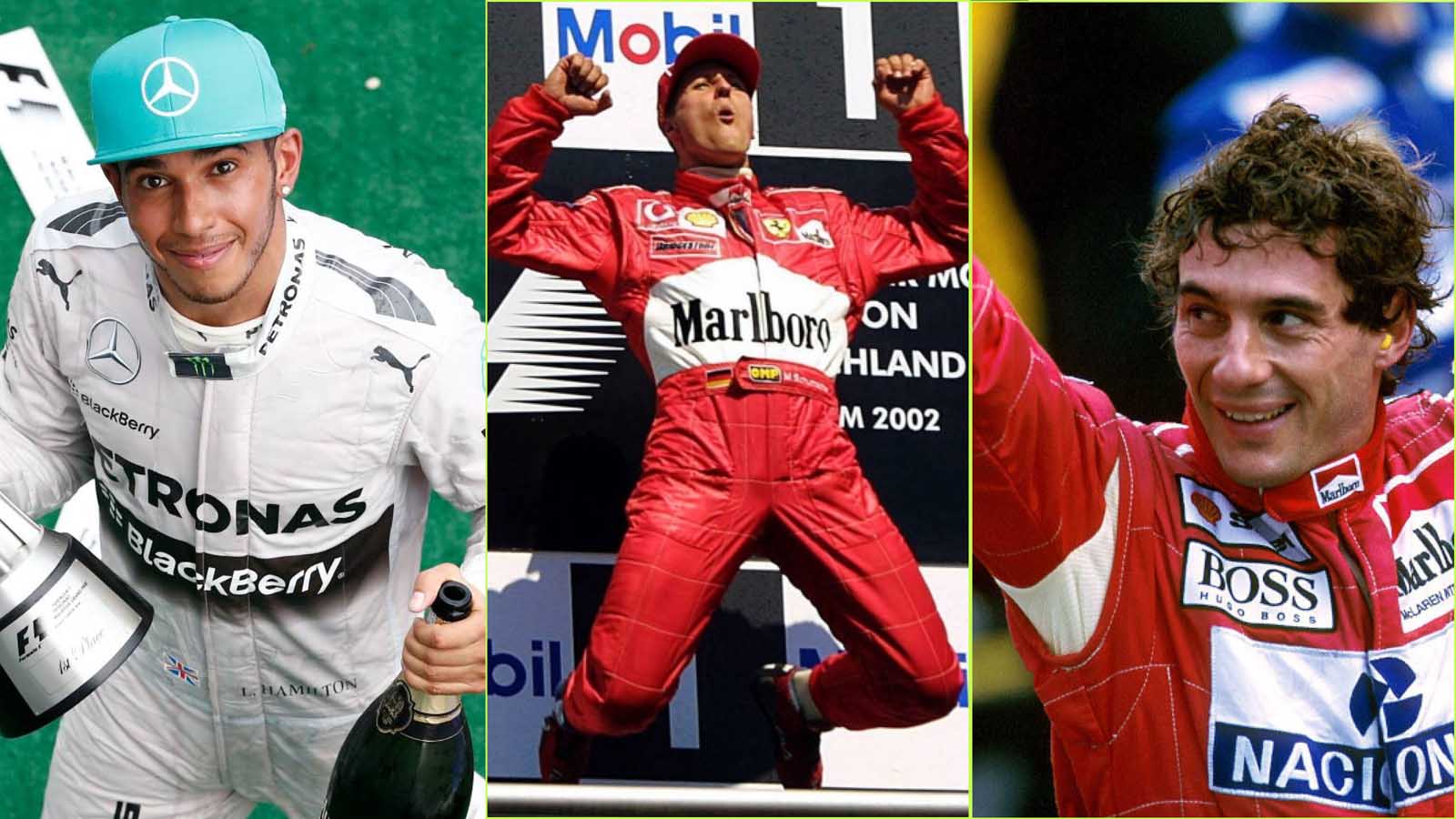 Formula 1 is one of the most prestigious and challenging motorsport series in the world, with a long and varied history.
Over the years, there have been many talented drivers who have competed in F1, but only a select few have become multi-time champions.
Below, PlanetF1.com looks at every driver to have earned the honour of not just becoming World Champion, but going one step further and managing to repeat the biggest feat the sport has to offer.
Statistics correct as of 2023 Miami Grand Prix.
Michael Schumacher – 7 Championships
Race wins: 91 Podiums: 155 Pole positions: 68
Michael Schumacher is widely regarded as the greatest F1 driver of all time, with seven championships, 91 race wins, and 68 pole positions to his name.
Schumacher dominated the sport in the 1990s and early 2000s, winning five consecutive championships with Ferrari from 2000-2004.
He set new highs in almost every statistical category by the time he retired, though many of the great German's records have now been broken by our next driver…
Lewis Hamilton – 7 Championships
Race wins: 103 Podiums: 192 Pole positions: 103
Not only is Lewis Hamilton the only person to have matched Schumacher's title tally, in 2021 he became the first driver to win more than 100 races in his career.
Winning his first title with McLaren before making a much-talked-about move to Mercedes when they were a midfield team, the move to the turbo hybrid era and his team's dominance from 2014 cemented his place as one of the greatest drivers in the sport's history, with six more titles in seven years.
Juan Manuel Fangio – 5 Championships
Race wins: 24 Podiums: 35 Pole positions: 29
Juan Manuel Fangio was a pioneer of F1 in the 1950s, winning five championships with four different teams.
He was known for his incredible skill and tactical approach to racing, which helped him win races even with less powerful cars.
Legendary Formula 1 commentator Murray Walker believed Fangio to be the best driver of all time when he was questioned about the subject, with the Argentine winning 24 of the 41 races at which he saw the chequered flag in Formula 1.
Alain Prost – 4 Championships
Race wins: 51 Podiums: 106 Pole positions: 33
Alain Prost won four championships between 1985 and 1993, cementing his status as one of the greatest drivers of his generation, and his 51 race victories is the fourth-most in the history of the sport.
Nicknamed "Le Professeur" ('The Professor'), he was known for his strategic approach to racing and his famous rivalry with Ayrton Senna.
Prost raced for and found success with some of the most successful names in the sport, racing for Renault, McLaren and Ferrari before taking a sabbatical in 1992, winning his final title a year later with Williams before choosing to retire.
Sebastian Vettel – 4 Championships
Race wins: 53 Podiums: 122 Pole positions: 57
Sebastian Vettel holds the record for being the youngest World Champion in Formula 1 history, wrapping up the 2010 title at 23 years and 134 days old – marginally younger than Lewis Hamilton and Fernando Alonso at the time of their first titles.
Vettel started his Formula 1 career as a test driver for BMW Sauber in 2006, before going on to secure many records during a dominant streak at Red Bull, winning four titles in a row from 2010 to 2013.
Widely regarded as one of the best drivers on the grid, he retired at the end of the 2022 season.
Jack Brabham – 3 Championships
Race wins: 14 Podiums: 31 Pole positions: 13
Jack Brabham won three championships in the 1950s and 1960s, becoming the first driver to win a championship with a car bearing his own name.
He was known for his technical expertise and his innovative approach to racing, while competing in several different series alongside his Formula 1 duties.
Sir Jackie Stewart – 3 Championships
Race wins: 27 Podiums: 43 Pole positions: 17
Jackie Stewart won three championships in the late 1960s and early 1970s, becoming one of the most successful British drivers in F1 history.
He was known for his technical expertise and his advocacy for driver safety, being one of the biggest voices among drivers to try and improve safety standards in the sport.
He is still a regular presence in the Formula 1 paddock to this day, and the 'Flying Scot' remains a popular personality among fans.
Niki Lauda – 3 Championships
Race wins: 25 Podiums: 54 Pole positions: 24
Niki Lauda won three championships in the 1970s and 1980s, overcoming a horrific crash at the 1976 German Grand Prix to continue racing and winning titles.
Fiercely competitive but highly principled, his titanic 1976 title battle with James Hunt ended with Lauda emerging victorious.
He was known for his determination and his strategic approach to racing, before a successful career as non-executive chairman at Mercedes prior to his passing in 2019.
Nelson Piquet – 3 Championships
Race wins: 23 Podiums: 60 Pole positions: 24
Nelson Piquet won three championships in the 1980s, becoming the first driver to win the championship with a turbocharged engine. He was known for his technical expertise and his ability to adapt to new technologies and regulations.
Ayrton Senna – 3 Championships
Race wins: 41 Podiums: 80 Pole positions: 65
Ayrton Senna was a three-time champion and one of the most talented and charismatic drivers in F1 history.
His hard racing approach was matched by his all-encompassing natural gift and thoughtful press conferences which make him one of the most quoted drivers in history.
He tragically died in a crash during the 1994 San Marino Grand Prix, but his legacy continues to inspire and influence drivers today, with Lewis Hamilton in particular citing him as a childhood hero.
PlanetF1.com recommends
Motorsport Triple Crown explained: Its prestigious races, history and only winner
Indianapolis 500: Who are the 13 F1 drivers that have won the Indy 500?
Fernando Alonso – 2 Championships
Race wins: 32 Podiums: 102 Pole positions: 22
Fernando Alonso became Formula 1's youngest ever World Champion at the time and dethroned Michael Schumacher when he won his first title back in 2005, and he followed that up with a second title in 2006 in a titanic battle against the German great.
He has since come agonisingly close to adding to that tally on multiple occasions since. With only a handful more points across 2007, 2010 and 2012, we could easily be talking about Alonso as a five-time World Champion – and he has long since developed a reputation for taking his cars well beyond their capabilities.
He took a two-year sabbatical in 2018 and '19, in which time he won the 24 Hours of Le Mans twice, and has had three attempts at the Indy 500 as he went about becoming only the second driver to complete motorsport's Triple Crown, but despite 'only' having two titles, Alonso is widely regarded as an all-time great in Formula 1.
Alberto Ascari – 2 Championships
Race wins: 13 Podiums: 17 Pole positions: 14
The third World Champion in the Formula 1 era, Alberto Ascari took consecutive titles in 1952 and 1953 while driving for Ferrari – he and Michael Schumacher remain the Scuderia's only back-to-back World Champions.
The 1952 season was particularly dominant for the Italian, taking pole position, victory and the fastest lap in five consecutive races and 304 consecutive laps in the lead – a Formula 1 record which stands to this day, as does his record of seven fastest laps in a row at races.
A versatile racer who also competed in motorcycle racing before switching to cars, Ascari died in a test session for Ferrari at Monza in 1955, aged only 36.
Jim Clark – 2 Championships
Race wins: 25 Podiums: 32 Pole positions: 33
Widely regarded by his peers as one of the greats of motorsport history, Jim Clark was a multi-discipline driver, though his career-long association with Lotus is written into the sport's folklore.
Twice a World Champion in 1963 and 1965 respectively, Clark travelled around the world racing with Lotus in Formula 1, Champ Car, the Tasman Series, as well as Formula Two races to boot – finding success in all of them.
Clark's titles hold a unique distinction in that he won 100% of the available points, with only the best six results counting towards your championship total. He also holds more Grand Chelems than anyone else, with eight races in his career at which he took pole position, won the race, led every lap and took the fastest lap.
Emerson Fittipaldi – 2 Championships
Race wins: 14 Podiums: 35 Pole positions: 6
Emerson Fittipaldi, also popularly called 'Emmo', took two titles in the space of three seasons with two different teams, winning the World Championship with Lotus in 1972 and McLaren in 1974.
At the time of his first title, aged 25, he was the youngest champion in Formula 1 history, but his career spanned well into his late 40s after retiring from Formula 1 in 1980 aged only 33, by moving to IndyCar – later becoming champion there too and winning an Indianapolis 500, which was testament to his versatility.
Mika Hakkinen – 2 Championships
Race wins: 20 Podiums: 51 Pole positions: 26
Known as 'The Flying Finn', Mika Hakkinen formed a formidable combination with McLaren at the end of the 1990s, winning two World Championships and beating Ferrari to top honours in the process.
He formed a strong partnership with team-mate David Coulthard at the McLaren team, and Michael Schumacher formed a great rivalry with the Finn on track – later citing Hakkinen as the driver against whom he gained the most satisfaction from racing against.
Hakkinen took a sabbatical from Formula 1 at the end of the 2001 season but would never return to the series, with two World titles under his belt and 20 race victories to his name.
Graham Hill – 2 Championships
Race wins: 14 Podiums: 36 Pole positions: 13
Dubbed "Mr Monaco" for his five wins around the Principality, the versatile Graham Hill was not just successful in Formula 1. In fact, his victories in categories away from Formula 1 make him unique in the world of motorsport.
His victories in the 24 Hours of Le Mans and Indianapolis 500, when combined with his Monaco successes, make Hill the only driver ever to have completed wins in motorsport's 'Triple Crown' of races.
One of the most iconic figures in British motorsport, when his son Damon took the 1996 World title for Williams, the duo are the only father and son combination ever to both become Formula 1 World Champions.
Max Verstappen – 2 Championships
Race wins: 38 Podiums: 82 Pole positions: 22
Formula 1 has a new multiple World Champion in Max Verstappen, and given the way in which he won his second title in 2022, few would bet against him adding to that tally.
After becoming the sport's youngest ever driver aged 16 and winning his very first race as a Red Bull driver in Barcelona in 2016, Verstappen already achieved more than most drivers could ever wish to in their whole careers before even reaching the peak of his powers.
Son of former Formula 1 racer Jos, he skipped several junior categories on his way to the top tier, such was the faith from Red Bull in his talent and placing him in their Toro Rosso team in 2015.
His 2021 title battle with Lewis Hamilton will be remembered forever, and his 2022 success came with a record 15 victories from 22 rounds.