Exclusive Q&A with Liam Lawson: How 'whirlwind' audition for F1 2024 seat began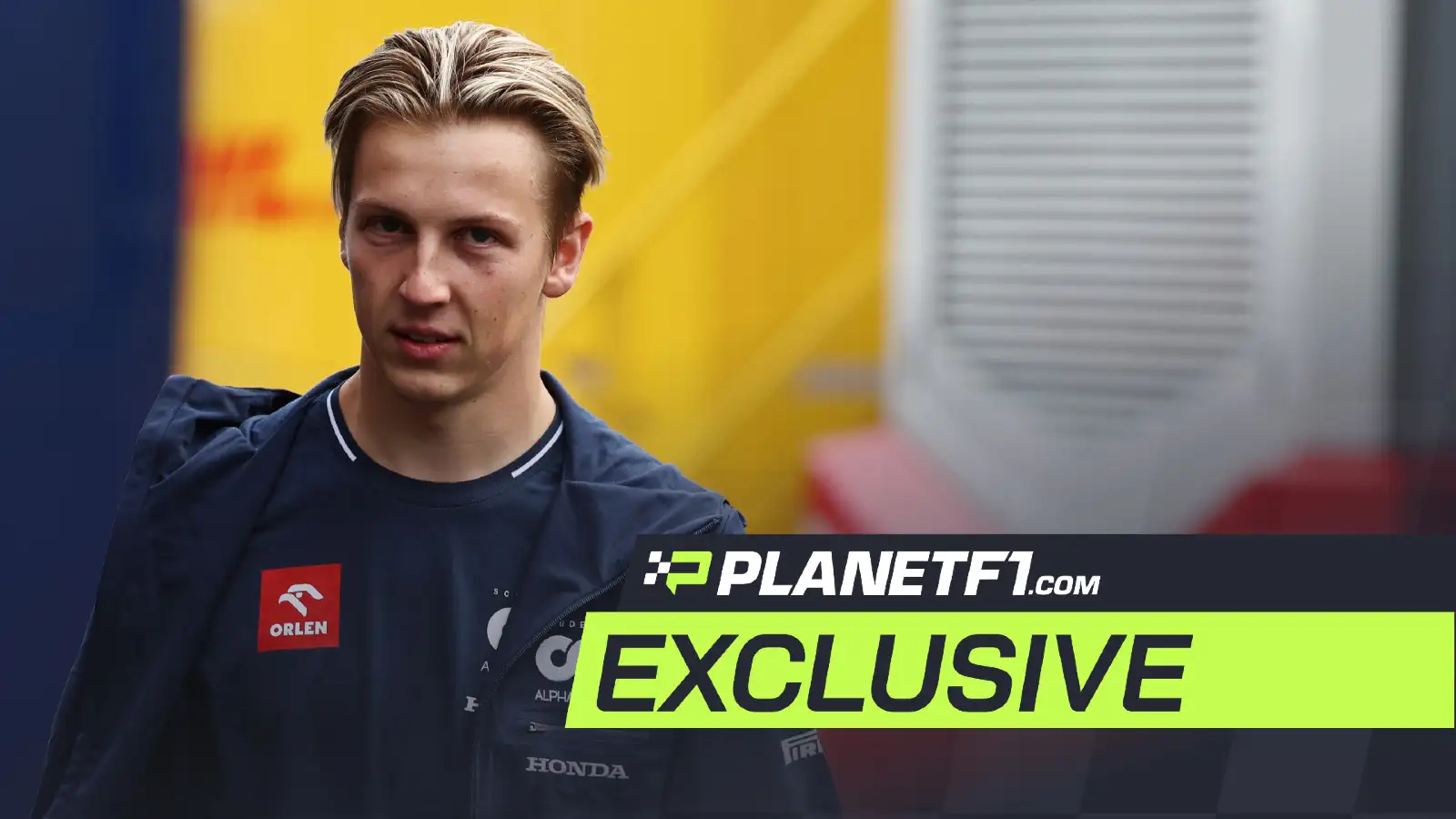 Liam Lawson was given a golden opportunity to show his talents as an F1 driver when he got the call up to replace the injured Daniel Ricciardo.
The Kiwi became the 10th driver from New Zealand to start an F1 race at last month's Dutch Grand Prix, joining a short list including stars like Bruce McLaren, Chris Amon, and Denny Hulme.
Having been parachuted in from his Red Bull reserve role at short notice when Daniel Ricciardo broke a metacarpal bone in his hand at Zandvoort, Lawson didn't have much time to sit down and reflect on a manic few days – until he sat down with PlanetF1.com for an exclusive chat during the Italian Grand Prix weekend.
How Liam Lawson's F1 debut came out of nowhere
PF1: Just a few weeks ago, you had that big crash and tough weekend at Motegi in the Super Formula Championship and then, just a few days later, you got the nod to replace Daniel Ricciardo to make your F1 debut – what a whirlwind! Can you talk us through how those few days played out for you?
LL: "It's obviously something that we always prepare for because, as a reserve driver of a year and a half, I go to all these races and, obviously, you get prepared for something like this to happen.
"But it's such a rare thing, that you definitely never expected to happen. Especially that far into the weekend. In a normal situation, maybe something would happen before the weekend, or a driver would get sick. You would normally find out, maybe the day before practice starts or something like that.
"But, in my case, it was obviously in practice which meant we only had one practice to do, so it was very sudden.
"Obviously, it's not a situation I want to make my debut in Formula 1 in that kind of style, and I felt for Daniel but, obviously, when you have that opportunity, you need to take it."
PF1: Did your heart leap into your chest when you realised that Daniel's injuries meant him being sidelined and that you were very likely to get the call-up?
LL: "It was more when I found out what the injury was and that there was a very good chance he wasn't gonna be able to drive. Then it was just very anxious for, like, two hours before we actually made the decision.
"Obviously, we have to wait for everything to be 100% sure making that kind of decision. So those two hours were quite stressful just because I didn't know what was going to happen.
"Once it's confirmed, maybe another hour of stress. Then we had so much to do to prepare for driving that, to be honest, it was just taken over by the workload that you have to go through!"
PF1: So who was the person who actually got to confirm to you that you would be in the AlphaTauri for the rest of the weekend?
LL: "Who actually told me? I spoke to Dr. Marko. It was very likely. It was, basically, it wasn't confirmed, but he said 'you're most likely going to drive'.
"Then it was in the driver's briefing. I was with Marco [Perrone, head of sporting direction] from AlphaTauri. Marco told me in the driver's briefing, midway through the briefing."
PF1: How was Helmut with you through that weekend? Was he putting the pressure on you?
LL: "I think there's always pressure with this programme. I definitely understand that now, after being in it for nearly five years. So there was the normal amount of pressure.
"Obviously, I wasn't super happy with qualifying and I don't think anybody was super happy with it. But, overall, it wasn't too bad."
PF1: Considering how last minute you being dropped into the seat was, have you felt more prepared coming to Monza with some proper preparation behind you?
LL: "It's definitely a better feeling knowing that we've done simulator work and I had all the practice sessions and the days leading up to it. It definitely doesn't mean I felt fully prepared but I'm excited to have done the full level of preparation."
PF1: Had there been any communication between yourself and Daniel following the incident, given how disappointed he must have been in the immediate aftermath?
LL: "Daniel being the amazing guy that he is, he was super supportive. Basically, before he left to go have a surgery, he was still at the track. He was very supportive. He told me to make the most of it and any help I needed, to ask him – he was very, very good about it."
PF1: Are you now treating these races you're in the car for as your audition for a full-time seat with AlphaTauri for 2024?
LL: "I think anytime you drive in Formula 1, it's an audition for full-time. Whenever you get put in this situation, you get one try, you don't get to do this again. So anytime you get to go in a Formula 1 car, it's looked at as an audition."
PF1: So what kind of mindset are you taking at the moment – is it a case of race by race, or have you been given any sort of timeline as to how long you're in the car?
LL: "It's race by race right now. I'm definitely not looking too far ahead."
PF1: Going back to your debut race at Zandvoort, what was the biggest shock to you when you jumped into the AlphaTauri? Was it the physicality of a Grand Prix weekend, or were the conditions the main challenge?
LL: "The conditions, basically.  Trying to learn to drive a Formula 1 car, you have to be so confident with what you're doing because of how fast it is.
"When you're learning, when you first drive a car, you never have that confidence – it takes time to build up. So trying to learn that as quickly as possible and get that comfort in the car was the trickiest part.
"Because it was wet in mixed conditions, that just made it that bit harder."
PF1: I don't know whether you realised it or not, but your battle with Charles Leclerc was broadcast all over the main feed. When you realised you were racing a Ferrari, was that something of a 'pinch-me' moment?
LL: "Not really. Any pinch-me moments were either before the race or after the race, I think. Because, in the race, once you're in it, you're focused on the job.
"When I'm racing, when I was racing him, I wasn't thinking 'Oh my God, I'm racing Charles Leclerc' – I'm just racing another car, and I need to try and get past him as quickly as possible because the guys in front are currently getting away right now. So it's not at all like that.
"To be honest, with any of the drivers on the grid for the last few years, what I've been trying to do is get on the grid and race these guys. Now I have the opportunity to do that. It's obviously exciting, but I believe I can be here and I don't look at them any differently to any other drivers."
PF1: What was the reaction like at home, given the mad timings that meant it was the middle of the night in New Zealand?
LL: "Because of the timings, it was like the middle of the night. It was the middle of the night in New Zealand. The support from New Zealand has been massive. It's been really, really cool.
"I know a lot of people who stayed up for the race, which is awesome. I know the significance of this for New Zealand, for my home as well. It's very important and very special for me."
PF1: How much pride do you look back on at your debut race? Now that it's over and done with, are you able to look back with it ticked off as a clean race?
LL: "There were bits of the race that weren't so good as well. So I think it's more looking back and trying to reflect and learn from it and improve it for anything in the future.
"There were bits that were good. They were bits that were definitely bad. So it's just basically looking at it to try to learn from it."
PF1: Next year, then, 2024… you're being talked about as an AlphaTauri full-time prospect. Nothing's announced yet, is it a case of F1 or nothing or what can we expect?
LL: "My whole life up until now has been F1 or nothing.  That's always the target but as for what I'm doing? I have no idea."
Read Next: Jacques Villeneuve's 'chaos' theory which is exposing Charles Leclerc