F1 2022 results: Austrian Grand Prix – Sprint Qualifying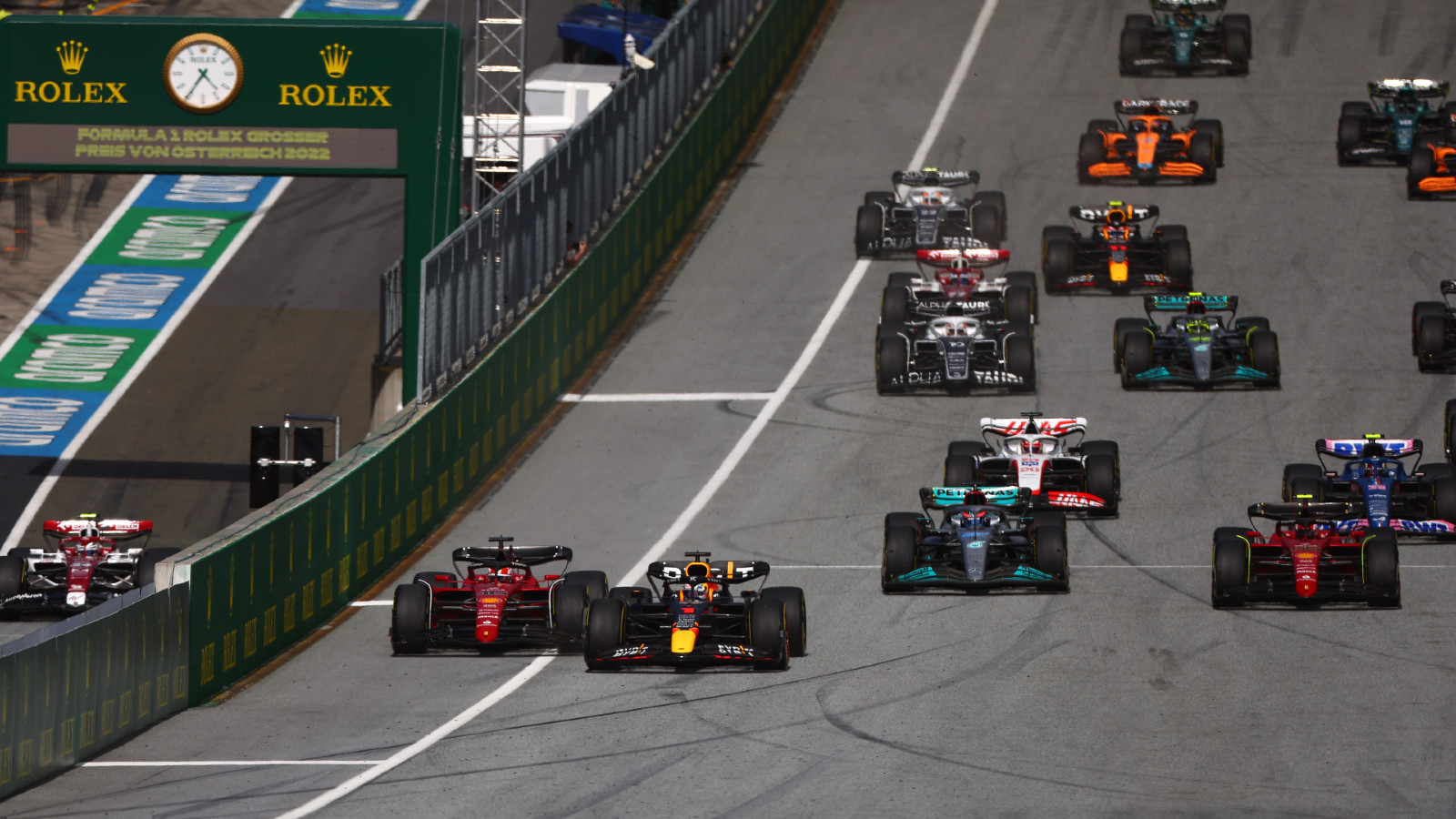 Red Bull's Max Verstappen won sprint qualifying in Austria ahead of the two Ferraris.
The Dutchman came home first in the 23-lap sprint at the Red Bull Ring, which means he will start the Austrian Grand Prix from the front.
Verstappen started from pole position and withstood a strong start from Ferrari's Charles Leclerc to assume the lead on the first lap. With Leclerc squabbling with Carlos Sainz in the early laps, Verstappen quickly established a commanding position and went unchallenged until the chequered flag.
Leclerc finished second to ensure a front-row start, with Sainz set for a third-place grid slot ahead of Mercedes' George Russell.
Red Bull's Sergio Perez recovered to fifth place from his 13th-place grid slot, while Alpine's Esteban Ocon was sixth at the chequered flag.
Alpine's Fernando Alonso retired after failing to make the start of the race due to a suspected electrical issue that saw him stranded on the grid with his tyre blankets left on, while Aston Martin withdrew Sebastian Vettel – the German driver was involved in a collision with Williams' Alex Albon. The British-Thai racer was given a time penalty for the collision.
One of the highlights of the race was an extended battle between the Mick Schumacher's Haas and Lewis Hamilton's Mercedes. Schumacher was able to stay within a second of his team-mate Kevin Magnussen, giving him DRS to defend against attacking Hamilton – but the Mercedes man finally won out in the closing laps.
Read our full report on what happened during the Sprint Qualifying race from the Red Bull Ring.
Max Verstappen Red Bull 23 Laps
Charles Leclerc Ferrari +1.675
Carlos Sainz Ferrari +5.644
George Russell Mercedes +13.429
Sergio Perez Red Bull +18.302
Esteban Ocon Alpine +31.032
Kevin Magnussen Haas +34.539
Lewis Hamilton Mercedes +35.447
Mick Schumacher Haas +37.163
Valtteri Bottas Alfa Romeo +37.557
Lando Norris McLaren +38.580
Daniel Ricciardo McLaren +39.738
Alex Albon Williams +48.241
Lance Stroll Aston Martin +50.753
Zhou Guanyu Alfa Romeo +52.125
Pierre Gasly AlphaTauri +52.412
Yuki Tsunoda AlphaTauri +54.556
Nicholas Latifi Williams +68.694
Sebastian Vettel Aston Martin DNF
Fernando Alonso Alpine DNF