F1 2022 results: British Grand Prix – Qualifying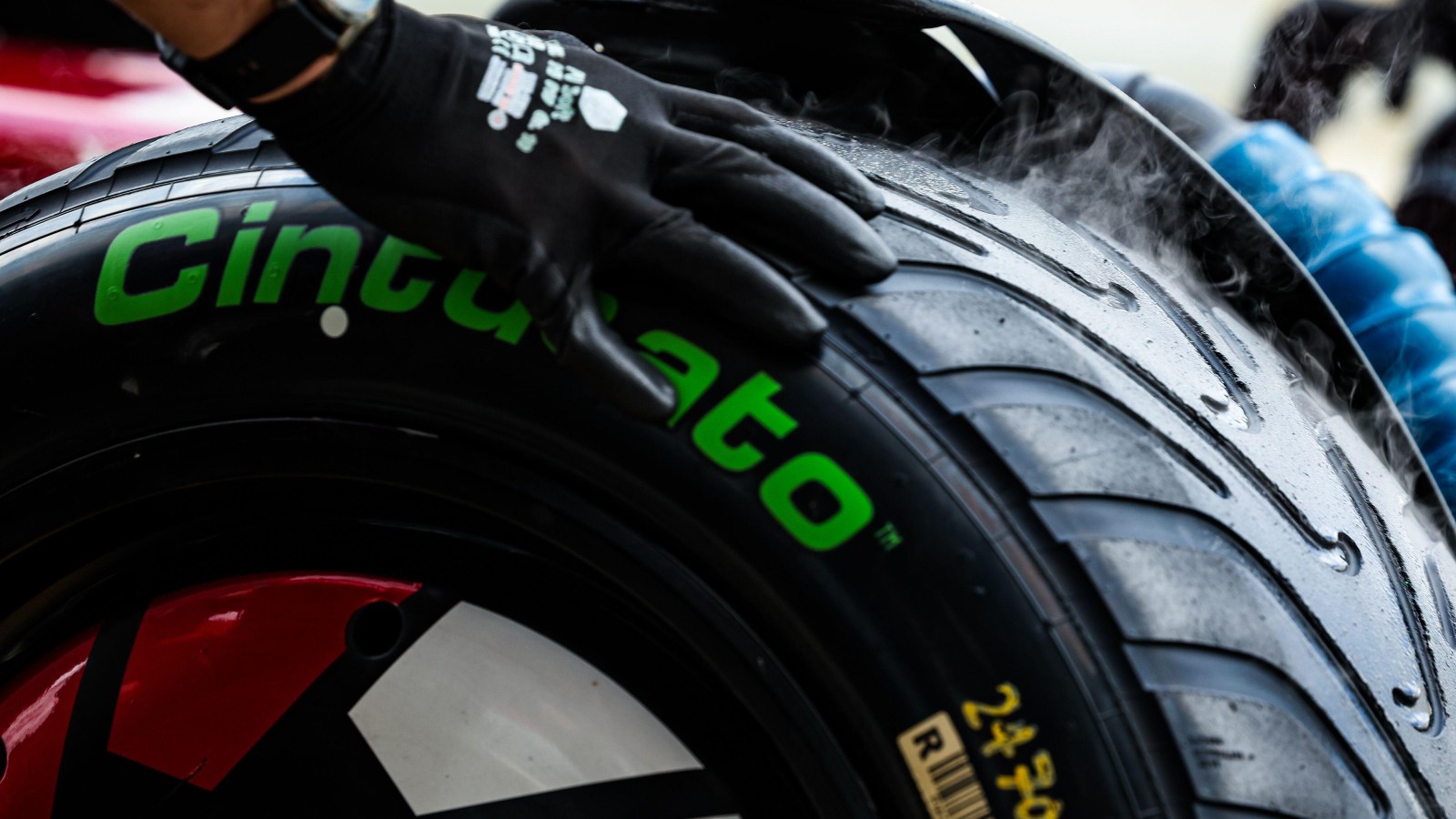 Recap on all the key moments as Carlos Sainz claimed his first pole position in Formula 1 during a wet British Grand Prix qualifying.
For much of the rain-affected session it had looked like Max Verstappen would be on pole at Silverstone, but Sainz rose to the summit when it mattered at the end of Q3, becoming the 104th driver to take pole position for a World Championship grand prix.
A heavy rain shower descended on Silverstone shortly before the start of Q1, creating a scramble out of the pit lane as drivers looked to get a time in on the intermediate tyres before the conditions potentially worsened.
The rain had moved on to an extent come the halfway point of Q1, sparking improvements across the grid as the track gripped up.
Verstappen comfortably set the pace, while the drivers eliminated were Williams' Alex Albon, Haas duo Kevin Magnussen and Mick Schumacher and Aston Martin pair Sebastian Vettel and Lance Stroll.
The rain set in again as the lights went green for Q2 and as it intensified, the pressure grew on Sainz who had not yet pumped in a lap good enough for Q3. He quickly allayed those fears though with a P4-worthy time.
With track conditions not allowing for any late improvements, the drivers eliminated were AlphaTauri pair Pierre Gasly and Yuki Tsunoda, Alfa Romeo's Valtteri Bottas, McLaren's Daniel Ricciardo and Esteban Ocon in the Alpine.
Nicholas Latifi, sporting the Williams FW44 without upgrades, made it into Q3.
Another lull in the rain arrived in time for the start of Q3, so Charles Leclerc and Sainz in the Ferraris got themselves to the front of the pit-lane queue as they looked to seize the opportunity.
Verstappen struggled to get his Red Bull into position to start his flying lap, battling to keep the rear end of the RB18 in check as he approached the line.
A spin on that opening push lap meant Verstappen had to go again, with that next attempt also featuring a trip over the run-off despite going P2.
No such issues on the following tour, 1.8 seconds found and provisional pole for Verstappen.
The track continued to improve as the Ferraris traded provisional pole, although Verstappen snatched that back with one more lap available.
Leclerc's last attempt ended in a spin, but Sainz's resulted in pole position with Verstappen unable to respond! The first pole of Sainz's Ferrari and Formula 1 career.
You can read the full qualifying report here.
Q3 results:
1 Carlos Sainz Ferrari 1:40.983
2 Max Verstappen Red Bull 0.072s
3 Charles Leclerc Ferrari 0.315s
4 Lewis Hamilton Mercedes 1.012s
5 Sergio Perez Red Bull 1.096s
6 Lando Norris McLaren 1.101s
7 Fernando Alonso Alpine 1.133s
8 George Russell Mercedes 1.178s
9 Guanyu Zhou Alfa Romeo Racing 3.917s
10 Nicholas Latifi Williams 22.112s
Q2 results:
1 Max Verstappen Red Bull 1:40.655
2 Lewis Hamilton Mercedes 0.407s
3 Charles Leclerc Ferrari 0.592s
4 Carlos Sainz Ferrari 0.947s
5 George Russell Mercedes 1.070s
6 Lando Norris McLaren 1.166s
7 Fernando Alonso Alpine 1.554s
8 Sergio Perez Red Bull 1.858s
9 Guanyu Zhou Alfa Romeo Racing 1.985s
10 Nicholas Latifi Williams 2.618s
11 Pierre Gasly AlphaTauri 3.047s
12 Valtteri Bottas Alfa Romeo Racing 3.577s
13 Yuki Tsunoda AlphaTauri 3.656s
14 Daniel Ricciardo McLaren 3.700s
15 Esteban Ocon Alpine 4.535s
Q1 results:
1 Max Verstappen Red Bull 1:39.129
2 Charles Leclerc Ferrari 0.717s
3 George Russell Mercedes 0.899s
4 Carlos Sainz Ferrari 1.061s
5 Lewis Hamilton Mercedes 1.299s
6 Sergio Perez Red Bull 1.392s
7 Guanyu Zhou Alfa Romeo Racing 1.662s
8 Valtteri Bottas Alfa Romeo Racing 2.267s
9 Lando Norris McLaren 2.386s
10 Pierre Gasly AlphaTauri 2.551s
11 Esteban Ocon Alpine 2.601s
12 Fernando Alonso Alpine 2.641s
13 Yuki Tsunoda AlphaTauri 2.764s
14 Daniel Ricciardo McLaren 2.804s
15 Nicholas Latifi Williams 2.869s
16 Alex Albon Williams 2.949s
17 Kevin Magnussen Haas 3.030s
18 Sebastian Vettel Aston Martin 3.537s
19 Mick Schumacher Haas 3.579s
20 Lance Stroll Aston Martin 4.301s