F1 2022 results: Hungarian Grand Prix – Qualifying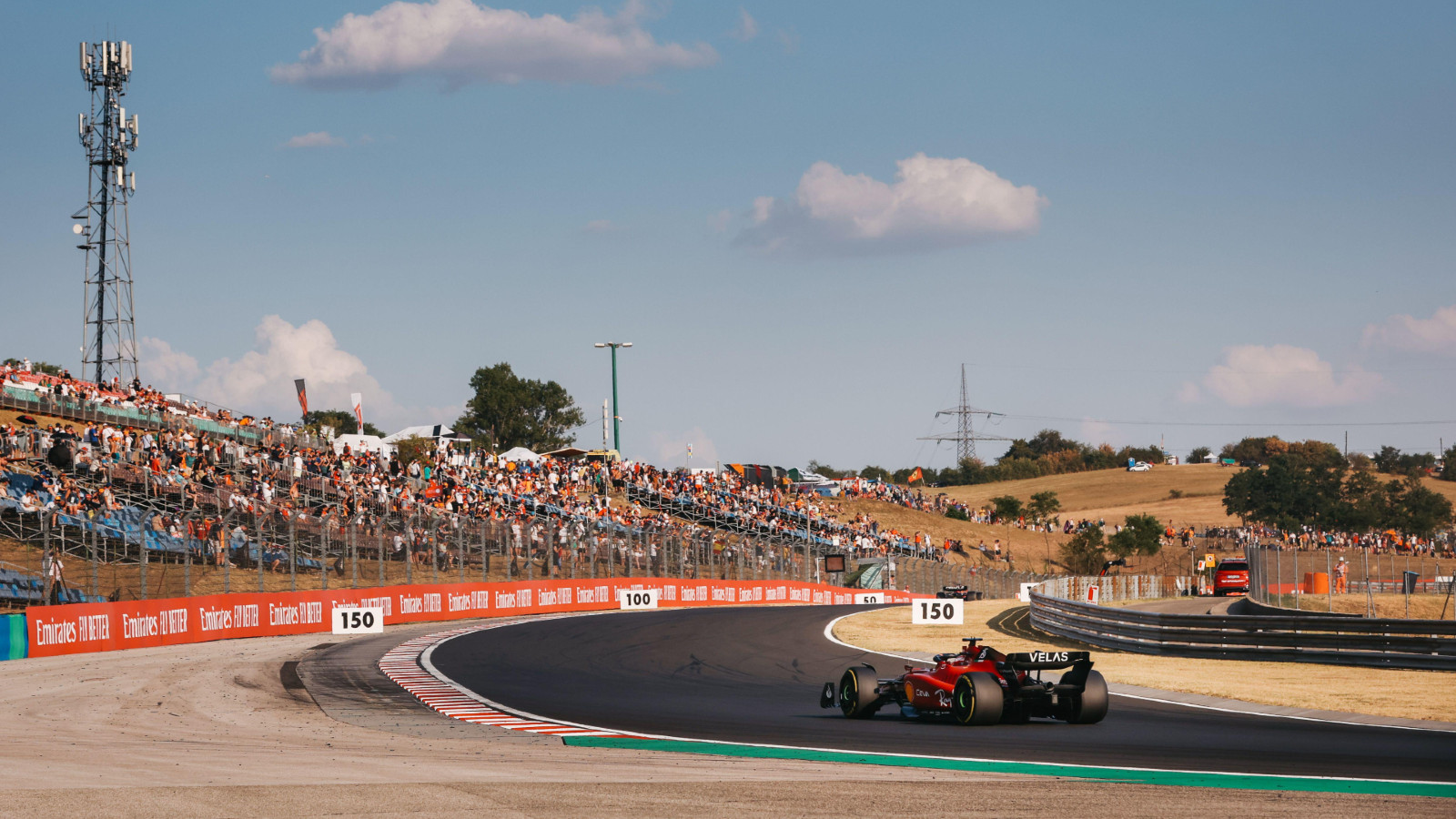 Here are the final results from the critical qualifying session for the Hungarian Grand Prix at the Hungaroring, where Mercedes have claimed pole…

Mercedes' George Russell has claimed his maiden pole position in Formula 1, setting a 1:17.377 right at the very end of the Q3 session.
With Ferrari seemingly set for a front-row lock-out with Carlos Sainz ahead of Charles Leclerc, Russell clocked a surprise lap to pip Sainz by just 0.044 seconds.
It was a disastrous session for Red Bull, with a power issue preventing Max Verstappen from setting a final lap after he made an error during his first run. The championship leader will start the race from 10th on the grid.
The big scalp knocked out in Q2 was Red Bull's Sergio Perez in 11th, with the Mexican failing to put in a strong lap after some confusion over track limits on his first run in Q2. Initially having his time deleted, his lap was reinstated but he failed to improve enough on his second run after feeling blocked by Haas' Kevin Magnussen.
Joining Perez on the sidelines were Magnussen, Alfa Romeo's Zhou Guanyu, Haas' Mick Schumacher, and Aston Martin's Lance Stroll.
Eliminated from Q1 were AlphaTauri's Yuki Tsunoda and Pierre Gasly in 16th and 19th respectively, Williams' Alex Albon in 17th with Nicholas Latifi in 20th, while Aston Martin's Sebastian Vettel was knocked out in 18th and disappointed after his team managed to get his car repaired in time after the four-time World Champion crashed in FP3.
Read our complete report into what happened on track during the qualifying session for the 2022 Hungarian Grand Prix.
Q3 results:
George Russell Mercedes 1:17.377
Carlos Sainz Ferrari +0.044
Charles Leclerc Ferrari +0.190
Lando Norris McLaren +0.392
Esteban Ocon Alpine +0.641
Fernando Alonso Alpine +0.701
Lewis Hamilton Mercedes +0.765
Valtteri Bottas Alfa Romeo +0.780
Daniel Ricciardo McLaren +1.002
Max Verstappen Red Bull Racing +1.446
Q2 results:
Max Verstappen Red Bull Racing 1:17.703
Charles Leclerc Ferrari +0.065
Fernando Alonso Alpine +0.201
Carlos Sainz Ferrari +0.243
Lewis Hamilton Mercedes +0.332
Lando Norris McLaren +0.418
George Russell Mercedes +0.451

Daniel Ricciardo McLaren +0.495
Esteban Ocon Alpine +0.513
Valtteri Bottas Alfa Romeo +0.742
Sergio Perez Red Bull Racing +0.813
Zhou Guanyu Alfa Romeo +0.870
Kevin Magnussen Haas +1.122
Lance Stroll Aston Martin +1.434
Mick Schumacher Haas +1.499
Q1 results:
Lewis Hamilton Mercedes 1:18.374
George Russell Mercedes +0.033

Carlos Sainz Ferrari +0.060
Max Verstappen Red Bull Racing +0.135

Lando Norris McLaren +0.279
Fernando Alonso Alpine +0.342

Daniel Ricciardo McLaren +0.401
Charles Leclerc Ferrari +0.432
Esteban Ocon Alpine +0.492
Valtteri Bottas Alfa Romeo +0.561
Zhou Guanyu Alfa Romeo +0.599
Kevin Magnussen Haas +0.619
Sergio Perez Red Bull Racing +0.744
Mick Schumacher Haas +0.790
Lance Stroll Aston Martin +0.831
Yuki Tsunoda AlphaTauri +0.866
Alex Albon Williams +0.882
Sebastian Vettel Aston Martin +0.899
Pierre Gasly AlphaTauri +1.153
Nicholas Latifi Williams +1.196