F1 2022 results: Japanese Grand Prix – Race (Suzuka Circuit)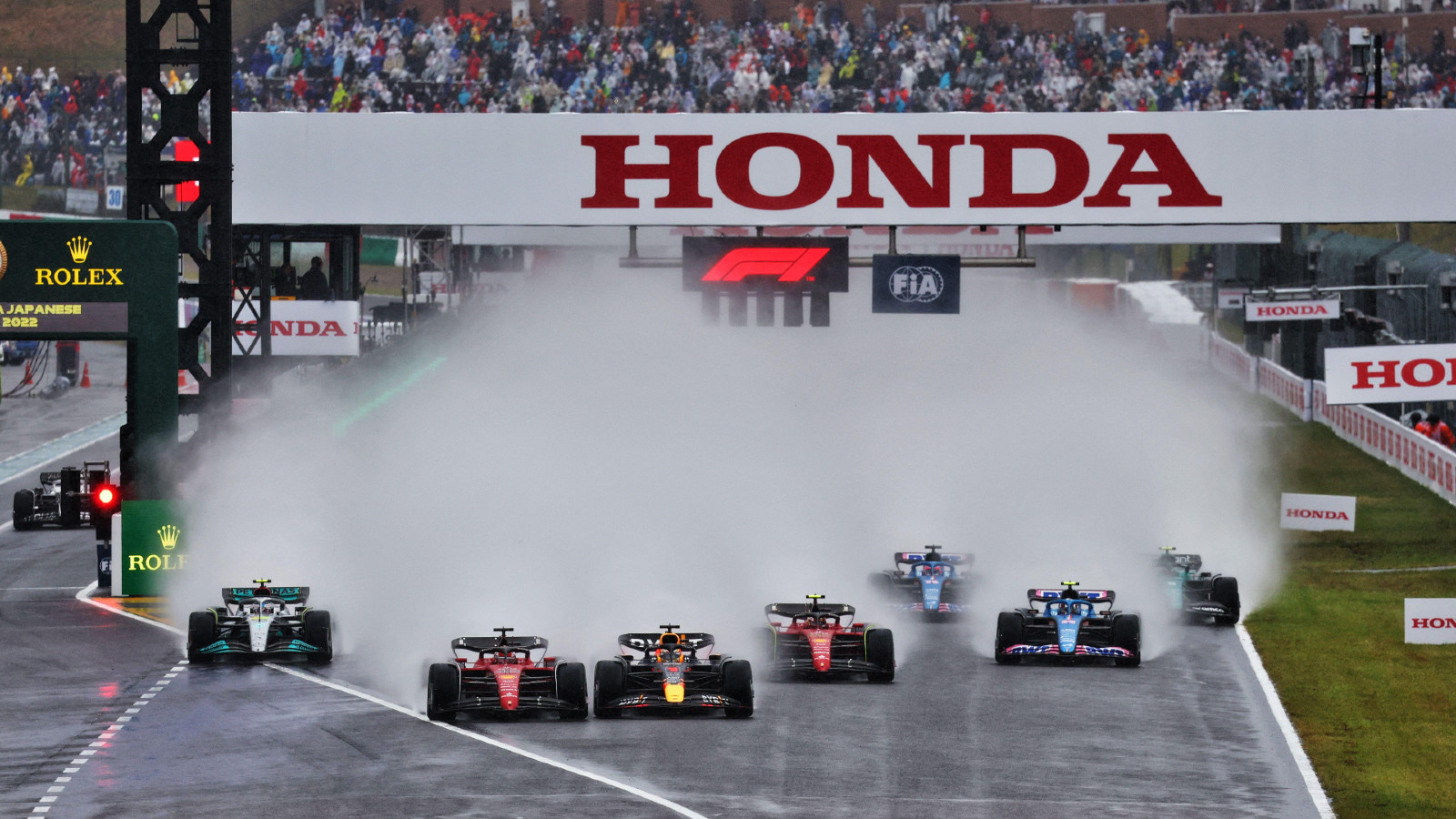 Here are the complete results from the rain-shortened Japanese Grand Prix, which was won by Red Bull's Max Verstappen.
The reigning World Champion has claimed victory at the Japanese Grand Prix at Suzuka, and has managed to wrap up the World Championship in the process.
Due to a lengthy red flag stoppage on Lap 3, due to heavy rain conditions, and multiple opening lap incidents, the race only ran for just over 40 minutes before reaching the end of the three-hour window dictated by the regulations.
Verstappen, who started from pole position, briefly had to fend off Charles Leclerc at the initial race start, but dominated otherwise – coming home over 25 seconds clear of the Ferrari driver.
Leclerc had to cope with intense pressure from Red Bull's Sergio Perez, weathering the onslaught to clinch second place on track and keep the title fight alive for another race.
However, Leclerc's defence against Perez saw him scamper across the escape area at the chicane on the final lap to hold onto the position. As a result, the stewards investigated and gave Leclerc a five-second penalty – promoting Perez to second and demoting Leclerc to third.
As a result, Verstappen clinches the 2022 Drivers' Championship and becomes a double World Champion.
Read More: Race: Max Verstappen crowned World Champion after winning chaotic Japan GP
Results: 2022 Japanese Grand Prix (Suzuka)
1 – Max Verstappen Red Bull 29 Laps
2 – Sergio Perez Red Bull +27.066
3 – Charles Leclerc Ferrari +31.753
4 – Esteban Ocon Alpine +39.685
5 – Lewis Hamilton Mercedes +40.326
6 – Sebastian Vettel Aston Martin +46.358
7 – Fernando Alonso Alpine +46.369
8 – George Russell Mercedes +47.661
9 – Nicholas Latifi Williams +70.143
10 – Lando Norris McLaren +70.782
11 – Daniel Ricciardo McLaren +72.877
12 – Lance Stroll Aston Martin +73.904
13 – Yuki Tsunoda AlphaTauri +75.599
14 – Kevin Magnussen Haas +86.016
15 – Valtteri Bottas Alfa Romeo +86.496
16 – Zhou Guanyu Alfa Romeo +87.043
17 – Pierre Gasly AlphaTauri +88.091
18 – Mick Schumacher Haas +92.523
19 – Alex Albon Williams DNF
20 – Carlos Sainz Ferrari DNF