All eyes on Ferrari as Jeddah provides platform to reel in Red Bull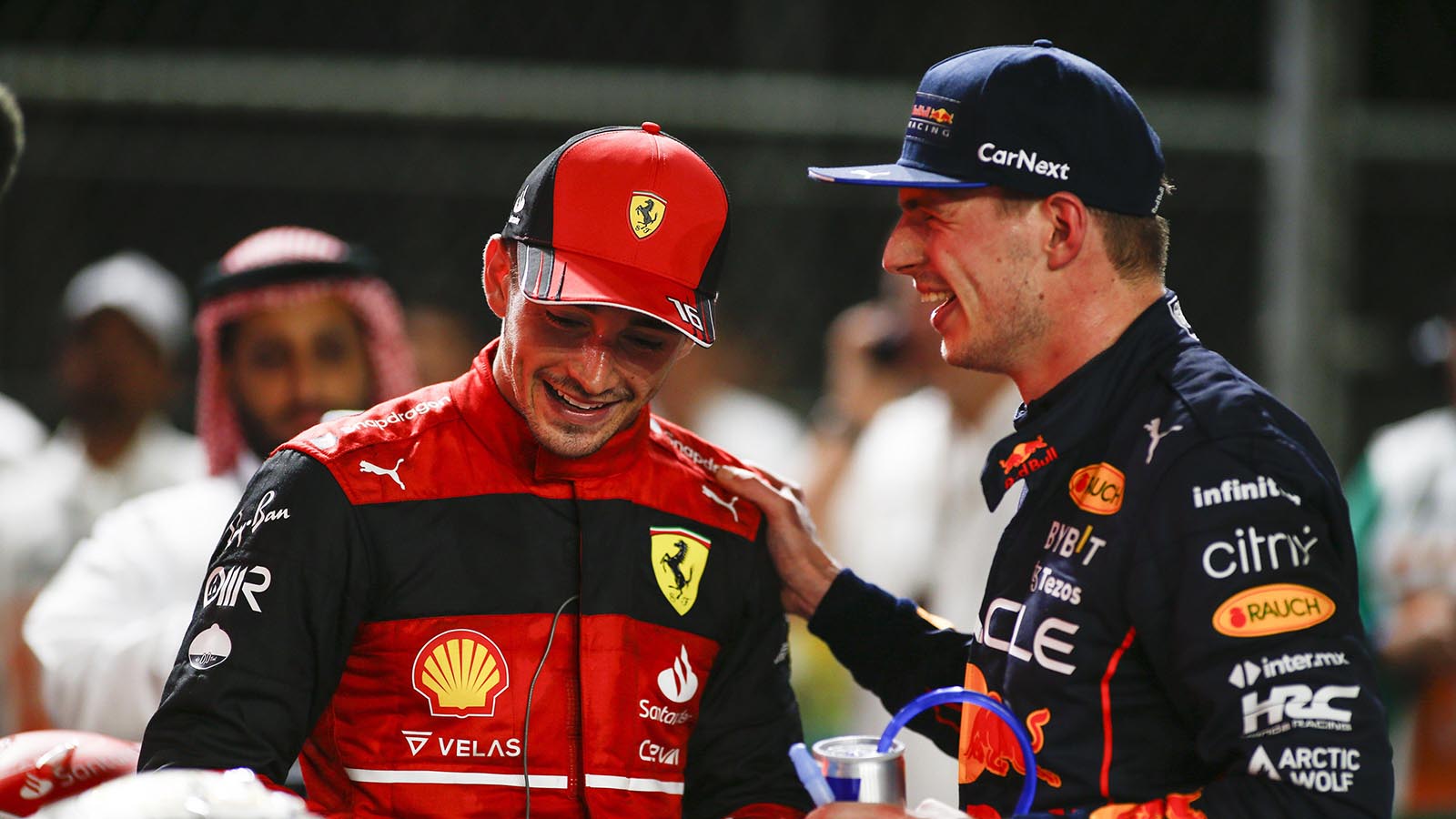 If a dominant display by Max Verstappen and Red Bull in Bahrain deflated your optimism for the new Formula 1 season, this weekend's Saudi Arabian Grand Prix could bring renewed hope to those hoping for a tense title battle in 2023.
Or alternatively, in the event of another Red Bull walkover, it could crush it completely.
Verstappen may have won by a margin of 38 seconds to the next non-Red Bull in Sakhir, Fernando Alonso's third-placed Aston Martin, but there is reason to expect – to pray – that round two in Jeddah will provide a closer fight at the front.
Why?
The highly abrasive surface in Bahrain, combined with a circuit layout placing a huge emphasis on traction, exacerbated one of the biggest weaknesses (tyre management) of Ferrari's SF-23 car – potentially making the Scuderia look less competitive than they really are.
With Ferrari also targeting straight-line performance as a key area improvement for 2023, Charles Leclerc and Carlos Sainz may not only be in a position to qualify close to the Red Bulls – as they did by locking out the second row in Bahrain – but this time stay with them in racing conditions.
That is at least the theory, but it remains to be seen how it will work in reality.
Leclerc's theory coming into this season would surely have been to put the harsh lessons of 2022 into practice and build a sustained Championship challenge, but already he starts 25 points behind Verstappen after retiring with an engine problem in Bahrain.
Given that he finished last season 146 points adrift of the World Champion, having led him by 46 after the first three races, that does not bode well for a driver who pushed Verstappen hard for the win in Jeddah a year ago.
Last year's Saudi race was the scene of Alonso's first DNF of what proved to be a frustrating season at Alpine, but his prospects for the 2023 season could not look more different after returning to the podium – just his second top-three finish in nine years – with Aston Martin.
Counting a Saudi oil company as one of their two title sponsors, this is an important race for Aston – a team not accustomed to great success over the course of their history but to whom the possibilities suddenly seem limitless.
The emergence of Aston Martin as a major force in Bahrain was highly embarrassing for Mercedes, forced to admit that their customer team – who use their engine, gearbox and rear suspension and have access to their wind tunnel – had simply done a better job over the winter.
With Lance Stroll finishing ahead of George Russell in Bahrain despite struggling with two injured wrists and a broken toe, Mercedes have vowed to make changes and it was in Jeddah last year where their new reality hit home, Lewis Hamilton falling in the first segment of qualifying for the first time since 2009.
Mercedes prolonged period of poor performance since 2022's regulation changes will have only crystallised the thought in Valtteri Bottas's mind that he got out at the right time, with the Finn – mullet 'n' all – still thriving in his new home.
Bottas had been optimistic about Alfa Romeo's chances in pre-season testing and his eighth place in Bahrain – his highest finish since last June's Canadian GP – seemed reminiscent of the team's start to 2022 when they scored a large bulk of their points in the early races to establish the foundation for their best Constructors' Championship result in a decade.
PlanetF1.com recommends
Andretti reportedly hire ex-Renault tech chief for F1 project
A London Grand Prix at Royal Docks may be closer than you think
Villeneuve Pironi: An unrelenting tragedy through the eyes of their families
F1 TV Pro* viewers can watch all the live action from all 23 race weekends this season completely ad-free! Click here for the ultimate F1 viewing experience.
*Available in selected territories only. Click here to see eligible territories.
Alpine also had their best season in years in 2022, but their prospects for the campaign ahead remain inconclusive after mixed fortunes for both drivers in Bahrain.
Pierre Gasly fell in Q1 in Sakhir but then embarked on a storming recovery to P9, the position from which team-mate Esteban Ocon started before suffering the race from hell, his three in-race penalties matching the record set by Pastor Maldonado at Hungary 2015.
Maldonado famously claimed Williams' most recent win in Barcelona 11 years ago and his former team made an encouraging start to the James Vowles era in Bahrain as Alex Albon held off Yuki Tsunoda to take the final point in 10th.
With Albon disappointed to miss out on a place in Q3 on Saturday, Williams' revival was backed up by Logan Sargeant who enjoyed an impressive race to P12 on debut.
Tsunoda's failure to take the final point seemed to confirm AlphaTauri's worst fears, the great F1 underdogs of recent years now skirting dangerously close to backmarker territory.
Only Gasly's underperformance kept Nyck de Vries off the bottom of the Sakhir qualifying timesheet, with Tsunoda benefiting from others' problems to scrape to P14 on the grid.
Also on zero points after race one but with more reason to believe are Haas, who at least managed to take a spot in Q3 with the returning Nico Hulkenberg before his race fell off a cliff with a damaged front wing and a penalty for exceeding track limits.
Hulkenberg may have gone three seasons without a full-time F1 seat but does have crucial experience of the Jeddah track, having made the last of his Covid cameo appearances here in 2022 standing in for the ill Sebastian Vettel.
McLaren were off the pace in last year's Saudi Arabian GP as the team combatted their early season frailties in what proved to be in a missed opportunity in their fight for fourth in the Championship with Alpine.
What they would give now to be fighting for the best-of-the-rest position, with McLaren writing off their chances of competing for regular points until a major upgrade package arrives in Baku at the end of April.
The Saudi Arabian Grand Prix is the most divisive event on the F1 calendar, some unwilling and others just simply unable to look beyond its status as a vehicle for 'sportswashing' as well as deeming the track to be dangerous by modern standards (tweaks have been made for 2023 to improve visibility through the circuit's long high-speed stretches and fast sweeps).
When a local oil facility was bombed to put the the 2022 race weekend in serious jeopardy the mood music seemed to be that the 10 teams and 20 drivers would all race on – but persuading them to board the plane for the 2023 edition would be a different matter entirely.
Yet here they are again, all ready to race and put on a show.
Heaven knows F1 needs it right now.