F1 2023 qualifying results from the Saudi Arabian Grand Prix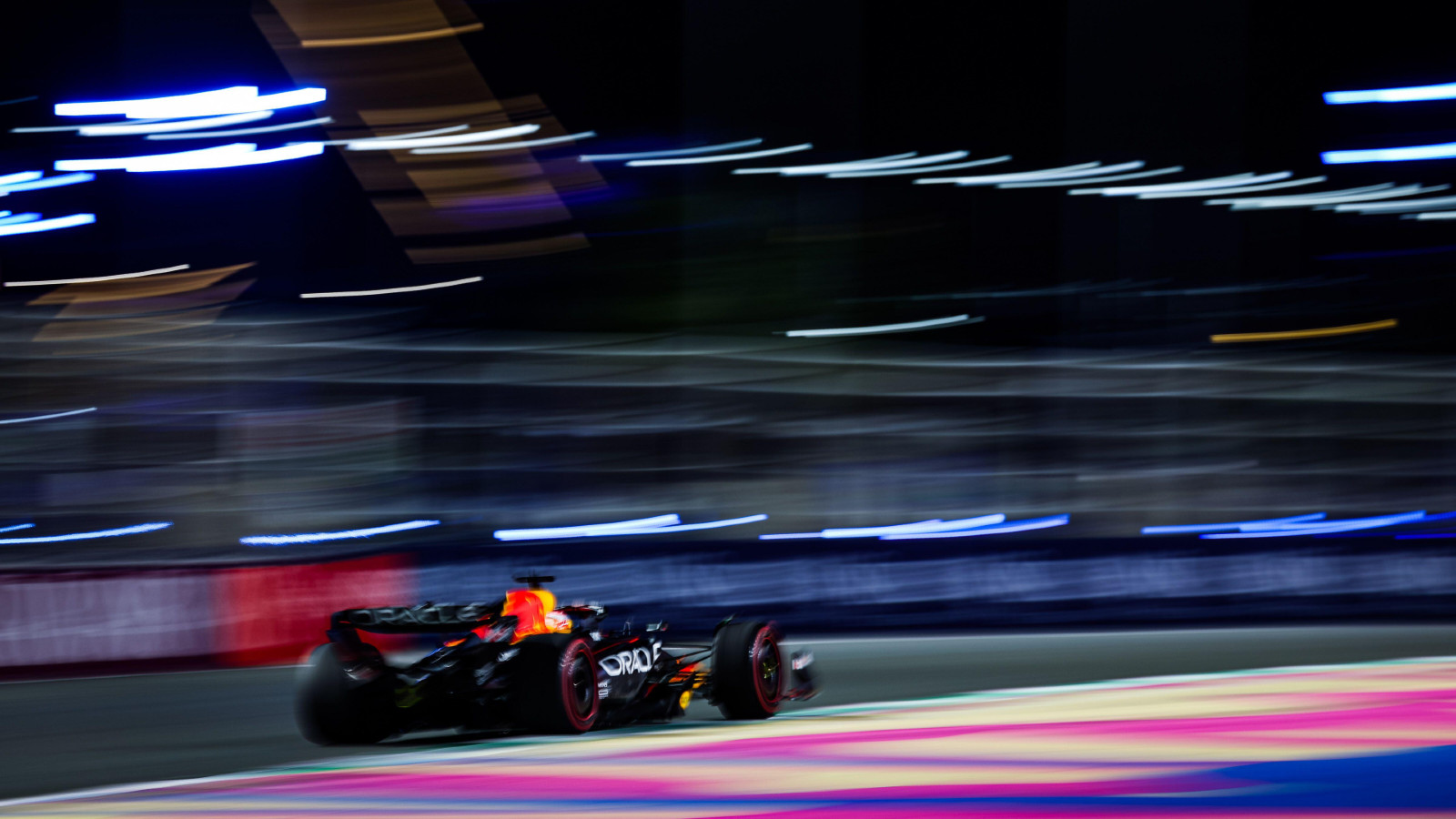 Here are the complete results from the qualifying session for the 2023 Saudi Arabian Grand Prix at the Jeddah Corniche Circuit.

Red Bull's Sergio Perez has taken pole position for the Saudi Arabian Grand Prix, having led his team's charge after Max Verstappen was the shock casualty of the first two segments of qualifying.
The Red Bull driver encountered an apparent drivetrain issue early in Q2, slowing to a crawl after his revs shot up while driving along a straight.
Having topped the times in Q1, the pole favourite was sidelined after returning to the pits following the obvious failure.
Perez set a 1:28.265 on his first run in Q3, which was enough to keep him a tenth clear of Ferrari's Charles Leclerc – the Monegasque finished second but will start from 12th due to his engine grid penalty.
Aston Martin's Fernando Alonso will thus start from second place, while Mercedes' George Russell will start the race from third ahead of Ferrari's Carlos Sainz.
Lance Stroll will line up in fifth in the second Aston Martin, ahead of Alpine's Esteban Ocon and Mercedes' Lewis Hamilton.
Knocked out in Q2 were Haas' Nico Hulkenberg and Kevin Magnussen as well as Alfa Romeo's Zhou Guanyu and Valtteri Bottas.
Eliminated from Q1 were AlphaTauri's Yuki Tsunoda in 16th, ahead of Williams' Alex Albon in 17th.
Nyck de Vries, who had a new engine fitted to his AlphaTauri after missing FP3, was knocked out in 18th – the Dutch driver had a dramatic spin early in Q1 after losing the rear of his car into Turn 1.
Lando Norris was 19th and a surprise elimination for McLaren after the British driver made a rare error and struck the inside wall at the final corner. Immediately reporting suspected steering damage, he withdrew to the pits but the team weren't able to get the car fixed up sufficiently to rejoin the action.
Logan Sargeant was the final Q1 elimination after the Williams driver had his first flying lap deleted for exceeding track limits by crossing the pitlane entry line on the pit straight. A spin on his second flying lap added to the pressure, while a mistake at Turn 2 on his final run had his car squirreling sideways out of the corner as he radioed in to report a suspected failure.
Here's the complete PlanetF1.com report on the full qualifying hour at the Jeddah Corniche Circuit.
Q3 Results:
1 – Sergio Perez RED BULL 1:28.265
2 – Charles Leclerc FERRARI +0.155
3 – Fernando Alonso ASTON MARTIN +0.465
4 – George Russell MERCEDES +0.592
5 – Carlos Sainz FERRARI +0.666
6 – Lance Stroll ASTON MARTIN +0.680
7 – Esteban Ocon ALPINE +0.813
8 – Lewis Hamilton MERCEDES +0.958
9 – Oscar Piastri MCLAREN +0.978
10 – Pierre Gasly ALPINE +1.092
Q2 Results:
1 – Sergio Perez RED BULL 1:28.635
2 – Fernando Alonso ASTON MARTIN +0.122
3 – Charles Leclerc FERRARI +0.268
4 – Carlos Sainz FERRARI +0.322
5 – Lance Stroll ASTON MARTIN +0.327
6 – George Russell MERCEDES +0.497
7 – Esteban Ocon ALPINE +0.620
8 – Lewis Hamilton MERCEDES +0.739
9 – Oscar Piastri MCLAREN +0.743
10 – Pierre Gasly ALPINE +0.776
11 – Nico Hulkenberg HAAS +0.816 [Eliminated]
12 – Zhou Guanyu ALFA ROMEO +0.826 [Eliminated]
13 – Kevin Magnussen HAAS +0.882 [Eliminated]
14 – Valtteri Bottas ALFA ROMEO +1.033 [Eliminated]
15 – Max Verstappen RED BULL +21.318 [Eliminated]
Q1 Results:
1 – Max Verstappen RED BULL 1:28.761
2 – Sergio Perez RED BULL +0.483
3 – Fernando Alonso ASTON MARTIN +0.537
4 – Lance Stroll ASTON MARTIN +0.574
5 – Charles Leclerc FERRARI +0.615
6 – Carlos Sainz FERRARI +0.650
7 – Nico Hulkenberg HAAS +0.786
8 – George Russell MERCEDES +0.831
9 – Zhou Guanyu ALFA ROMEO +0.893
10 – Lewis Hamilton MERCEDES +0.928
11 – Oscar Piastri MCLAREN +0.945
12 – Esteban Ocon ALPINE +0.946
13 – Kevin Magnussen HAAS +0.983
14 – Pierre Gasly ALPINE +1.129
15 – Valtteri Bottas ALFA ROMEO +1.168
16 – Yuki Tsunoda ALPHATAURI +1.178 [ELIMINATED]
17 – Alex Albon WILLIAMS +1.233 [ELIMINATED]
18 – Nyck De Vries ALPHATAURI +1.483 [ELIMINATED]
19 – Lando Norris MCLAREN +1.686 [ELIMINATED]
20 – Logan Sargeant WILLIAMS +39.749 [ELIMINATED]