F1 22 review: EA's return sets up new solid foundation
EA and Codemasters are about to release their annual officially licensed F1 game which tackles the new era of F1. PlanetF1 were given full access to the latest title to give you the lowdown ahead of July's release.
Codemasters are a dab hand at F1 games with well over a decade of experience in bringing the highest tier of motorsport into your living room. It's to the team's credit that they've had more hits than misses through the years.
The new game is released on 1st July, and it's clear that EA's influence is taking hold with slick and seamless menus as well as a custom soundtrack thumping in the background. It's something that's been a staple in EA Sports' titles such as FIFA and bringing it to F1 was always going to happen.
Tracks from artists such as Deadmau5, James Bay, Charli XCX and Chase and Status all feature here. But, if the music isn't to your taste, then the option to switch to a more traditional style of menu music is there.
Apart from musically, new audio options in the way of commentary delivery sees David Croft and Alex Jacques separately available to choose from. Your race engineer Jeff has also made way for an actual F1 celebrity in Marc Priestley – he just has the same lines as the previous engineer, but using someone who has actually been in F1 is a nice touch.
Mirroring the new era of F1 which sees cars redesigned from the ground up, the game has received a similar overhaul. The handling and tyre models have been reworked to match the new ground effect aerodynamics and 18-inch Pirelli tyres.
The cars feel sharp and responsive and it's only when up to speed that you can really appreciate the grip through the corners. They're a bit clumsy in the slower turns however; I found myself spinning more in hairpins or slow chicanes as opposed to long sweeping turns in places like Spa and Barcelona.
A big criticism of the previous title, F1 2021, was that you couldn't really attack the kerbs at all. Even thinking about touching them would send you pitching into the barriers. In F1 22, you can throw the car over them and have confidence that the car will stick.
However, be careful not to run over them too much. With the full simulation damage turned on, I actually damaged the underside of my car by running too aggressively over a kerb.
There are three driving modes available for players to select. The beginner mode right through to expert feels like a natural progression for players new to the F1 game series to those who have been racing for years.
F1 Life – live like a driver
Taking front and centre of the game's presentation is F1 Life. The new social play hub feature lets players have a place to show off everything they've unlocked. You are able to customise your living space as well as your driver's appearance, so now you can look as stylish as Pierre Gasly at a fraction of the price.
It's an odd departure from the presentation in previous F1 games, and those who want to just go racing may not care about this feature or ever use it again. It feels like it's been developed as a way to bring in newer players who may want more from the game in an accessible way and it mostly succeeds in that regard.
Part of the F1 Life feature is the ability to unlock supercars and drive them around in various scenarios. Throughout my playthrough of the game I received Super Car tokens that let me unlock a road car made by some of the teams. Aston Martins, McLarens, and Ferraris are all available for you to acquire and store in your F1 Life garage.
Driving them is actually quite fun! Codemasters have experience of developing racers in other categories and the pedigree is there. They're powerful cars that lack the grip of the F1 machines, so you can get a bit caught out trying to take Eau Rouge flat out in a Mercedes AMG! But they're a fun addition, but perhaps not as fun as the classic F1 cars that have been missing for a couple of years now.
New circuits, new drivers, new rules
As the F1 game is an annual release, there is always something for the developers to have to factor in and tweak for their new game.
F1 22 features the new Miami street track that is a wonderfully challenging experience which takes a few laps to get right. The circuit is faithfully recreated from the tight Turns 14 and 15, as well as the definitely-not-fake-marina at Turn 7.
The game also features circuit changes to Albert Park in Australia, Barcelona in Spain, and the redesigned Abu Dhabi circuit. Each is a fun and different challenge and takes a few goes to get right. The urge to kink left in Abu Dhabi's first sector was very strong!
The new tyre rules are present which enables any driver to have free choice of tyres before the race, regardless of what tyre they set their fastest lap on in Q2. This gives you a lot of freedom before the race, but the AI drivers tend to stick to a similar formula.
Sprints, which were trialled back in 2021 and continue to be assessed in 2022 also feature. There is an option to convert any Grand Prix weekend into a Sprint and the number of laps will be scaled back based on the length of race that you choose.
Career tweaks and new starting budgets
Now a stalwart feature of F1 games is the career mode. These modes haven't received too much of an overhaul here; if it ain't broke, don't fix it!
The My Team and driver career options are all present as well as the two-player career for those who want to be team-mates with their friends (that ALWAYS works out, doesn't it?).
A few changes have been made to practice programmes with the ways in which your progress is presented done so in a more visual way. The game does give you a lot more information to choose from overall with new telemetry options available to you in the pits. This opens up a world of possibilities as you chase down lap time.
The biggest change in My Team is the option to set a starting budget. There are three different points to choose from, backmarker, mid-field, and front running challenger. As you progress up the options, each gives you a bigger starting pot of cash and better facilities.
Previous titles' livery options left a lot to be desired, but the new designs available are a lot cleaner and feel as though they would be featured on a real-world car. The choices here have been expanded to include different finishes of paint as well. Glossy, matte, and even satin wraps can be added to your car which can lead to some interesting designs.
F2 is also present in the game (albeit the 2021 roster of cars and drivers) which allows you to start your driver career there before moving to F1.
Overall impressions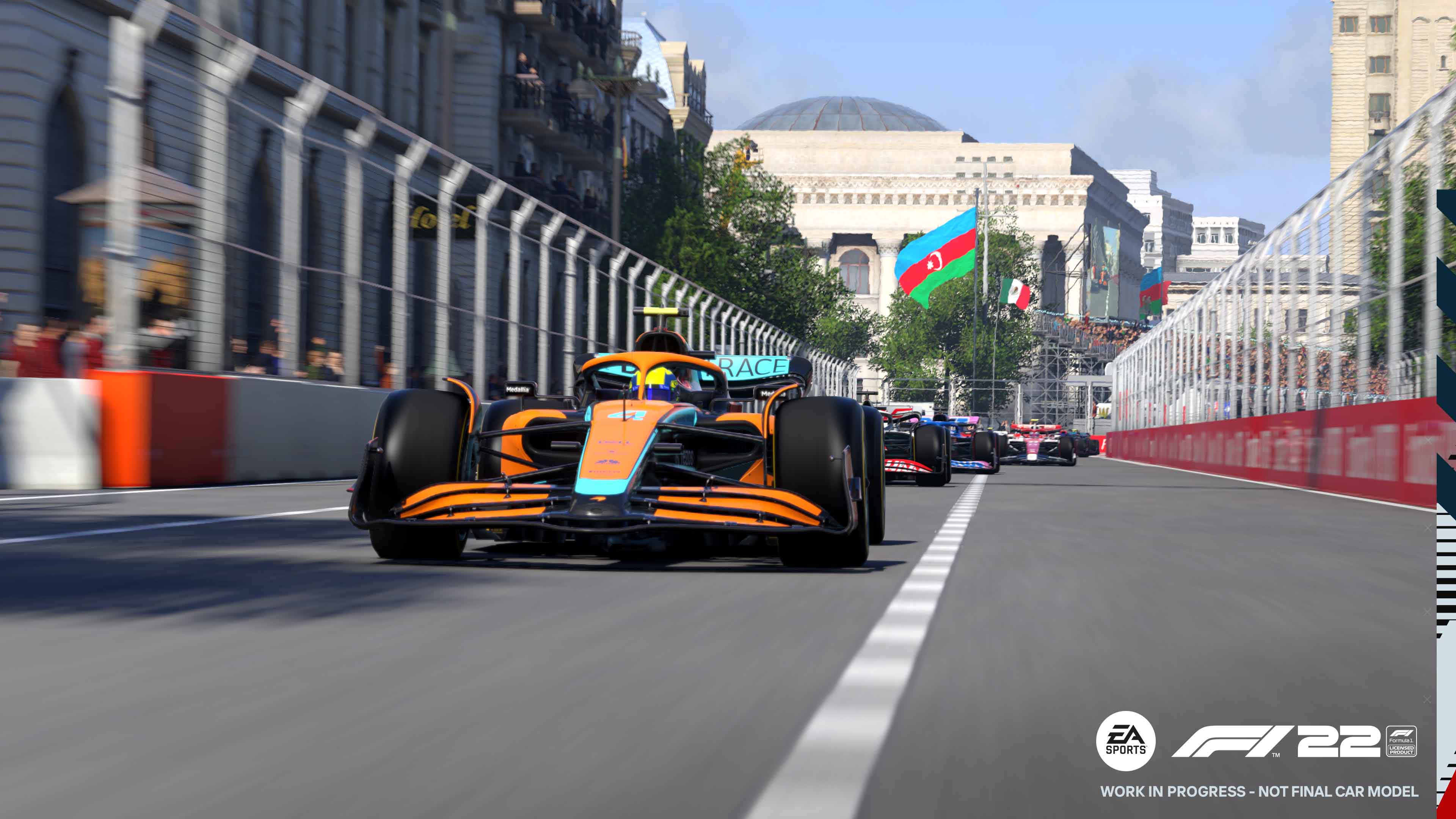 F1 22 is a solid entry into the annual list of titles. It will come as a relief that the cars are a step forward in drivability compared to F1 2021, yet still as challenging as you expect F1 cars to be.
The game looks magnificent. Night time driving is a thrilling experience whilst rays of light poke through trees in the day. The car models and finishes are stunning and the adaptive triggers and haptic feedback (on Playstation 5) has been used to great effect.
The adaptive AI makes racing challenging at any level. I would regularly see myself out-braked by an CPU opponent and have to try to find creative ways of passing them.
The addition of F1 Life and the Pirelli Hot Laps may not be to everybody's taste and definitely feels like something people will try once or twice before giving up on it. It's an F1 game at heart and adding the new social hub feels like an odd step. It's especially strange considering that the classic car content has been missing for two games now.
However, the overall presentation and delivery of the world's fastest sport is solid. The new broadcast-style Safety Car is a deft touch, as are the new immersive pitstops. The pitstops themselves are just button-bashing, but it does build some good foundations for the team to try on next year's title.
F1 22 is a must buy for die-hard F1 fans, and an essential racer for the more casual gamer. Some new features feel like bluster, but lots of other tweaks here and there build upon an already fun and immersive experience.