F1 doc: 'Grosjean's visor had melted'
Doctor Ian Roberts, one on the first of the scene of Romain Grosjean's fiery crash, says such was the blaze that the Haas driver's visor "in fact melted".
Grosjean crashed heavily on the opening lap of Sunday night's Bahrain Grand Prix, clipping the front right of Daniil Kvyat's AlphaTauri before spearing off the track and into the Armco barrier.
Such was the 135mph impact and the angle of it that the Haas VF-20 split in half, bursting into flames.
It took Grosjean almost 30 seconds to climb from his car while a marshal did his best to put the flames out and Roberts reached into the blaze to help the Frenchman.
Assisting Grosjean towards the medical car while Alan van der Merwe used a fire extinguisher on the driver, Roberts revealed Grosjean's visor had melted.
"I think I told him to sit down," he told Sky F1.
"You could see obviously he was very shaky and his visor was completely opaque and in fact melted.
"I managed to get his helmet off just to check that everything else was OK.
"He had got some pain in his foot and on his hands, so from that point we knew it was safe enough to move him round into the [medical] car, just a little bit more protection, get some gel onto his burns and get him in the ambulance and off to the medical centre."
The doctor explained his pressing concerns for the Haas driver in the immediate aftermath with Grosjean's Haas having split the Armco barrier, the driver's life saved by Halo.
"From that sort of thing it's going to be flame, smoke inhalation, airway issues," Roberts continued.
"But in fact, nothing went up into his helmet, we've had a look at the helmet as well.
"Certainly looking at him clinically we were quite happy with him from a sort of life-threatening injury point of view and it was just trying to make him comfortable from the injuries that we could actually see."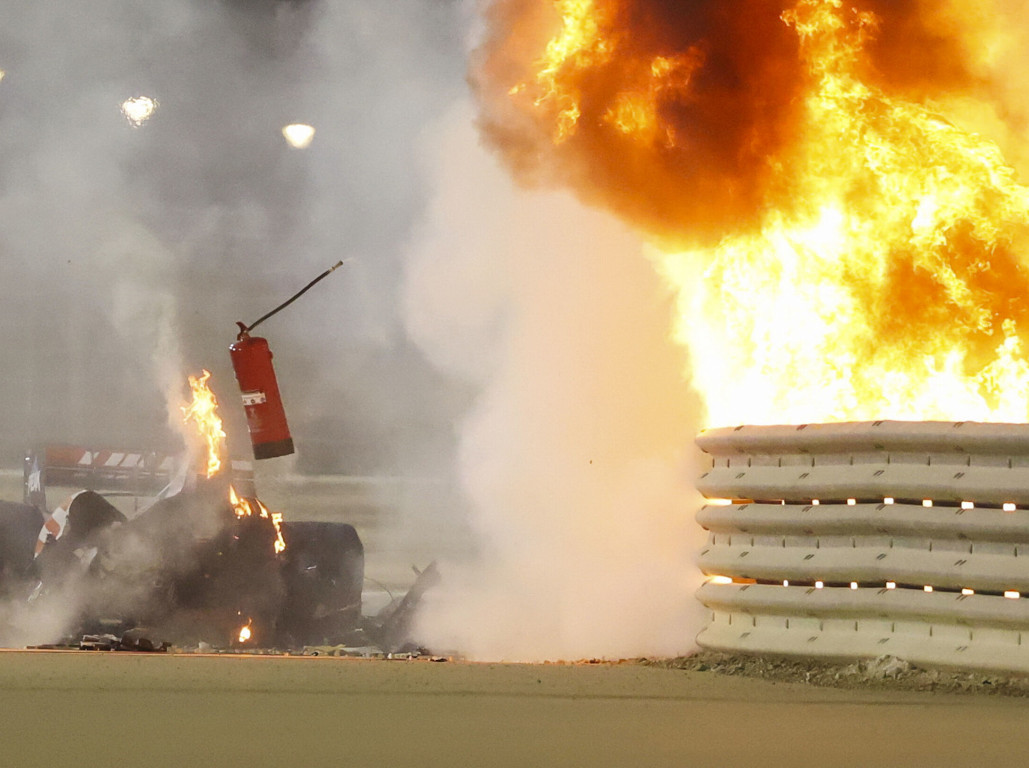 Grosjean suffered burns to his hands and feet but thankfully that is the worst of his injuries with Haas reporting no fractures.
Roberts hailed the brave fire marshals who also approached the blaze, doing his best to give Grosjean a gap in which he could escape.
"It was a very odd scene, where you've got half a car pointing in the wrong direction and just across the barrier," Roberts explained.
"Just a mass of heat. I just took stock and looking to the right at that point I could see Romain trying to get out.
"We needed some way of getting to him. We got the marshal there with the extinguisher, and the extinguisher was just enough to push the flame away as Romain got high enough, then to reach over and pull him over the barrier."
Follow us on Twitter @Planet_F1 and like our Facebook page.