F1 driver contracts: What is the current contract status of every driver on the 2023 grid?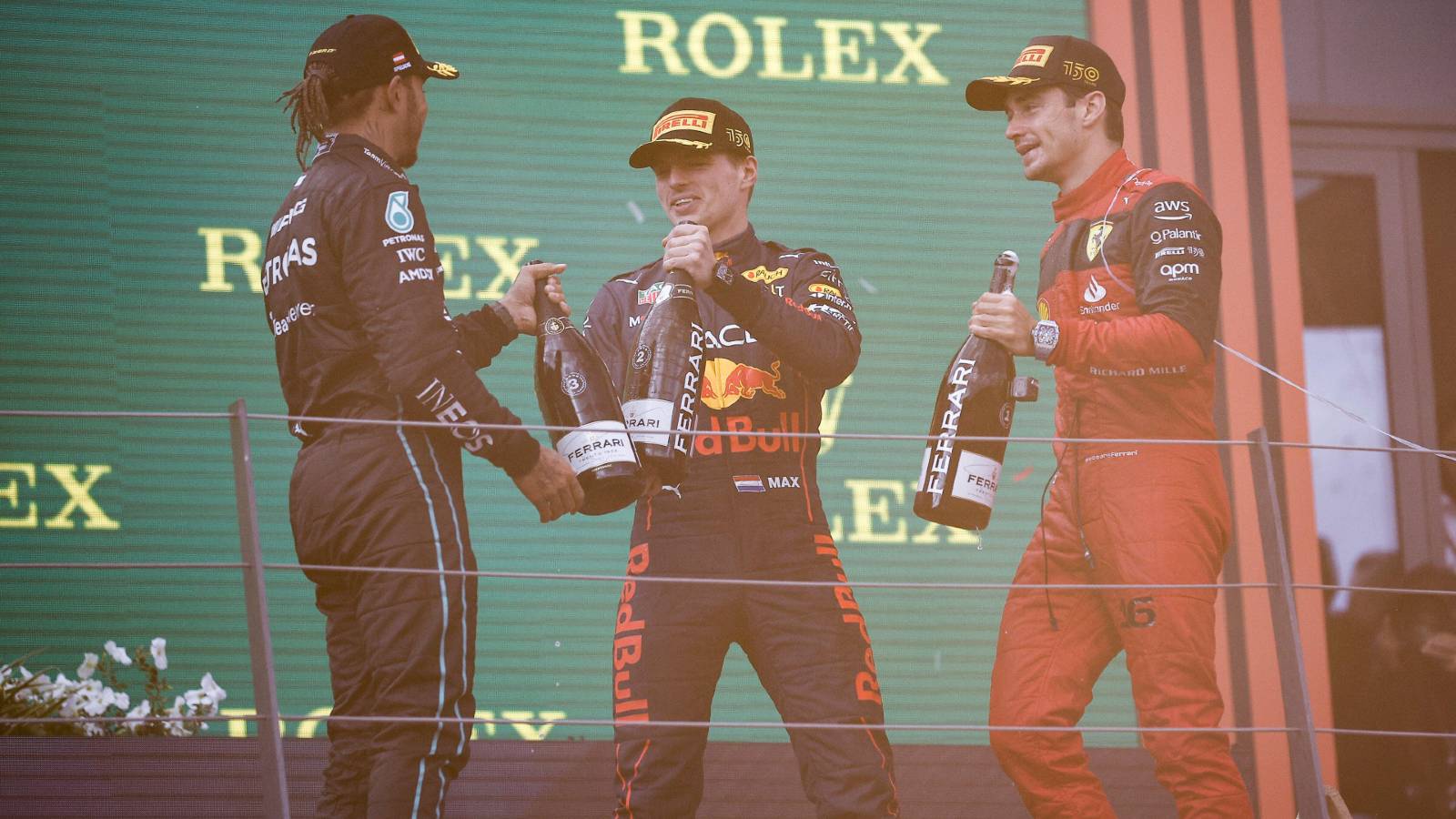 How long are Max Verstappen and Lewis Hamilton set to drive for Red Bull and Mercedes? Here's the length of all the current F1 driver contracts.
Every driver on the F1 grid has signed a contract with their current team to race with them in 2023. These contracts are usually watertight, with only mutual cooperation (such as in Daniel Ricciardo's split with McLaren at the end of 2022) able to break up these deals.
While the teams aim to lock down superstar talents such as Max Verstappen, Lewis Hamilton and Charles Leclerc on long-term deals, the key for these drivers is to try to find a sweet spot of longevity to coincide with a period of competitiveness from their team.
For less-established drivers, they may only sign short-term one-year deals and have to continuously impress in order to secure another year in the sport.
Let's look through the current grid and check out the confirmed length of each of the F1 driver contracts.
Max Verstappen – Contracted until end of 2028
The Dutch driver, now at the top of Formula 1 after two consecutive World Championship wins, is under contract with Red Bull until the end of 2028 – easily the longest-signed contract in the sport.
Having made his debut with Toro Rosso as a full-time driver in 2015, Verstappen's current contract, signed in March 2022, will see him having raced for the Red Bull organisation for well over a decade by the time his current deal comes to a close.
Sergio Perez – Contracted until end of 2024
Just ahead of the 2022 Monaco Grand Prix, Red Bull confirmed that Sergio Perez, who so ably aided Max Verstappen en route to the 2021 title, will stay with the Milton Keynes-based squad until the conclusion of the 2024 season.
The Mexican was given a two-year deal, having had his previous contract come to an end at the conclusion of 2022.
Lewis Hamilton – Contracted until end of 2023
Lewis Hamilton's contract situation has been making constant headlines since the end of 2022, with the seven-time World Champion's existing deal coming to an end at the end of 2023.
However, it doesn't appear as though Hamilton's F1 journey is ending just yet, with both he and Mercedes indicating another multi-year deal is likely to be thrashed out early this year – potentially Hamilton's last-ever F1 contract as even a two-year deal will take him into his 40s.
George Russell – Contracted until end of 2023
The exact duration of Russell's contract with Mercedes is unconfirmed, with the British driver announced in late 2021 on a "multi-year deal". In F1, this usually means a '2+1' deal, with two years definite and a team option for a third season.
It's a safe assumption that Russell will need some sort of contract negotiation or formalisation to take place this year, in order to ensure he stays with the team for 2024.
Charles Leclerc – Contracted until end of 2024
Leclerc's original Ferrari F1 contract was actually due to expire at the end of 2022, but the Monegasque put pen to paper after just one season with the Scuderia to extend his existing deal by a further two years.
This means that Leclerc is entering the penultimate season of his Ferrari contract and, having gone through the trials and tribulations of the 2022 season, will be hoping for a significant improvement from his team ahead of his next contract negotiation.
Carlos Sainz – Contracted until end of 2024
After signing an initial two-year deal with Ferrari after switching from McLaren at the conclusion of 2021, Carlos Sainz re-committed his immediate future to the Scuderia last year.
Then-team boss Mattia Binotto secured Sainz on a further two-year deal, claiming that Sainz and Leclerc make up the most talented driver pairing on the grid. Their deals mean Leclerc and Sainz will have been teammates for four consecutive years at the end of their existing deals.
PlanetF1.com recommends
F1 2024 driver line-up: Who is confirmed for next season's grid?
Lando Norris explains why he agreed a long-term contract with McLaren
The seven drivers out of contract at the end of the F1 2023 season
Lando Norris – Contracted until end of 2025
Having made his debut in Formula 1 with McLaren in 2019, the young British driver has become widely regarded as one of the sport's brightest talents.
Norris put pen to paper on a new long-term McLaren deal ahead of 2022, a move which raised eyebrows as he hitched his wagon to the team without even seeing how competitive their first car under the new regulations was.
Norris explained at the time that he has no interest in caring about team negotiations any time soon, as he'll be just 26 years old when his deal comes to an end at the conclusion of 2025.
Oscar Piastri – Contracted until end of 2024
The Australian makes his debut in Formula 1 this year, but the 2021 Formula 2 Champion has already secured himself a two-year deal with McLaren.
Daniel Ricciardo's replacement at the team will thus drive for the Woking-based squad until the conclusion of the 2024 season, and will be aiming to impress in those two years in order to secure a longer-term F1 future.
Fernando Alonso – Contract until end of 2024
Alonso is another driver on a 'multi-year' deal as he switches teams to join Aston Martin from Alpine, meaning he's tied to his new squad until, at least, the end of 2024.
As Alonso turns 42 later this year, could his existing deal be his last in Formula 1?
Lance Stroll – Contract duration unknown
As the son of team owner Lawrence Stroll, Lance's contract situation appears to be 'he drives until we say otherwise!'
Pierre Gasly – Contract until end of 2024
The French driver has left the Red Bull organisation for the first time in his Formula 1 career, with Gasly making the switch to Alpine from AlphaTauri this season.
Alpine are putting their faith in the 2020 Italian Grand Prix winner, signing Gasly on an initial two-year deal that will take him through to the end of 2024.
Esteban Ocon – Contract until end of 2024
Esteban Ocon's continuation with Alpine makes it an all-French affair at the Enstone-based squad, with Ocon having signed a long-term deal with Renault.
Ocon re-committed to Renault/Alpine in mid-2021, signing a contract that takes him through until the end of 2024.
Valtteri Bottas – Contract until end of 2025
Having put up with a series of single-year extensions with Mercedes, Valtteri Bottas negotiated a much longer contract as part of his switch to Alfa Romeo.
The Finn is committed to the Hinwil-based squad until the end of 2025, just before the arrival of Audi as the German manufacturer begins its partnership with Sauber.
Zhou Guanyu – Contract until end of 2023
As a rookie driver in 2022, Zhou was initially signed by Alfa Romeo on a one-year deal. A solid but unspectacular maiden season has netted him a further year's contract, meaning the Chinese driver stays with Alfa Romeo until the conclusion of 2023.
With Alfa Romeo and Sauber going their separate ways at the conclusion of 2023, Zhou will be out to be a figure of continuity alongside Bottas into 2024 and has made it clear he's chasing a longer-term deal for his next F1 contract.
Nyck de Vries – Contract until end of 2024
After a brilliant F1 debut at last year's Italian Grand Prix, the former Mercedes reserve and previous Formula E World Champion has secured a full-time slot on the Formula 1 grid.
De Vries convinced Red Bull's Helmut Marko sufficiently to be signed for AlphaTauri on a two-year deal, with the Dutch driver surely targeting a seat alongside Max Verstappen at the senior team once Sergio Perez's contract ends.
Yuki Tsunoda – Contract until end of 2023
The Japanese driver was lucky to hold onto his Formula 1 seat for 2022 after a largely poor rookie season in '21, but showed signs of improvement during his sophomore year.
His existing deal comes to an end at the conclusion of 2023 and, with Red Bull clearly no longer fully committed to their junior driver programme following the signing of De Vries, Tsunoda will need to dig deep in order to secure his future beyond this season.
Alex Albon – Contract until end of 2023
After rebuilding his reputation as Red Bull's reserve and development driver in 2021, Albon secured his return to the F1 grid with Williams on a two-year deal.
Becoming a star of the midfield last year, Albon nonetheless faces a year of pressure as Jost Capito, a vocal supporter of Albon as his team boss, has been replaced by former Mercedes man James Vowles. Will Albon similarly impress Vowles and secure a new deal for 2024?
Logan Sargeant – Contract until end of 2023
Logan Sargeant is set for his rookie season in Formula 1, stepping up from Formula 2, with a one-year deal in place with Williams.
As a member of the Williams Driver Academy, Sargeant enjoys the kudos of being a 'home-grown' talent for Williams, but faces similar pressure to Albon in that he must now impress the new team boss James Vowles.
Kevin Magnussen – Contract until end of 2023
After securing the most unlikely of Formula 1 comebacks at the start of last season, Kevin Magnussen was able to command a two-year deal from team boss Guenther Steiner.
While the Danish driver had some tremendous high points in 2022, there were also plenty of markedly low points. Having been dropped by Steiner before (albeit for financial reasons), Magnussen needs a strong season as he begins contract negotiations later this year.
Nico Hulkenberg – Contract until end of 2024
35-year-old Nico Hulkenberg returns to Formula 1 this year after a three-year break from full-time racing, with only a handful of 'super-sub' appearances for Racing Point and Aston Martin breaking up his time away.
The German veteran of the midfield returns on a two-year deal, confirmed for one year with Haas having an option on him for 2024, meaning some of the immediate pressure for his future is off as he re-adjusts to life in the top class of motorsport.
How long is each F1 driver contracted for?
Max Verstappen – end 2028
Sergio Perez – end 2024
Lewis Hamilton – end 2023
George Russell – end 2023
Charles Leclerc – end 2024
Carlos Sainz – end 2024
Lando Norris – end 2025
Oscar Piastri – end 2024
Fernando Alonso – end 2024
Lance Stroll – unknown
Pierre Gasly – end 2024
Esteban Ocon – end 2024
Valtteri Bottas – end 2025
Zhou Guanyu – end 2023
Nyck de Vries – end 2024
Yuki Tsunoda – end 2023
Alex Albon – end 2023
Logan Sargeant – end 2023
Kevin Magnussen – end 2023
Nico Hulkenberg – end 2024