F1: No excuse for Corberi's violent actions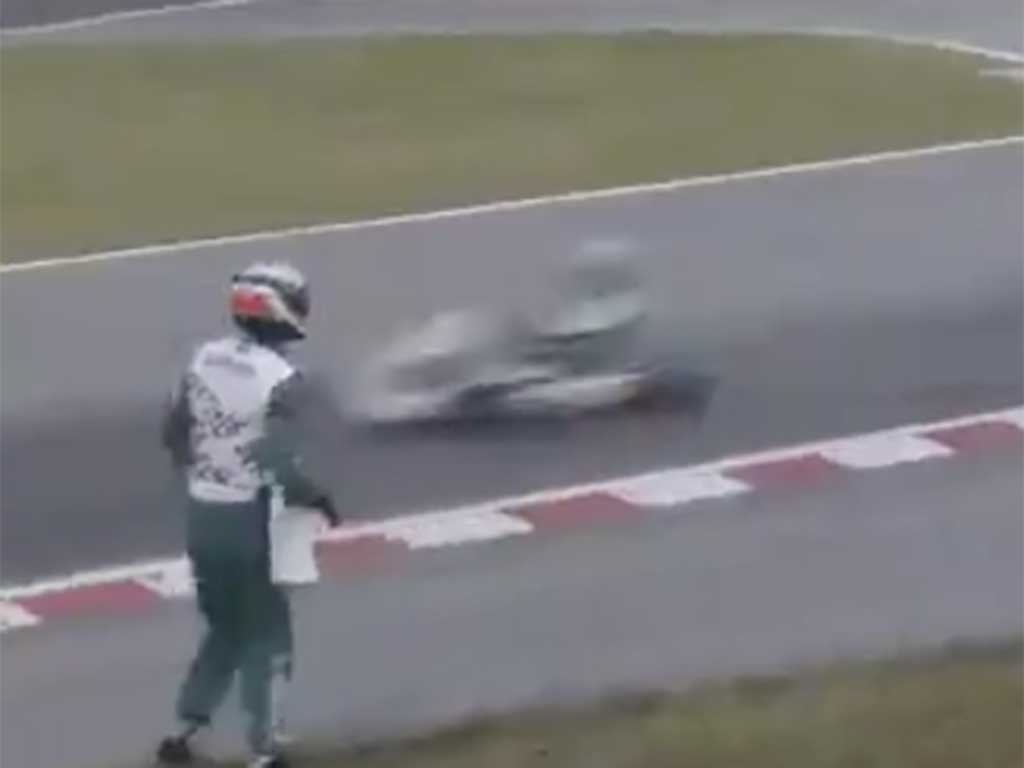 Kart driver Luca Corberi's moment of red mist has been criticised by Formula 1 drivers, who say there is "no excuse" for such behaviour.
Corberi lost it at the FIA Karting World Championship race when he was involved in a collision with Paolo Ippolito.
The 23-year-old reacted by throwing his broken bumper at his rival before later attacking him the pits.
The incident has seen the Italian, his father Marco and their Lonato kart track facing life-time bans from the Italian motorsport federation, ACI Sport.
Karter Luca Corberi continues to vent his anger after the kart race. Somebody arrest this guy. (via @EstagiariodaF1) pic.twitter.com/R9Kuk2VI4G

— F1 Feeder Series (@F1FeederSeries1) October 4, 2020
Get your hands on the official Red Bull 2020 collection via the Formula 1 store
Max Verstappen, a driver who understands what is like to have the emotions get the better of you as they did with the Dutchman after the 2018 Brazilian GP when he confronted Esteban Ocon, says Corberi's actions were "unacceptable".
"I guess it's very clear that that's not what you want to happen," he said. "It was also pretty unsafe.
"I mean, arguments happen in sport, I guess that's normal, but try to keep it by just having conversations.
"But I think everybody saw that it was unacceptable. He said that himself I think, and that he stopped racing. Let's see what's going to happen."
George Russell feels there is "no excuse" for putting another driver at risk.
"First and foremost, he put himself in a huge amount of danger, standing at that point of the track," Russell said.
"And ultimately putting somebody else in a huge amount of danger, as well, with the actions he took when he was on track and obviously following up what happened in the pits was unacceptable in any walks of life."
"Motorsport is incredibly passionate, but there's no excuse for anybody to react in that manner."
His team-mate Nicholas Latifi agrees.
"Those bumpers are not exactly light," Latifi said. "They are quite heavy, and even though the cars don't look like they're going very fast, it is something quite severe.
"They don't have halos. They're not covered, so if he did hit his target like he was intending to, it could have been quite bad."
Karting driver Luca Corberi got mad at a race and then this happened. Should be a ban for life. pic.twitter.com/ofVoSif6fJ

— F1 Feeder Series (@F1FeederSeries1) October 4, 2020
Lance Stroll added: "I think he was completely out of line. Behaviour like that can't be tolerated in our sport. That shows a bad example to the young generation.
"We fight so hard on track, there's just no need for violence off the track.
"That's how I see it. I believe the FIA is going to handle it, as they should, and something like that needs to be heavily addressed. There needs to be a severe penalty for his actions."
Follow us on Twitter @Planet_F1 and like our Facebook page.