F1 fans clash with security guards after Brazilian Grand Prix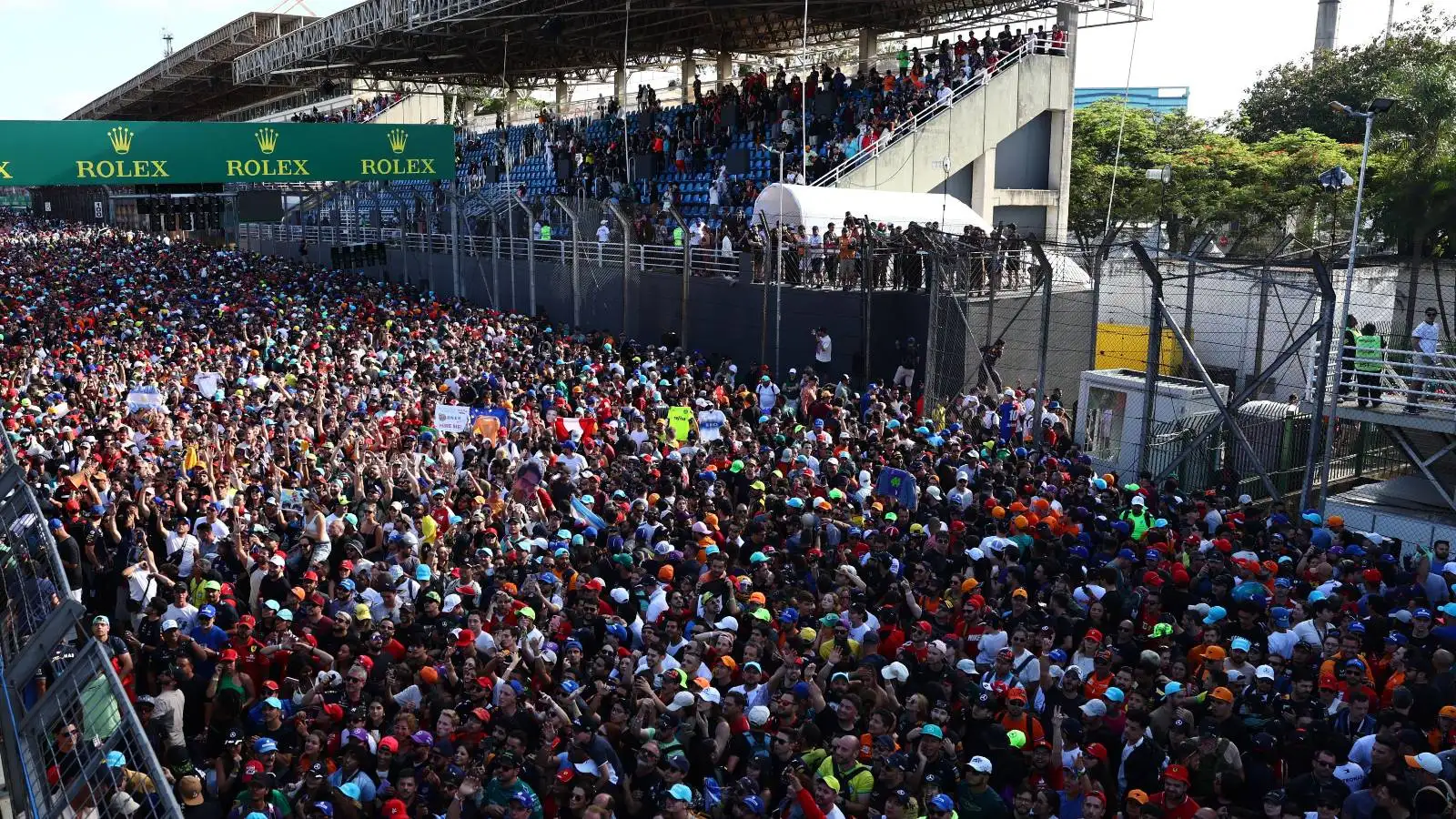 Alarming footage showed fans and security clashing at the Brazilian Grand Prix, with the FIA having demanded a remediation report after a track invasion.
Max Verstappen ruled at Interlagos as he claimed the sprint and Brazilian Grand Prix victory, expanding his record-breaking tally of F1 2023 grand prix wins to 17.
However, the shine has somewhat been taken off the event after footage of fan unrest emerged.
Blows exchanged between fans and security
Online footage shows security trying to contain fans from making their way onto the circuit, as numerous spectators put themselves in danger by scaling the fencing to access the track shortly after the race ended.
Pancadaria na Fórmula 1: Seguranças trocam socos com torcedores após acesso à pista ser negado.

Cenas foram registradas no 'Heineken Village' logo após o fim da corrida. pic.twitter.com/yOOb7El3nC

— Metrópoles (@Metropoles) November 5, 2023
One individual can been seen attacking a security guard through the fencing, the guard throwing a punch in retaliation.
PlanetF1.com recommends
Revealed: The contract status of every single race on the F1 2023 calendar
F1 2023: Head-to-head qualifying and race stats between team-mates
After the race, the stewards summoned the Brazilian Grand Prix promoter in regards to a fan invasion of the track at Turn 1, while Formula 1 cars were still active on the circuit.
The promoter now has until January 30, 2024 to submit a report detailing their response to what the FIA called an "unacceptable situation".
"A large group of spectators managed to break the security lines and accessed the run off area at Turn 1 while the race was finishing and cars were still on track," the FIA stewards determined.
"The security measures and/or security officers and/or equipment which were expected to be in place for the Event were not enforced and/or were not sufficient resulting in an unsafe environment for the spectators and drivers.
"SPF1 [São Paulo F1 Organisation] candidly admitted the failures in terms of the security protocols and safety measures. SPF1 concurred with the FIA Sporting Delegate and the Race Director report and agreed that comparable circumstances already occurred in Brazil and that this was an unacceptable situation which could have had disastrous consequences.
"SPF1 stated, in mitigation, that they would conduct a thorough investigation and take steps to remediate in time for the next event in Brazil."
A new deal was agreed over the course of the Brazilian Grand Prix weekend to keep the event on the Formula 1 calendar until 2030.
Read next – Brazilian Grand Prix: Max Verstappen dominates but Alonso v Perez steals the show