Revealed: Overall driver ratings from F1 Manager 2022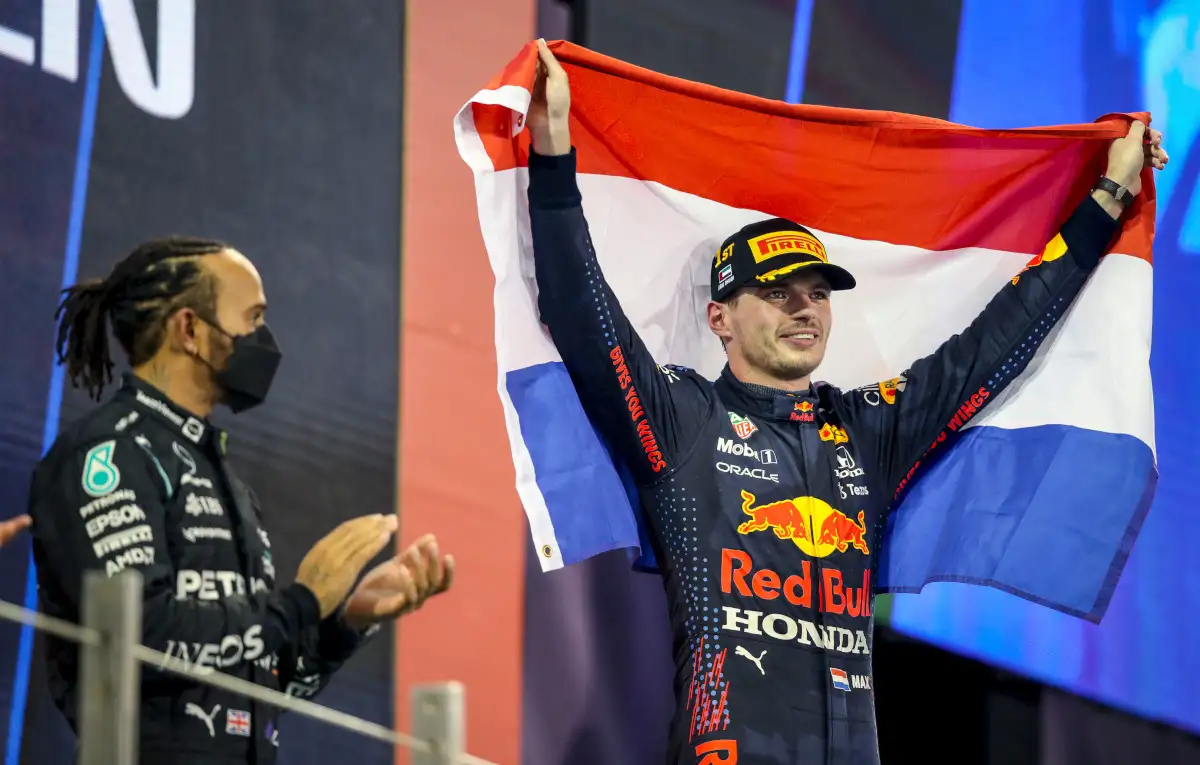 Max Verstappen and Lewis Hamilton have been revealed as the highest rated drivers in the upcoming F1 Manager 2022 game.
The two most recent World Champions top the list by two levels while Ferrari's Charles Leclerc is third on 88.
Verstappen's team-mate Sergio Perez is one of three drivers on 87 alongside Carlos Sainz and Valtteri Bottas while Hamilton's Mercedes colleague George Russell is on 86.
Fellow Brit Lando Norris is ranked 86 while four-time World Champion Sebastian Vettel receives a lowly score of 82. The final former World Champion still on the grid, Fernando Alonso, is rated at 85.
The lowest ranked current full-time F1 driver is Nicholas Latifi on 73, behind reserve drivers Nyck de Vries, Niko Hulkenberg and Oscar Piastri.
Frontier Developments, who made the game, say that they worked closely with Formula 1 to create the ratings which used real racing data to rank the drivers on nine performance aspects (cornering, braking, reactions, control, smoothness, adaptability, overtaking, defending and accuracy).
While the drivers will be given these ratings upon the game's release in August, they are not set in stone and players can directly influence how much a driver's rating will grow depending on how they allocate development points.
As well as the nine listed aspects, the drivers also have an aggression value which will determine how likely they are to go for a risky manoeuvre as well as a growth potential meaning the likes of Norris and Russell have more room to improve than Vettel and Alonso.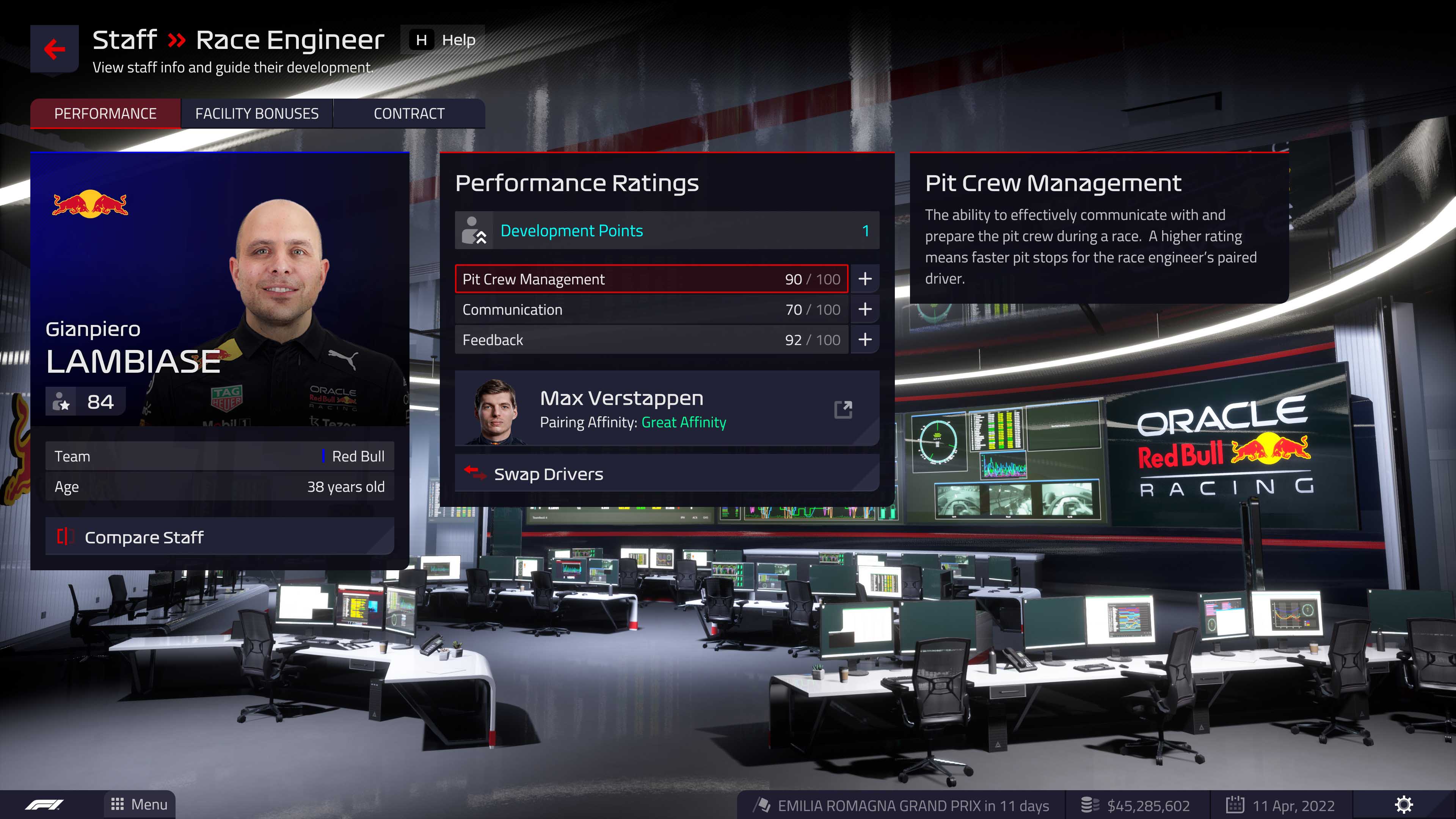 It is not just the current F1 drivers that have been ranked either as every driver in Formula 2 and Formula 3 has been tested using the same measurement. This means that players will be given a realistic look at a driver's stats should they be thinking about hiring them for their team.
The game is released on August 30 (August 25 for players who pre-order) on Xbox Series X|S, PlayStation® 5, Xbox One, PlayStation® 4, Steam and the Epic Games Store. PlanetF1 was given an exclusive first-look at the game and you can read our review here.
Driver ratings in full:
| Driver | Overall Rating |
| --- | --- |
| Lewis Hamilton | 90 |
| George Russell | 86 |
| Max Verstappen | 90 |
| Sergio Perez | 87 |
| Charles Leclerc | 88 |
| Carlos Sainz | 87 |
| Lando Norris | 86 |
| Daniel Ricciardo | 84 |
| Fernando Alonso | 85 |
| Esteban Ocon | 85 |
| Pierre Gasly | 84 |
| Yuki Tsunoda | 77 |
| Sebastian Vettel | 82 |
| Lance Stroll | 79 |
| Alexander Albon | 80 |
| Nicholas Latifi | 73 |
| Valtteri Bottas | 87 |
| Zhou Guanyu | 79 |
| Kevin Magnussen | 80 |
| Mick Schumacher | 76 |
| Nyck de Vries | 74 |
| Sebastien Buemi | 72 |
| Antonio Giovinazzi | 78 |
| Stoffel Vandoorne | 72 |
| Oscar Piastri | 75 |
| Liam Lawson | 68 |
| Nico Hulkenberg | 76 |
| Jack Aitken | 66 |
| Robert Kubica | 69 |
| Pietro Fittipaldi | 66 |
| Amaury Cordeel | 50 |
| Ayumu Iwasa | 66 |
| Calan Williams | 66 |
| Cem Bolukbasi | 56 |
| Clement Novalak | 63 |
| Dennis Hauger | 69 |
| Enzo Fittipaldi | 61 |
| Felipe Drugovich | 68 |
| Frederik Vesti | 71 |
| Jack Doohan | 72 |
| Jake Hughes | 63 |
| Jehan Daruvala | 73 |
| Juri Vips | 70 |
| Logan Sargeant | 70 |
| Marcus Armstrong | 66 |
| Marino Sato | 60 |
| Olli Caldwell | 64 |
| Ralph Boschung | 71 |
| Richard Verschoor | 71 |
| Roy Nissany | 68 |
| Theo Pourchaire | 71 |
| Alexander Smolyar | 59 |
| Arthur Leclerc | 59 |
| Ayrton Simmons | 44 |
| Brad Benavides | 37 |
| Caio Collet | 55 |
| David Vidales | 47 |
| Enzo Trulli | 33 |
| Frederico Malvestiti | 32 |
| Francesco Pizzi | 51 |
| Franco Colapinto | 50 |
| Gregoire Saucy | 62 |
| Hunter Yeany | 39 |
| Ido Cohen | 46 |
| Isack Hadjar | 59 |
| Jak Crawford | 59 |
| Juan Manuel Correa | 50 |
| Kaylen Frederick | 51 |
| Kush Maini | 56 |
| Laszlo Toth | 50 |
| Nazim Azman | 41 |
| Oliver Bearman | 65 |
| Oliver Rasmussen | 48 |
| Pepe Marti | 42 |
| Rafael Villagomez | 41 |
| Reece Ushijima | 37 |
| Roman Stanek | 57 |
| Victor Martins | 56 |
| William Alatalo | 44 |
| Zak O'Sullivan | 46 |
| Zane Maloney | 64 |