Revealed: The two F1 battles more one-sided than Verstappen v Perez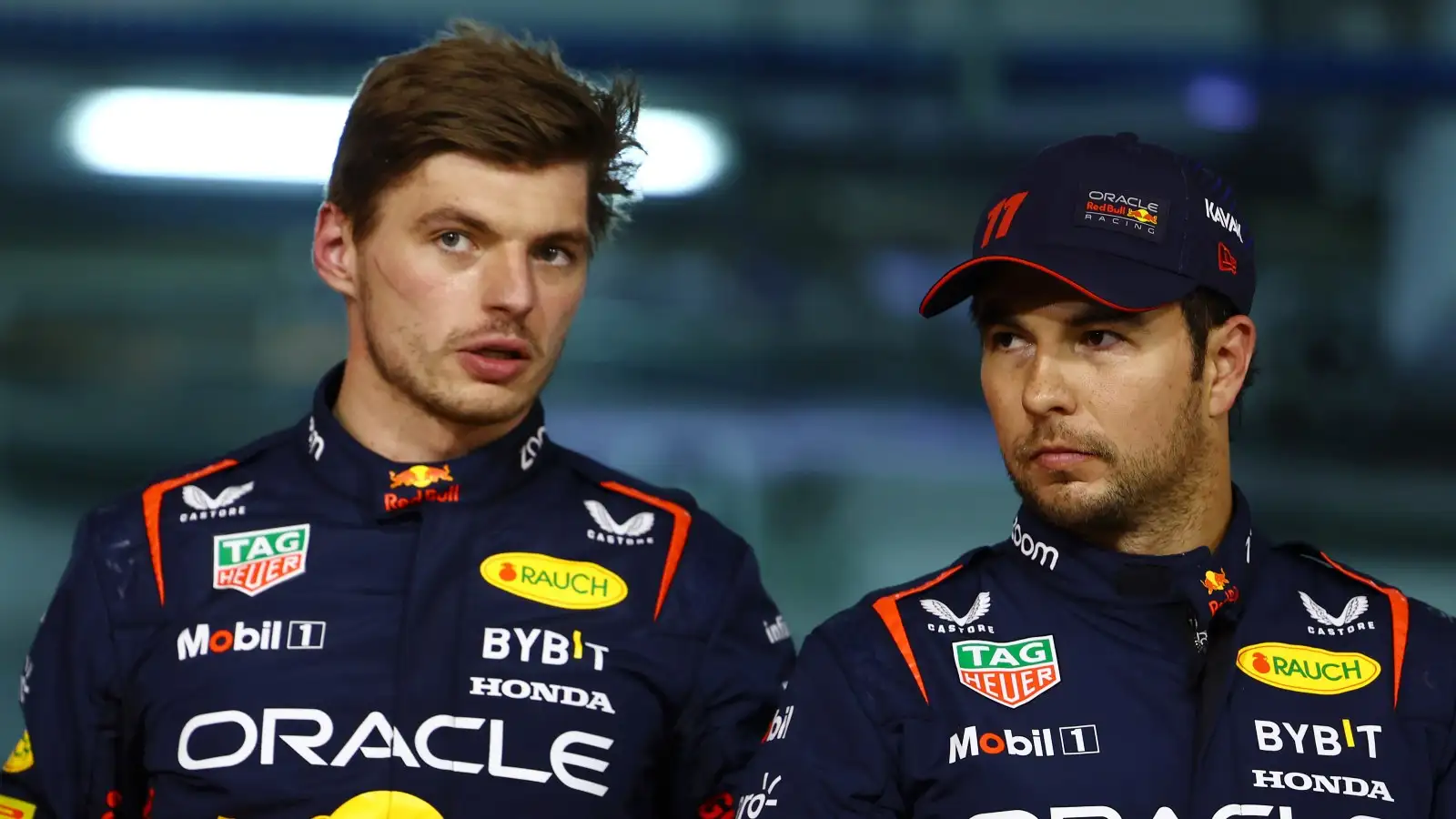 The average time between F1 team-mates can make for good or bad reading depending on which side of the fence you are.
If you ask any driver what is the one thing they do not want to happen more than anything then,  more often than not, their answer will be losing to their team-mate.
As we have hit the summer break, Formula Racers on X/Twitter has calculated the median distance between each driver and look away now if your name begins with an L…
Yuki Tsunoda 0.04 seconds ahead of Daniel Ricciardo
With just two races to go off, this difference was always going to come down to fine margins and after Hungary and Belgium, neither of Yuki Tsunoda and Daniel Ricciardo have finished significantly further ahead than their team-mate.
It is 1-1 in terms of race finishes with Ricciardo bettering Tsunoda in Budapest and the reverse happening in Belgium but Tsunoda's better time in Spa gives him the narrow lead.
Charles Leclerc 0.8 secs ahead of Carlos Sainz
Perhaps unsurprising considering these are also the two drivers to be separated by the fewest points of those who have scored at least 10.
The two Ferrari drivers have been neck and neck this year which is not necessarily a good thing but rather a sign of how slow the SF-23 can be.
In the races, Charles Leclerc leads Carlos Sainz by seven results to five and that is shown with his points tally being marginally better than the Spaniard's.
Etseabn Ocon 3.1 secs ahead of Pierre Gasly
The gap starts to get bigger as we head to the Alpine boys and it is Esteban Ocon who is so far beating out his new team-mate.
While neither driver has had the first half of the year that they would have liked, Pierre Gasly's sprint podium did show that on its day the Alpine car can challenge for a good amount of points.
But, as is the case with Ferrari, Alpine's problems this year are not down to the driver but instead an underwhelming engine and upper management chaos.
Lando Norris 4 secs ahead of Oscar Piastri
This is certainly a gap to keep an eye on going into the second half of the season for while the MCL60 was initially applying a handbrake on both drivers' chance of impressing, that handbrake is now off with the car one of the fastest on the grid.
So far it has been Lando Norris who has got the better of his team-mate but Oscar Piastri's showing in Spa suggests that the battle is not over yet.
Nico Hulkenberg 6 secs ahead of Kevin Magnussen
Were this done on average qualifying position that Kevin Magnussen would look a lot worse than he currently does. While Nico Hulkenberg has had the edge on the Saturday, the Haas' ability to eat through tyres has been somewhat of an equaliser between the two drivers.
But even with that, it should not take away from Hulkenberg's impressive return to Formula 1 when many thought he would struggle against Magnussen who was coming off a good 2022.
If Haas can just sort their tyre deg issue then their points may start to skyrocket.
Valtteri Bottas 6.5 seconds of Zhou Guanyu
A perhaps surprising difference considering how closely the two drivers are in points but such is the nature of being down the bottom of the grid that one good result can make all the difference.
Neither driver has exactly excelled so far this year with the Alfa car not proving one of their finest but so far it is advantage Valtteri Boittas.
Lewis Hamilton 6.6 secs ahead of George Russell
After being beaten by his team-mate for just the third time in his career last year, Lewis Hamilton will be happy the pendulum has swung back in his favour in 2023.
While George Russell appears to be struggling somewhat, Hamilton seems to have finally found more of a groove and has finished on the podium the fourth most of any driver this season.
The gap is still just 6.6 seconds, somewhat closer than many of Hamilton's previous team-mates, but the seven-time World Champion will hope to extend that in the final 10 races of the year.
PlanetF1.com recommends
Fastest F1 pit stops: Ferrari set Spa benchmark, backmarkers surge in pit lane standings
F1 2023: Head-to-head qualifying and race stats between team-mates
Max Verstappen 11.5 seconds ahead of Sergio Perez
A gap that Sergio Perez will not want to be reminded of anytime soon. To make matters worse, there is also the caveat that Verstappen opted to stop for the fastest lap in Austria meaning the difference could have been even bigger.
While it might be okay for the other 18 drivers to not take criticism for finishing someway behind the Red Bull car this year, that is not the case for Perez whose early performances have disappeared pretty quickly.
Given Verstappen's form, this gap appears only likely to go up with the pair split by 22.305 seconds at the last race in Spa.
Alex Albon 17 secs ahead of Logan Sargeant
One of the least surprising differences of two drivers on the grid as the experienced Alex Albon has made light work of his rookie team-mate so far.
Even in 2022, Albon showed an ability to force the Williams car higher than it had any right to be but now in 2023 and with a car that does not look out of its depth at every circuit, he has turned it up a notch.
For Logan Sargeant though, he has yet to find his feet in the tricky world of Formula 1 and with Nyck de Vries no longer on the grid, more focus may be placed on the young American in the second half of 2023.
Fernando Alonso 19.5 secs ahead of Lance Stroll
Ouch. Even without looking at the numbers you should by now have a good idea how much Fernando Alonso is outperforming Lance Stroll by – but that chasm is really put into perspective.
Considering the 19.5 seconds between them is just shy of a whole extra pit stop, it shows clearly how much the two-time World Champion has so far been up showing Stroll.
Of course, this comes with the caveat that Stroll shares the same surname as the owner and the exact details of his contract remain unknown but if Aston Martin are serious about one day challenging for the World Title, they may need to take a look at who occupies the seat of their number one car.
 Read next: F1 2023 predictions revisited – A De Vries howler and Red Bull shenanigans needed