First F1 test finishes with a Mercedes 1-2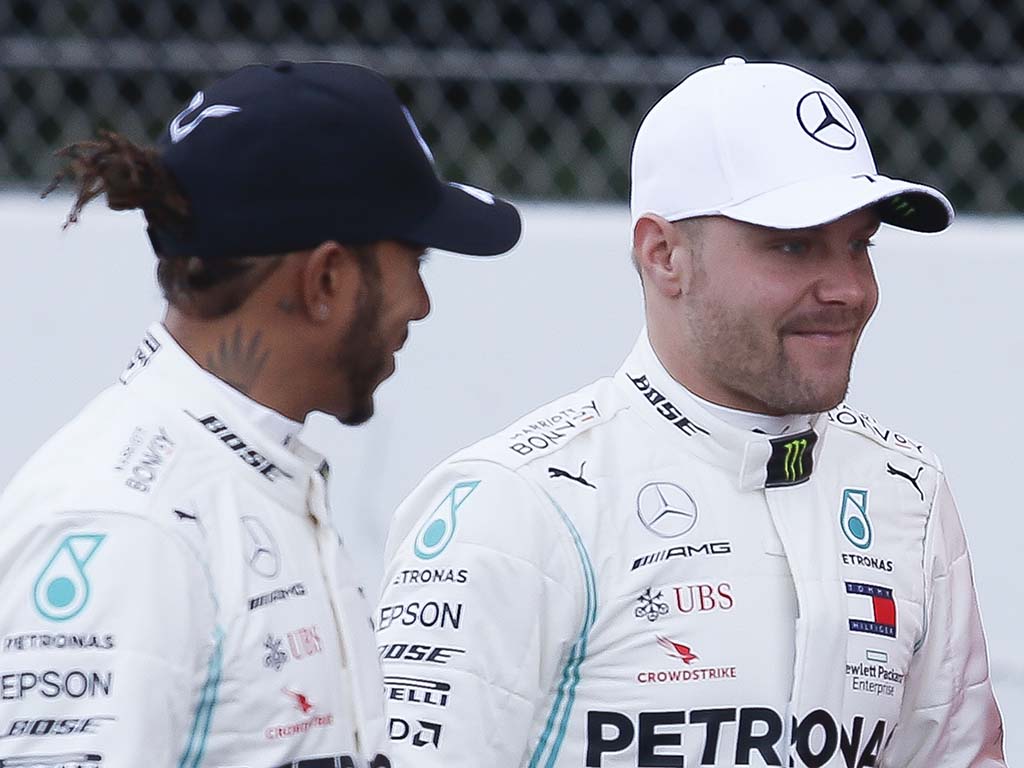 The first F1 test of the 2020 season is in the books with Valtteri Bottas heading a Mercedes 1-2 at the top of the timesheet.
Valtteri Bottas upped the ante during Friday's morning session with the softest C5 tyres strapped on, setting an eye-catching 1:15.732 which is the quickest time of testing so far and half a second quicker than the quickest time of 2019 testing from Ferrari's Sebastian Vettel.
Lewis Hamilton took over driving duties in the afternoon session and also tried the C5 compound on for size, but a mistake on his hot lap ensured he would finish 0.784 seconds behind his team-mate.
The final day of the first test saw the red flags waved on four occasions at the Circuit de Catalunya. On-track stoppages in the morning for Vettel and Williams' Nicholas Latifi were followed by further stops in the afternoon for Haas' Kevin Magnussen and Daniel Ricciardo in the Renault.
Magnussen, after taking over from Romain Grosjean, could only complete four laps before a right rear puncture forced him into a big spin at Turn 9.
That was game and testing over for Haas with two-and-a-half hours of the afternoon session remaining.
It also looked like Renault would have to abruptly end their running, too, when a mechanical issue relating to the RS20 engine brought Ricciardo to a grinding halt.
Hello darkness my old friend…#F1 pic.twitter.com/m3Z1IIIOp6

— Planet F1 (@Planet_F1) February 21, 2020
However, he was able to return to the track within the final hour and improve from P14 to P7 as the sun set in Barcelona. His team-mate Esteban Ocon occupied P3 following a productive morning stint.
Lance Stroll popped his pink Mercedes in the lofty heights of P4 and was followed on the leaderboard by AlphaTauri's Daniil Kvyat and Alfa Romeo's Antonio Giovinazzi. The latter finishing the day as the lap leader with a whopping 150+ laps under his belt.
Max Verstappen, P8, and Alex Albon, P10, also combined to take Red Bull beyond the 150-lap mark as they continued to quietly go about their business.
Pierre Gasly was also in the top 10 mix, with Carlos Sainz and Grosjean just outside.
And then you will finally get to one Sebastian Vettel down in P13. After an enforced engine change kept him out of action for a few hours, he returned to the track in the afternoon and thankfully ran without any further complications.
McLaren's Lando Norris, P14, also spent a lot of time in the garage on Friday afternoon before a late flurry of action.
The second and final three-day pre-season test before the season opener in Australia is on Wednesday, February 26, starting at 9am local time.
Day 3 timesheet:
Day 3 timesheet:
1 Valtteri Bottas Mercedes 1:15.732 65 C5
2 Lewis Hamilton Mercedes +0.784 73 C5
3 Esteban Ocon Renault +1.370 76 C4
4 Lance Stroll Racing Point +1.606 116 C4
5 Daniil Kvyat AlphaTauri +1.695 62 C4
6 Antonio Giovinazzi Alfa Romeo Racing +1.737 152 C5
15 Daniel Ricciardo Renault +1.84293 C4
8 Max Verstappen Red Bull Racing +1.904 86 C2
9 Pierre Gasly AlphaTauri +2.051 59 C2
10 Alexander Albon Red Bull Racing +2.422 83 C2
11 Carlos Sainz McLaren +2.542 76 C2
12 Romain Grosjean Haas F1 Team +2.648 48 C3
13 Sebastian Vettel Ferrari +2.652 100 C3
14 Lando Norris McLaren +2.745 41 49 C3
15 Nicholas Latifi Williams +3.272 72 C3
16 Kevin Magnussen Haas F1 Team +3.977 4 C2
Follow us on Twitter @Planet_F1 and like our Facebook page.