See how the first day of 2021 Testing unfolded
The first day of F1 pre-season testing is in the books. See how the sessions developed in Bahrain…
Main headlines: Early gearbox issue keeps Mercedes in the garage; first red flag of testing comes courtesy of Charles Leclerc and Ferrari; sandstorm causes tricky conditions for afternoon session; Ricciardo, Vettel, Sainz, Schumacher, Mazepin and Tsunoda complete first laps for their new teams.
Day One timesheet
Timesheet: 1. Max Verstappen, Red Bull, 139 laps, 1:30.674; 2. Lando Norris, McLaren, 46 laps, +0.215; 3. Esteban Ocon, Alpine, 129 laps +0.472;  4. Lance Stroll, Aston Martin, 46 laps, +1.108; 5. Carlos Sainz, Ferrari, 57 laps, +1.245; 6. Antonio Giovinazzi, Alfa Romeo, 68 laps, +1.271; 7. Daniel Ricciardo, McLaren, 45 laps, +1.529; 8. Pierre Gasly, AlphaTauri, 74 laps, +1.557; 9. Yuki Tsunoda, AlphaTauri, 37 laps, +2.053; 10. Lewis Hamilton, Mercedes, 42 laps, +2.238; 11. Charles Leclerc, Ferrari: 59 laps, +2.568; 12. Kimi Raikkonen, Alfa Romeo: 63 laps, +2.646; 13. Sebastian Vettel, Aston Martin, 51 laps, +3.068; 14. Roy Nissany, Williams, 83 laps, +4.115; 15. Nikita Mazepin, Haas, 70 laps, +4.124; 16. Mick Schumacher, Haas, 15 laps, +5.453; 17. Valtteri Bottas, Mercedes, 6 laps, +6.176.
F1 TV Pro* viewers can watch all the live action from pre-season testing! Click this link and use the code F1TV25 to save 25% on an annual subscription.
*Available in selected territories, a full list of eligible countries can be found here.
Live updates (local time):
1909: We'll be here covering it all again, so join us then. In the meantime, thanks for tuning in today and enjoy your Friday night.
1906: Tomorrow's times are the same as today's. Running will get underway at 10:00 and finish at 19:00, with a break between the two sessions.
1904: At the other end of the spectrum, things couldn't have gone much worse for Mercedes. A gearbox issue prevented Bottas from doing more than six laps, while Hamilton couldn't find any grip or set any good laps this afternoon. They need a good Saturday more than anyone.
1902: It'll feel better for some teams than others. The happiest will surely be Red Bull, Alpine and McLaren who set the three fastest times and set a high number of laps.
1900: Well, that's that for the first day of testing. Doesn't it feel good to have Formula 1 back?
1854: Just as we say that, he locks up and goes way off-track…
1852: Even on fresh hards, Hamilton's Mercedes is all over the place. Just no grip.
1849: Sainz has put Ferrari in the top five. Asides from a spin, it's been a tidy first day at work for him.
1844: That's more like it from Aston Martin! Stroll moves up to P4, a second off top. What's more, the car looks stunning under the lights.
1838; The same can't be said for McLaren. Norris is now up to P2, two tenths off Verstappen. No issues with the new mercedes engine so far.
1833: As well as Mercedes, another team to have a disappointing first day back is Aston Martin. Vettel is only P12 while Stroll hasn't been able to set a quick time and is bottom.
1825: Those out there are on longer runs at the moment, so not many changes on the timesheet.
1805: Verstappen has just gone seven tenths quicker than his previous time, giving him a pretty hefty gap to the rest of the field.
1759: One hour left of the first day of running. Just three cars out there at the moment.
1756: It's now dark as well as sandy out there. It's seriously impressive that nobody has had a big incident in this session.
1749: Ocon goes up to P2. He is on the soft tyre though. Even so, it's been the perfect first day for him and his team.
1745: The Aston Martin looks great and everything, but we wouldn't mind if they made their green a little brighter. From certain shots, it's rather hard to tell apart from the Mercedes. And no, that's not a copycat joke.
1735: Hamilton is finally starting to find a bit more pace, moving into the top 10 on hard tyres.
1726: Ocon takes P4, meaning the top four times all came this afternoon. On another note, that Alpine is stunning.
Current status: 👀 #A521 #F1Testing pic.twitter.com/Ug2bwOfh4o

— Alpine F1 Team (@AlpineF1Team) March 12, 2021
1722: Last year, Mercedes completed 173 laps on the first day of testing. This year, they've so far done 22.
1719: Giovinazzi continues to impress, moving into the top three. He's been one of the stand-out drivers this afternoon.
1709: Alpine are the first team to complete 100 laps today, all courtesy of Ocon. He'll be aching tonight.
1702: Norris puts on hards and puts his foot down. After a purple first sector, he drops off slightly in the next two but still goes P2, just ahead of his team-mate.
1653: Giovinazzi goes 0.3s quicker than Tsunoda to move into the top four.
1651: Hamilton is struggling to get to grips with the conditions far more than anyone else. His car seems out of shape more often than not.
1645: Every driver except Stroll has done more laps than Mercedes today. Not a good start to the year for the German team.
1643: Tsunoda goes P4, half a second slower than Gasly. Not bad for a rookie.
1634: Aston Martin have finally got Stroll out on track.
1628: Mazepin becomes the first spinner of the afternoon, doing a full 360. There's a decent amount of grip on the racing line, but the rest of the track is perilous.
1625: Verstappen, on hards, sets the fastest lap of the day, a 1:31.412. Sainz meanwhile goes P5.
1620: The best time this afternoon so far comes courtesy of Giovinazzi who, on medium tyres, did enough to go P4.
1614: Norris moves up to P6 with a 1:33.004. That's a good lap.
1604: It's genuinely difficult to see one end of the straight from the other. Dusty indeed.
1604: Hamilton looks like he's auditioning for the next Fast and Furious film, drifting all over the place.
1559: Things are starting to get busy now. Hamilton and Norris have headed out.
1556: Sainz is out on hard tyres doing his first official laps as a Ferrari driver.
1552: Tsunoda goes P8 with a 1:33.767.
1546: Mazepin has just done a 1:35.478 to go P9. That's over half a second quicker than Schumacher's best time this morning.
1543: Ocon has just matched his time from earlier today, so track conditions are seemingly starting to improve.
1539: Aston Martin are facing some electrical issues, so we may not see Stroll for a while.
1535: Unsurprisingly given the conditions, the lap times this afternoon are a lot slower than the morning ones thus far.
1533: Verstappen is now doing the same.
1530: Tsunoda has gone out and done a flying lap straightaway. He's a brave man.
1520: Mazepin is pushing hard out there. He's just locked up his tyres in Sector 2. The Russian is about to be joined on-track by another rookie in the form of Yuki Tsunoda.
1517: Don't expect to see many of them anytime soon though. Ocon is doing his best to clean the track up, but the sand just keeps on coming.
1515: Mazepin isn't the only man to replace his team-mate for this session, with Lewis Hamilton, Lando Norris, Lance Stroll, Carlos Sainz, Yuki Tsunoda and Antonio Giovinazzi all stepping in for their teams. 
1510: The Haas of Nikita Mazepin has now done the same. Far from ideal conditions for his first official laps as a full-time F1 driver.
1508: Esteban Ocon has been brave enough to head out and has kicked up *a lot* of sand.
1500: Hello and welcome back to Bahrain for the afternoon session…where sand has stopped play. Yep, the sandstorm threatening to ruin everyone's fun has arrived and so there will be a delay to proceedings this afternoon. Can't Darude just p*** off?
Morning session:
1400: No more dramas in the closing stages and that is the first session of pre-season testing in the books! Join us again in one hour for the afternoon session which runs from 1500 to 1900 local time.
1355: Nope, the car was cleared pretty quickly and we will get a final five minute flurry before the end of the session.
1350: Now then. Leclerc has come to a stop at Turn 4 with a suspected mechanical issue. Red flags are waving and that could be the last piece of action before the break.
1340: Verstappen fancies doing a bit of racing already as he slipstreams his way past the Alfa Romeo down the main straight and tucks in behind the Haas. Won't be saying that too much this year!
1335: An understandably gentle start for Bottas on the C2 tyres. He pops himself P9 on the leaderboard with a first timed lap which is over four seconds off the pace.
1330: Also heading back on track are Sebastian Vettel following his pit-lane stoppage and Mick Schumacher after a gearbox change.
1325: A wild Mercedes appears! Bottas is back on track for what he hopes will be for the remaining 35 minutes of this first session.
1315: Ricciardo still tops the timesheet but Gasly has just closed the gap right up to a mere 0.028s. Verstappen, meanwhile, sets a purple middle sector on his way to going just 0.042s off the pace in P3.
1310: Some signs of life at Mercedes..
Let's try that again. 😜 pic.twitter.com/79Bes8C63c

— Mercedes-AMG PETRONAS F1 Team (@MercedesAMGF1) March 12, 2021
The team have confirmed that Hamilton is still due to be in the car this afternoon and will aim to make up for the lost mileage over the next few days.
1300: We're into the final hour of the first session in Bahrain before a one hour lunch break *stomach rumbles*
1255: Still no sign of the Mercedes after the gearbox issue in the garage. Two hours and counting…
1250: Pretty quiet out on track at the moment so let's take this time to appreciate the new F1 Safety Car. Beautiful.
The new #F1 Safety Car is beautiful send tweet. pic.twitter.com/rXF3dP9K6Z

— Planet F1 (@Planet_F1) March 12, 2021
1244: Leclerc sets his new best time of the day with a 1:33.242 on the C3 medium tyres, but it's not enough to see him rise up from P4 on the current standings.
1240: Vettel has 39 laps on the board in his new Aston Martin but he has just come to a stop at the end of the pit lane, prompting the yellow flags to briefly wave. His mechanics have pushed him back into the garage.
1230: Darude must be fast approaching as the sandstorm is inching ever closer. The track is getting very dusty and making this a very tricky surface for the drivers.
1220: Quite a big lock-up for Kimi Raikkonen at Turn 10 in an Alfa Romeo C41 which has proven to be quite a handful this morning. Meanwhile, Verstappen aborts his latest lap after going wide at Turn 1.
1205: We're past the halfway point of the morning session and all is ticking along rather nicely, unless you are down at the Mercedes garage. At least they are seeing the funny side of their early reliability setback.
W12 on-track. 😍😍 pic.twitter.com/JnkPwfFj4z

— Mercedes-AMG PETRONAS F1 Team (@MercedesAMGF1) March 12, 2021
1151: Nissany is back out on track with a massive aero rake bolted onto the Williams. He is one of two drivers yet to set a time. He's on the C5 tyres.
1147: Stop the clock! Raikkonen has done a 1:12.839, going almost 20 seconds faster than anyone else! Is it a mistake or have Alfa have found some magic power boost none of their rivals have? Pretty sure it's a mistake, it has been struck from the timing screens.
1143: And we have another lock up, this time Ocon at Turn 10.
1142: Still no times on the board from Mercedes, who are changing the gearbox on Bottas' W12, nor Williams, who have test driver Nissany in the car.
1133: But here's something you don't hear every day… a big sandstorm is reportedly heading towards the circuit as we speak. It could force the teams to abandon their running for a bit while the clean up job will be a nightmare.  *enter appropriate Darude joke*
1131: The gearbox issues of the day continue, this time it is Haas who are losing track time – and track time the team's rookie driver Schumacher is desperately in need of. The team reports: "Mick's car with a hydraulic issue – new gearbox being fitted."
1128: But like so many others already this morning, Ricciardo goes from hero to, well, zero would be a bit harsh. Locking up at Turn 1, the former Renault driver has flat-spotted that set of tyres.
1124: Ricciardo has his first P1 as a McLaren driver. The Aussie put in a 1:32.537s on the C2 tyres to take spot away from his old Red Bull team-mate, Verstappen. 
1116: Gasly is the latest to improve with the AlphaTauri driver clocking a 1:33.313s to go P2. He's on the C2 tyres. His next lap involved a close encounter with the polystyrene kind as he hit a piece that was on the main straight.
1110: A bit of movement at the top of the timesheet again now with Esteban Ocon replaced by Verstappen, who sets the best times in all three sectors for a combined 1:32.565 on the C2 tyres. Pirelli have brought their full range, from C1 (hardest) to C5 (softest) and there is a prototype tyre available to teams as well.
1100: Didn't take long for the detective work to start, did it?
Like anything you see, Valtteri? 🕵️ #F1Testing #F1 pic.twitter.com/Xk1OQbKmUV

— Planet F1 (@Planet_F1) March 12, 2021
1052: There is the sound of screeching tyres at Turn 3…and it's Verstappen who has gone for a little spin and ruined his tyres in the process. It's very windy at the Bahrain International Circuit and it's just starting to catch a few drivers out.
1050: An update from Mercedes: "We have a gearshift problem and are swapping the gearbox to get back out on track, then will diagnose the problem with the original gearbox."
1045: Our first little piece of drama and it comes from Mercedes! The reigning World Champions were preparing to send Bottas out on track again but an issue during the engine fire-up means the screen covers are up in the garage. One to certainly keep an eye on…
1040: Pierre Gasly and Esteban Ocon have the most timed laps on the board so far with 10 apiece; Raikkonen comes next with 9. Leclerc has posted 7 laps, Vettel has 6, Ricciardo has 5 inside his new McLaren. On three each are Max Verstappen and Roy Nissany. Mick Schumacher and Valtteri Bottas have just one timed lap each so far.
1030: It's been a rather gentle start to proceedings after the first 30 minutes of the morning session. No major dramas and it's just as well with only three days of testing available. The last thing a team needs is a car stuck in the garage for hours on end.
1020: Not a fan of the new grid positions this year. First sprint races, now this!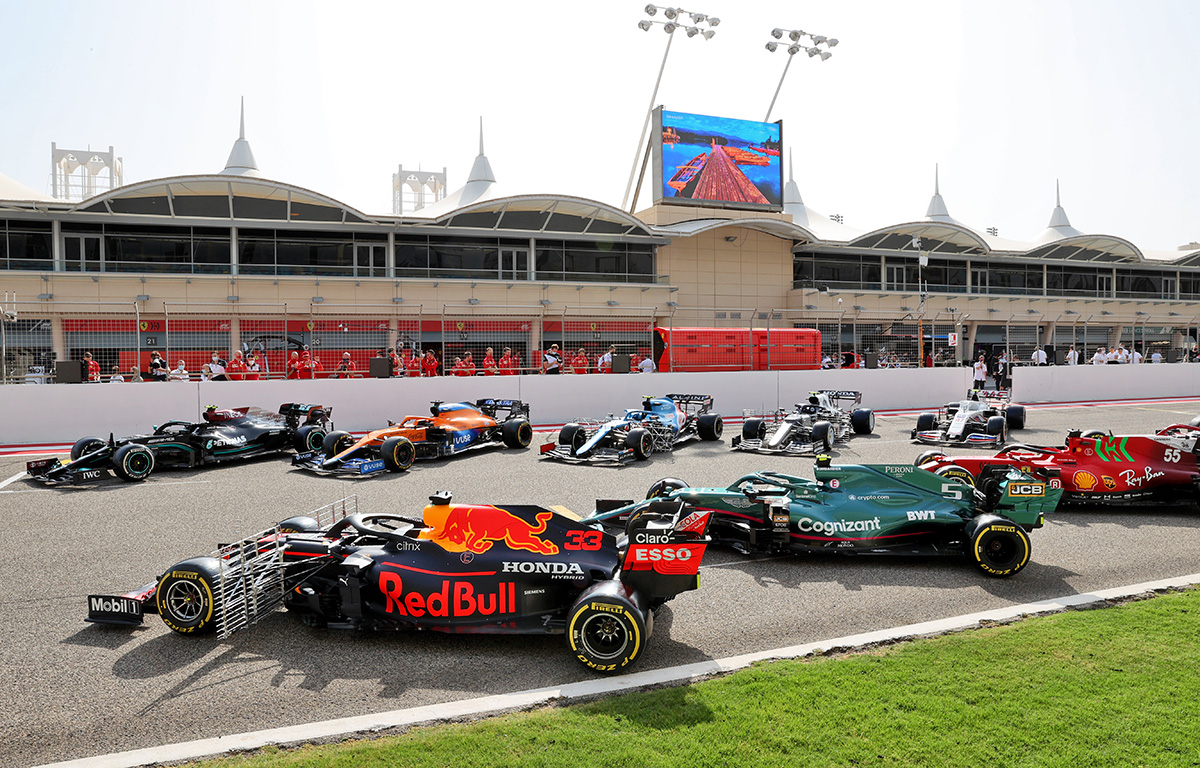 1013: Sebastian Vettel, in his new Ferrari Aston Martin has replaced his old team-mate Leclerc at the top of the timesheet with a 1:36.367. As you would expect, there is a lot of big rakes on display this morning as teams collect valuable aero data on their new cars.
1006: Plenty of installation laps going on at the moment but Ferrari's Charles Leclerc is the first to put a timed lap together. A super casual 1:37.481.
1000: Green light! And the first driver out on track is…Kimi Raikkonen! This season is already being weird.
0955: Five minutes to go until we get cracking. Let's do this!
0945: The beady eyes are already out in full force and most of them are looking straight at Mercedes after they covered up parts of their W12 during their launch event. The black tape has been removed off the edge of the floor to reveal one funky looking design.
Wonder how many teams have their sketchbooks out already?
The edge of the floor Mercedes was hiding from us.#AMuS pic.twitter.com/nXXvvyPqSo

— Tobi Grüner 🏁 (@tgruener) March 12, 2021
0940: And which drivers can we expect to see in action on this glorious first day? Well, here's the full line-up:
Mercedes: BOT/HAM
Red Bull: Verstappen
McLaren: RIC/NOR
Aston Martin: VET/STR
Alpine: Ocon
Ferrari: LEC/SAI
AlphaTauri: GAS/TSU
Alfa Romeo: RAI/GIO
Haas: SCH/MAZ
Williams: Nissany
0935: Before we get to the track action, there was one last box to tick off the 2021 launches with Haas revealing their actual VF-21, complete with [redacted] colours.
The #VF21 is officially launched!#HaasF1 pic.twitter.com/VPu73aGzgn

— Haas F1 Team (@HaasF1Team) March 12, 2021
0930: Hello and welcome to the Bahrain International Circuit ahead of the first day of pre-season testing! Now that felt good to type out. We are just 30 minutes away from the track lights going green for the first time since last December at the season finale in Abu Dhabi and PlanetF1 will be with you all the way through until Sunday to bring you all the very latest. Stay tuned!
Follow us on Twitter @Planet_F1, like our Facebook page and join us on Instagram!