F1 2023 testing: How the Day 3 action played out in Bahrain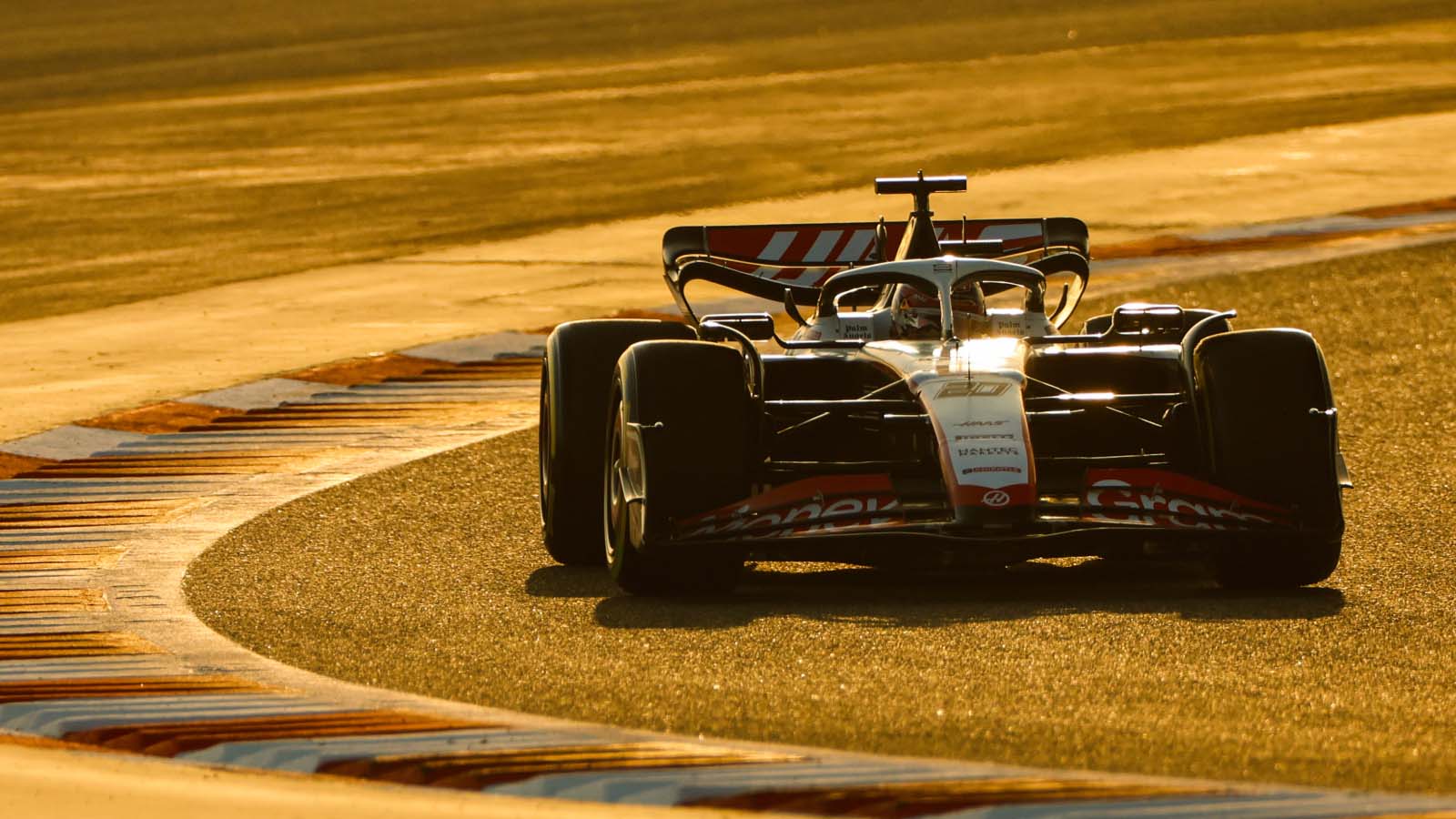 Red Bull sent another intimidating message to their rivals on the third and final day of pre-season testing in Bahrain, as Mercedes bounced back. 
F1 TV Pro* viewers can watch all the live action from pre-season testing and the entire 2023 season ad-free! Click this link to save 20% on an annual subscription.
*Offer valid until 26th February 2023. Available on web only for F1 TV Pro annual in selected territories. Promotion is available to new subscriptions only and discounted subscriptions will auto-renew to full price unless cancelled prior to the date of renewal. Full T&C available here.
Main headlines: Sergio Perez finishes P1 as Red Bull impress in the final pre-season test. Perez and Valtteri Bottas triggered red flags during the morning session, while Oscar Piastri spun on another tough day for McLaren. Meanwhile, Mercedes rebounded with Hamilton ending the day P2.
Day Three timesheet: 
1 Sergio PEREZ, Red Bull, 1:30.305, C4 – 133 laps
2 Lewis HAMILTON, Mercedes, +0.359, C5 – 65 laps
3 Valtteri BOTTAS, Alfa Romeo, +0.522, C5 – 131 laps
4 Charles LECLERC, Ferrari, +0.719, C4 – 67 laps
5 Carlos SAINZ, Ferrari, +0.731, C4 – 75 laps
6 Yuki TSUNODA, AlphaTauri, +0.956, C4 – 79 laps
7 Kevin MAGNUSSEN, Haas, +1.076, C4, 94 laps
8 George RUSSELL, Mercedes, +1.137, C5 – 83 laps
9 Fernando ALONSO, Aston Martin, +1.145, C4 – 80 laps
10 Felipe DRUGOVICH, Aston Martin, +1.770, C5 – 77 laps
11 Lando NORRIS, McLaren, +1.855, C3, 37 laps
12 Pierre GASLY, Alpine, +2.457, C3 – 56 laps
12 Alex ALBON, Williams, +2.488, C5 – 136 laps
13 Esteban OCON, Alpine, +2.952, C3 – 76 laps
14 Nico HULKENBERG, Haas, +3.024, C3 – 77 laps
15 Oscar PIASTRI, McLaren, +3.350, C3 – 44 laps
17 Nyck DE VRIES, AlphaTauri, +7.939, C3 – 87 laps
Live updates (local time):
Session times (local time): 1000-1415, 1515-1930
1936: Thanks very much for joining PlanetF1.com for coverage of testing in Bahrain. See you next week for the Round 1 of the 2023 F1 season. We can't wait!
1935: Perez tops the timesheet to complete a mightily strong test for Red Bull. It was rocky for Mercedes at times but some solid laps from Hamilton on Day 3 made for a positive end. Meanwhile, still work to do for McLaren it would seem.
1930: There we have it, the chequered flag waves on 2023 pre-season testing in Bahrain. The next time we see cars on-track it will be back here in Sakhir for FP1!
1928: We didn't expect to get some wheel-to-wheel action today, that was fun! Meanwhile, Norris wanted no part of that, backing out and rolling to the back of the pack.
A mini sprint race, anyone? 👀#F1 #F1Testing pic.twitter.com/kZuqdduwpJ

— Formula 1 (@F1) February 25, 2023
1926: An OVERTAKE! The seven drivers partake in a faux rolling start, and it got a bit feisty. Behind Tsunoda, Norris, Perez and Bottas go three-wide into Turn 1. Bottas has to take evasive action not to hit Perez, before diving down the inside of the Red Bull into Turn 8.
1924: The cars line-up in the pit-lane before Tsunoda leads seven cars out for a practice formation lap. There will be a rolling start coming up…
1915: With 15 minutes remaining of pre-season testing, we will now start the final Race Control checks, meaning that we will have no more changes to the timesheet today. Perez is safe in P1, leading the way just like Verstappen did on Day 1.
1906: Perez goes for yet another qualifying lap on the C4, but gets caught behind Norris on the final corner and can't improve.
1900: Tsunoda is on an out-lap for another qualifying-style run. A reminder that this time next week, we will be deep into qualifying for the Bahrain GP…
into the final runs of the day! 👊 let's finish off strong @yukitsunoda07 💪 pic.twitter.com/VUR5a3axff

— Scuderia AlphaTauri (@AlphaTauriF1) February 25, 2023
1852: Bottas puts in a lap on the softest C5 tyre, going P3 just five tenths off the Red Bull pacesetter. Ocon is racking-up the laps on the hard tyre, looking for track-time rather than an eye-catching lap. The Frenchman ticks over 61 laps.
1851: Some extra risk being taken here, as Albon and Perez both go deep and end up off track.
1847: The 23-year-old Brit still hasn't gone to the soft tyres, sticking with C3s for this lap. He sets a personal best but a 1.32.160 keeps him down in P11. With the McLaren scraping the asphalt, it's still not looking great.
1845: Norris finally emerges and goes straight into a flying lap. Let's see what he's got. Meanwhile, Bottas and Magnussen have improved, up to P6 and 7 respectively.
1842: Perez extends his gap atop the timesheets, going four tenths faster with a 1:30.305.
1839: Once Hamilton emerges for his 50th lap, 18 drivers will have have hit a half-century today. McLaren's Norris and Piastri are the outliers, as the British team stumble through another difficult day. Norris is still on 17 laps…
1830: One hour remaining. The final 60 minutes of our three-day test. Any final performance clues to come?
Into the final hour of #F1Testing. 👊 pic.twitter.com/AqpRPGTeXf

— Mercedes-AMG PETRONAS F1 Team (@MercedesAMGF1) February 25, 2023
1828: Of the drivers partaking in this session, only Norris and Ocon have yet to bolt on some soft tyres. Everyone else has switched to red-striped rubber, as Magnussen improves to 1.31.890 in P8.
1825: Meanwhile, Tsunoda has stuck on some C4s and launched up to P5, ahead of Russell and Alonso. More good news for Red Bull there.
1823: Despite a fast start, Lewis' lap tails-off and he can't re-take P1, finishing just four hundredths back on Perez. Unless Merc are holding a lot back, Red Bull's new car is looking as dominant as the last.
1819: Perez goes purple and tops the timesheet, going 0.165 seconds clear of Hamilton despite fitting the harder C4. Red Bull look really solid but here comes Lewis on C5s again. Sector 1: Purple.
1817: A couple of updates for you: Magnussen has soared up to P9 to improve by several seconds after spending most of the afternoon doing race simulation runs. Tsunoda has also improved marginally, while Perez is now on a push lap…
1807: … and Sector 2. He can't do a PB through the final sector, which has proved tricky for Mercedes, but he still shoots to the top of the timesheets – albeit on a softer compound than the Ferrari boys.
1805: Perez improves again but stays P4. Now, Hamilton has gone purple on the C5s through Sector 1…
1803: British Racing Green dazzling under the lights on the AMR23…
Who's ready for some night-time running? 😮‍💨

(The best kind)#F1Testing #AMR23 pic.twitter.com/IcSa8z0rSK

— Aston Martin Aramco Cognizant F1 Team (@AstonMartinF1) February 25, 2023
1800: Green sectors flying in as Tsunoda improves his best time by more than a second. That's P8 on C3 tyres – fastest of anyone on medium tyres.
1758: Perez has his line compromised by Sainz during the lap but having stuck on the softer compound, the Red Bull improves to within six tenths of Leclerc.
1756: Up to P11 for Ocon with a new flying lap on mediums. More red-striped tyres going on other cars, including Williams and now Red Bull.
1750: Mercedes show some pace! After Russell's go on the C5s earlier today, Hamilton sticks on the C4s and clocks 1.31.245 to move into third-place. Still, that's two tenths back on Ferrari in marginally improved conditions.
1745: Darkness has fallen in Bahrain. Track temperature is down. Should anyone fit some soft tyres, they could be a threat to Leclerc's time. Meanwhile, Sainz is out on medium tyres.
1743: Nothing eye-catching from Ocon during this session, still lying down in P12. Positive vibes at Alpine, though.
Looking good 🤩 #Alpine #F1 pic.twitter.com/p6dOowcuAi

— BWT Alpine F1 Team (@AlpineF1Team) February 25, 2023
1736: Finally, we see Norris back on track. Green sectors through, 1, 2 and 3 propel him up to eighth, 1.667 seconds down on Leclerc on C3 tyres.
1733: We're inside the final two hours of testing now. The sun has set, there's a fading orange glow on the horizon. Will we see any challenge to Ferrari's timesheet-topping laps?
1730: Only Norris on the stuttering McLaren team has completed fewer than Alonso's 18 laps today. After a long stint in the garage, the AMR23 emerges and sets a new PB with a 1.31.450. That's enough for P4, four tenths off the Ferrari duo.
1728: Very nice to see soft tyres being fitted and teams giving us some small clues regarding their pace. Track temperatures are cooling and starting to replicate what we'll see during next Sunday's Grand Prix.
1726: The World Champion is keeping a close eye on proceedings, having given his rivals a fright with his commanding performances on Thursday and Friday.
No track action for Max today, but he is keeping a close eye on the competition 🔎👀#F1 #F1Testing pic.twitter.com/JsuyGbCSm7

— Formula 1 (@F1) February 25, 2023
1723: Hamilton goes green through Sector 1 and 2. He can't improve in the final sector but jumps to P5, faster by just over a tenth. Looks like Mercedes are starting to get things under control…
1720: Perez has also gone over century mark in terms of laps, with Bottas closing in on the 100 barrier as well. Here comes Hamilton on a flying lap, having fitted C3s.
1716: Not much reason to mention Alex Albon this afternoon, who has quietly taken Williams over 100 laps for the second successive day. Following the team's pre-season testing dramas in recent years, that's a solid achievement.
1710:  Here comes Sainz again, on another push lap with C4 tyres. He goes purple through Sector 2… and closes up to within a fraction of his team-mate's time, 0.012 back on Leclerc.
1708: Speaking of Tsunoda, he's on track with C3 tyres. Down in P13, he's continuing to rack-up the laps. Up to this point, no team has done more circuits of Sakhir through the three-day test than AlphaTauri.
1705: AlphaTauri, it would be our pleasure. Tsunoda's lid is surely one of the best in years? Bottas' mullet design notwithstanding…
just gonna take a moment to appreciate the design of this helmet 🔥 @yukitsunoda07 pic.twitter.com/NL2JgmtMZU

— Scuderia AlphaTauri (@AlphaTauriF1) February 25, 2023
1701: As Russell watches on intently from the garage, Hamilton goes for a flying lap on the C3 tyre. Once again it's not silky-smooth but the Brit vaults up to P6 with a 1.32.147; his best time of the afternoon by almost three seconds.
1655: It's a solid lap from Sainz but not quite quick enough for P1, coming in a tenth slower than Leclerc's pace-setting time. Let's see if he can improve…
1653: Here goes Carlos Sainz on a flying lap, fitting C4 tyres… the same ones his team-mate Leclerc took P1 with earlier today. Conditions are better this afternoon, lets see what Sainz can do.
1650: Just a few minutes later, Hamilton abandons a lap after losing the rear end again, getting in the way of Magnussen in the process.
1645:  From Hamilton's showing so far in this session, there's a lot of work to do. That desertion of downforce yesterday does not look to have been remedied. Hamilton is up to P13 with a 1.35.072, ruining an otherwise clean lap with a shaky final sector.
1634: Lewis Hamilton is out there, preparing for his 17th season in Formula 1.
Just 🖤💛 things. pic.twitter.com/hUUDMfUCQw

— Mercedes-AMG PETRONAS F1 Team (@MercedesAMGF1) February 25, 2023
1631: Driving on C3 tyres, Ferrari driver notches a 1.32.441 PB which is good enough for sixth on the timesheets.
1630: Sainz is on a flying lap now. We'll see more of this now, as the track temperature drops and we get later into the evening.
1625: Taking Alonso through the final few corners of a flying lap on C5 tyres… and the Aston Martin driver jumps two positions into P5, 1.2 seconds off Leclerc. He's also inside two tenths of team-mate Drugovich, who did his fastest lap on C5s.
1618: A rush of improvements sees Ocon go P9 on mediums, while Sainz sets a 1.34.053 for P11. Hamilton is down in P16 for now, more than six seconds off the pace. He's on a high fuel run at the moment, will we see Mercedes' one-pace today?
1615: Alonso's first effort, a 1.33.125, slots him into P7 while Perez improves on his effort from this morning to rise into fourth, a 1.5 seconds quicker than Alonso.
1606: Conspicuous by absence is Fernando Alonso, who still hasn't posted a timed lap 45 minutes into this final session. The Spaniard jotted up a total of 130 laps yesterday, and Aston aren't in a hurry to get him out today.
1558: Some mechanics picking up a paintbrush down in the pits. Does this count as modern art?
The art 🖼️ The artist 🧑‍🎨#F1 #F1Testing pic.twitter.com/cZI3InZUUW

— Formula 1 (@F1) February 25, 2023
1556: Big lock-up for Norris, who runs wide at Turn 8. That McLaren looks anything but dialled-in at the moment.
1555: F1's mullet-man Valtteri Bottas has been enjoying his return to F1 action the last three days. He's in the Alfa Romeo for a full day of testing.
When it's your turn to drive ☕️#VB77 #F1Testing @alfaromeof1 pic.twitter.com/mdNNR3z76I

— Valtteri Bottas (@ValtteriBottas) February 25, 2023
1552: Sainz jumps into P9 before quickly being edged by Magnussen's latest lap, doing a 1.34.802 on the C3.
1550: Looking at Ocon's Alpine blasting down the home straight, there's a lot of bouncing going on. Perhaps all the French team's time in the garage has been committing to fixing that issue. Work to do, if so.
1544: McLaren's struggles are very evident from that leaderboard, with Alpine also struggling to get laps on the board. Reliability across the grid has been mightily impressive up to now.
1542: Here are the team's lap totals across testing, taken prior to the start of this afternoon's session:
1 Alpha Tauri 377 laps
2 Williams 356
3 Red Bull 349
4 Alfa Romeo 343
5 Ferrari 341
6 Mercedes 333
7 Haas 320
8 Aston Martin 307
9 Alpine 277
10 McLaren 275
1537: Hamilton now comes out onto the track in the W14. Yesterday the Mercedes was untidy through the corners, with the team unable to explain a loss of downforce. Let's see how they fare this afternoon…
1532: The first driver to challenge the time of this morning's runners is Magnussen, slotting into P9 with a 1.35.522.
1525: Norris comes out on track in the McLaren, another team needing more laps on the board. The British team's morning session was beset by wheel brow issues on Piastri's machine.
1518: Ocon is first out, doing a practise start at the pit exit before driving onto an empty Sakhir track. No surprise to see Alpine out first, with the French squad among the teams who have completed the fewest laps.
1516: Grab yourself a brew and settle in for the final four hours and 15 minutes of pre-season testing. This is our final chance to get a look at the 2023 teams' pace before next weekend's big kick-off…
1515: We're off again! Let's see if we get any early pace-setters. No push laps from Perez this morning so perhaps we'll see him go for a flier, while all eyes will be on Norris and Hamilton after difficult sessions yesterday.
1505: Perez, Bottas and Albon are the only drivers who will complete a full day of testing on the Day 3. The other seven teams are making a lunchtime substitution…
Suiting-up are Sainz (Ferrari), Hamilton (Mercedes), Ocon (Alpine), Norris (McLaren), Alonso (Aston Martin), Magnussen (Haas) and Tsunoda (AlphaTauri).
1500: Just 15 minutes until we get going again in Bahrain. Williams were pleased with their mornings efforts, preparing to put Albon back in the FW45.
5️⃣3️⃣ Laps before lunch 🍝

Big push @Alex_Albon 💪#WeAreWilliams pic.twitter.com/mBNe6hD5Kt

— Williams Racing (@WilliamsRacing) February 25, 2023
1416: There we have it, our morning session wrapped up after a couple of red flags triggered by Perez and Bottas, a pace-setting lap from Leclerc and more troubling times down at McLaren. Rejoin us at 12:15 GMT for the afternoon's action.
1414: With moments remaining before testing ends, a few drivers including Russell do some practise starts on the grid.
1408: Piastri queues up for the resumption of testing, hoping to add to his low number of completed laps. With Norris in the McLaren for the afternoon, this is the rookie's last opportunity to drive his new machine before next weekend.
1402: Red flag is out but not for an incident, just a routine test. It's comes after a bit of low-speed overtaking action from De Vries and Perez.
1355: Just 20 minutes remaining during this session but only five to go until the virtual safety car is enforced as part of the FIA's checks.
1350: Lewis Hamilton, who will be back on track this afternoon for the final testing session of pre-season, watches on from the pit-wall.
Keeping watch. 👀 pic.twitter.com/fJtbE3ieyS

— Mercedes-AMG PETRONAS F1 Team (@MercedesAMGF1) February 25, 2023
1348: Haas have been quiet for a while, and that's because Hulkenberg is out on a long run.
The focus right now is on a high-fuel race sim run, with Nico currently 20 laps deep.#HaasF1 #F1Testing pic.twitter.com/1N2n7JpQLu

— MoneyGram Haas F1 Team (@HaasF1Team) February 25, 2023
1346: Piastri has completed just 31 laps so far today. Pierre Gasly's 49 circuits is the next fewest, with Alpine also struggling to get as many laps in as the front-runners
1344: Lots of focus on McLaren today and unfortunately, the cameras have been focused on the garage most of that time. More alterations going on for the papaya team, getting an angle-grinder out.
1341: Three laps, three times faster than the last for De Vries but his best time is still only a 1.38.244, 7.2 seconds adrift of Leclerc in P10.
1335: Albon sticks on the C4 tyre and vaults up to P6 with a slightly untidy-looking 1.33.178. The Williams has had a few unsteady moments this session, seemingly missing a bit of downforce.
1325: While the AMR23 was on its flying lap, Bottas' car returned to the Alfa garage under a tarpaulin ready to a thorough investigation.
1320: Drugovich launches up to P3 with that lap, a 1.32.075 on the C5 tyre. With Stroll's return in time for next weekend's GP, these could be critical moments for the reigning F2 champion.
Coming in hot. 🔥#F1Testing pic.twitter.com/vM8MhuYBdX

— Aston Martin Aramco Cognizant F1 Team (@AstonMartinF1) February 25, 2023
1319: We're watching a flying lap on soft tyres from Lance Stroll stand-in Drugovich in the Aston Martin, having fitted soft tyres for a qualifying-style lap.
1315: That Bottas breakdown is a concern for Alfa Romeo, who needed to fix their reliability issues from 2022. Zhou appeared to have a similar problem yesterday evening when he attempted a practise start at the pit exit, having to be wheeled back to the garage.
1310: We're back in action, as Drugovich drives his Aston Martin out first. We've also just go visuals on Sergio Perez jumping back into his Red Bull.
1306: The Finn's team-mate Zhou topped the time-sheets yesterday, edging Verstappen to P1 after a run on the fastest C5 Pirelli. Bottas has been focused on long runs so far today, down in P9 after 72 laps; more circuits than anyone else.
1303: Bottas has been driven back to the paddock, having suffered what seems to have been a gearbox issue, pending confirmation.
1301: We're counting down towards the last hour of this penultimate testing session now. Hopefully we can get going again quickly.
1259: Bottas and his brilliant mullet lid are out of the car, with marshals quickly on hand with the recovery truck and crane. Meanwhile, it's back to the garage for the others.
🚩 RED FLAG 🚩

Valtteri Bottas has stopped out on track 😫#F1 #F1Testing pic.twitter.com/AYITPsjJks

— Formula 1 (@F1) February 25, 2023
1256: Red flag. The second stoppage of the day is caused by Valtteri Bottas, who has pulled over down at Turn 8 following a mechanical issue on his Alfa Romeo.
1250: It'll be a while before we get a new best lap from Leclerc, who is out on a long run completing times well below his fastest effort.
1242: Albon, who had been out with flow-vis paint splattered across his Williams, goes for a flying lap on the C3 tyre. He stays in P8 with a 1.34.731.
1235: Piastri is now back on track after more work on his McLaren, which CEO Zak Brown has given some worrying comment around. The Aussie rookie's manager and nine-time GP winning mentor Mark Webber has been down in the garage for a pep-talk.
Oscar Piastri gets some solid advice from fellow Aussie and mentor, Mark Webber! 🇦🇺👊#F1 #F1Testing @AussieGrit pic.twitter.com/yTIkGA9jVz

— Formula 1 (@F1) February 25, 2023
1228: A lock-up for Leclerc, who continues to lead the standings in P1 with his 1.31.024, which is an unofficial new lap record at Bahrain, faster than Pedro de la Rosa's 2005 effort.
1220: Nyck De Vries is plodding away, down in P10 with his fastest lap almost eight seconds down on Leclerc's P1 time. De Vries is in the midsts of a long run with a high fuel load, fitting C1 tyres. The Dutchman did some qualifying-style laps yesterday, his fastest push lap on softs earning P4.
good times on track as @nyckdevries gets stuck into his long run ✌️ pic.twitter.com/9QNzR4RgDd

— Scuderia AlphaTauri (@AlphaTauriF1) February 25, 2023
1212: Albon gets a bit sideways, snapping the rear out. Williams had a very strong day yesterday with Sargeant clocking up more than 150 laps and P7, now his more experienced team-mate gets a full day of running.
1203: As Leclerc takes us past the second hour mark of running in P1, there are more issues down at McLaren with those wheel brows on the MCL60. The heat gun and resin has appeared as they look for a way to keep them in place correctly.
1157: Russell is entertaining the folk in the pit lane by weaving the W14 around, almost as if he was treating it like a formation lap on the way to his grid box.
1156: Leclerc gets a little out of shape at the exit of Turn 11 and abandons his latest lap, it was not shaping up to top his P1 time anyway.
1148: As the drivers settle into some long runs, it is Bottas in the Alfa Romeo who tops the lap counter, with 32 completed so far.
1137: Leclerc so nearly takes us into the 1:30s, but a 1:31.024 is what he must settle on for now, there is more to come no doubt. Perez has a second and a half to find on that time after his C3 attempt.
Wouldn't want to play poker against Fred Vasseur.

Ferrari team boss asked where the Scuderia is in the pecking order…

"For sure in the top ten" #F1 #ScuderiaFerrari pic.twitter.com/umc5scKfzr

— PlanetF1 (@Planet_F1) February 25, 2023
1134: Perez and Leclerc are heading back out on fresh rubber, Perez deciding to make his way past the Ferrari. C3s for Perez and C4s for Leclerc. Aston Martin meanwhile have been busy changing the rear wing on the AMR23 for Drugovich's next run. For McLaren and Piastri it is a front wing change.
1126: But C4s are a Charles Leclerc's best friend. It is a 1:31.164 for the Ferrari driver. We are now well into the fastest-times-of-the test territory.
1120: George Russell is definitely the type of guy to bolt on another set of C5s and find another tenth. A 1:31.442 now sets the pace.
1108: Russell finds another tenth and a bit on the C5, but losing time after going purple in the first two sectors, it seems the softest compound in Pirelli's range could not quite handle the Bahrain circuit. it won't need to when the season gets going.
1106: Leclerc jumps now to P2 and narrows the deficit to Russell to half a second, that on the C3 tyre as well, that will please Ferrari. Albon has finally put a lap on the board in the Williams as well! Until now he had been finishing them through the pit lane.
1101: As Russell sets the pace for the opening four, Gasly has returned to the pits. Only 12 laps completed so far for the Alpine driver, but he is sitting pretty in P2.
1053: And Russell is not messing around. With a set of C4s bolted on, he delivers a 1:31.707 to go P1, around a tenth off the ultimate pace of yesterday.
1050: And there goes Russell back out onto the circuit, while Leclerc may soon join him. He is just climbing into the SF-23 cockpit while Ferrari work on the front area of the car, the same is going on down at the Aston Martin garage.
1047: Perez is cranking it up a little now on the C3s, a 1:33.167 takes him to the top, the Red Bull driver going purple in the first two sectors.
1045: Mercedes are hard at work on the front of the W14, they seem not happy with the front suspension, but he front wing is about to go back on so Russell should return to the track once more very soon.
1042: We have a rare spin! Piastri loses the MCL60 over the bumps heading into Turn 10, but fortunately for the Aussie, there is a big run-off area down there to bail him out.
1041: Leclerc and Perez both find time on the C2s, Hulkenberg is more a C3 kind of guy as he makes a 1:33.329 the new time to beat.
1040: De Vries is patiently waiting for his next stint, AlphaTauri busy changing the rear wing on that AT04.
1036: The Ferrari was not totally cooperative for Leclerc going through Turn 1, but on the C2 he manages to pop himself into P3, just under half a second shy of Russell's time.
1030: A 1:33.685 now from Russell takes him P1, set on what appeared to be the C3 tyre. Expect these times to drop considerably, there is a lot more pace to unleash.
1025: Drugovich returns to the Aston Martin garage after an opening eight-lap stint. This could be his last day at the wheel of the AMR23 for the foreseeable future, or we could be seeing him again next weekend if Lance Stroll is not fit to race at the season-opener.
1016: A 1:33.690 from Hulkenberg is the early time to beat, that Haas VF-23 looked to be bouncing away through Turns 12 and 13. Perez is also circulating again, hopefully no more parts will make a bid for freedom with the aero rakes now on the sides of the RB19.
1012: And the track is back to green, Russell and Hulkenberg waste no time in getting back out there.
1008: And we have our first red flag of the day. Nothing major, but a sensor that has fallen off Perez's Red Bull will need recovering.
1000: The pit lane light is green and the final day of pre-season testing is underway in Bahrain…
0944: While it's an important day for all the teams for those in trouble – Mercedes and McLaren – it's even more so. Mercedes suffered a sudden loss of downforce on Friday, something they couldn't explain, leading to late-night investigations with the team hoping to have found the cause, and potentially a solution, ahead of today's final day. As for McLaren, they admit they're not where they want to be with Andrea Stella saying they have to be "realistic".
0941: The drivers in action this morning are: Sergio Perez, Charles Leclerc, George Russell, Pierre Gasly, Oscar Piastri, Valtteri Bottas, Drugovich, Nico Hulkenberg, Nyck de Vries and Alex Albon.
0935: Breaking news overnight is that Aston Martin will put Felipe Drugovich back in the car today, the reserve driver testing in the morning before handing the AMR23 over to Fernando Alonso. That of course has F1's rumour mill running rampant over whether or not Lance Stroll will be fit for the Bahrain Grand Prix next week.
0930: Good morning and welcome back to the Bahrain International Circuit for the final day of pre-season testing. That has absolutely flown by. Just like the previous two days, we'll be getting underway in 30 minutes' time for the first four-hour and 15m session of the day until 1415 local time. An hour lunch break follows before the second session runs from 1515 to 1930. It's the final countdown…