Day 5 of F1 testing: As it happened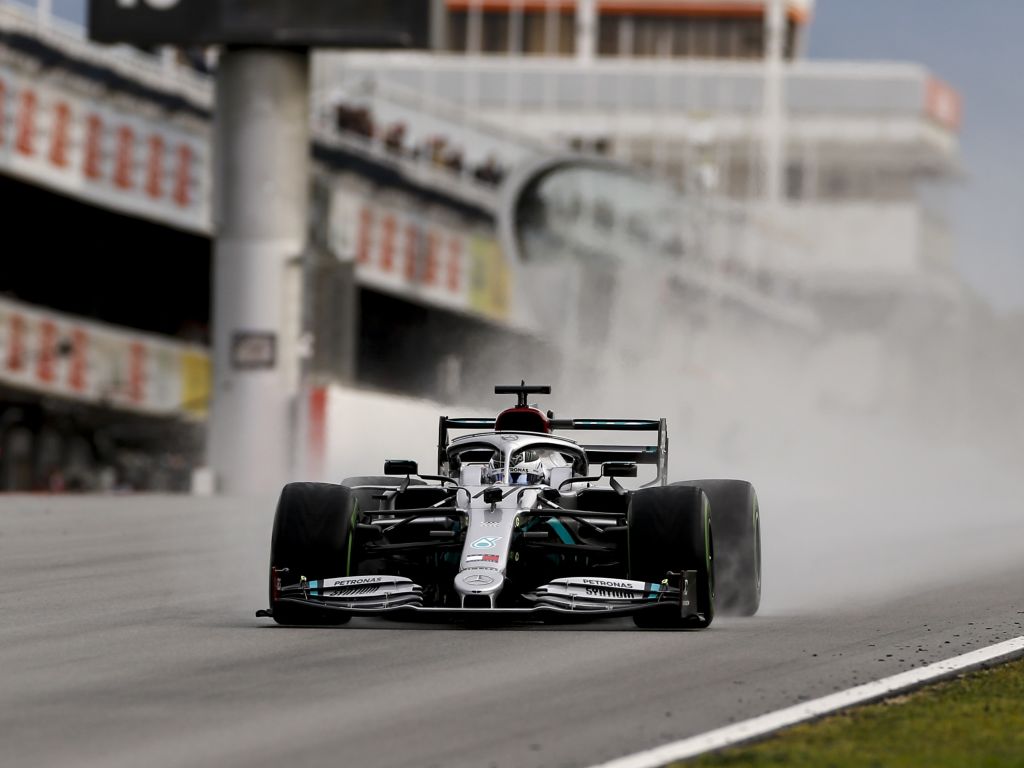 Mercedes falter while Ferrari fly. See how the events of day five of 2020 Formula 1 testing unfolded in Barcelona.
Day five timesheet: 

1. Sebastian Vettel, Ferrari, 1:16.841, 145 laps
2. Pierre Gasly, AlphaTauri, +0.225, 139 laps
3, Lance Stroll, Racing Point, +0.277, 130 laps
4. Nicholas Latifi, Williams, +0.472, 160 laps
5. Lando Norris, McLaren,+0.732, 113 laps
6. Max Verstappen, Red Bull, +0.897, 31 laps
7. Valtteri Bottas, Mercedes, +1.144, 47 laps
8. Esteban Ocon, Renault, +1,172, 37 laps
9. Kevin Magnussen, Haas, +1.384, 111 laps
10. Alex Albon, Red Bull, +1.552, 61 laps
11. Daniel Ricciardo, Renault, +1.554, 59 laps
12. Antonio Giovinazzi, Alfa Romeo, +2.829, 92 laps
13. Lewis Hamilton, Mercedes, +5.584, 14 laps
1801: So, Vettel goes quickest, Latifi goes furthest and Hamilton breaks down. Thanks for following our coverage today and be sure to come back at 9am local time tomorrow for the final day of testing. Until then, read our report of today's events here. Cheers!
1800: The German doesn't set any lap times and that brings an end to today's testing.
1755: Vettel has gone out on the softest, fastest compound for the final five minutes…
1753: Latifi has now surpassed 150 laps for the day. What a vast improvement testing has been for Williams compared to last season.
1744: Gasly goes quick again, moving up to P2 in the day's standings with a 1:17.066. He'll be happy with that time.
1736: Just Gasly and Magnussen on track at the moment. Less than half an hour to go.
1725: An update from Mercedes…
UPDATE: @LewisHamilton stopped on track due to an oil pressure anomaly, which made the engine shut down as a precautionary measure.

We will keep investigating further but unfortunately that concludes our running for the day #F1Testing pic.twitter.com/sOeumgFjTq

— Mercedes-AMG F1 (@MercedesAMGF1) February 27, 2020
1721: Gasly picks up the pace and does enough to go up to P4. He did a 1:17.496 on C4 tyres.
1712: Albon breaks into the top 10 with a 1:18.393 on the C2 tyres.
1704: Just under an hour to go here.
1650: Ferrari, Williams, AlphaTauri and Racing Point are the teams to have done over 100 laps so far today.
1644: After doing two race distances, Vettel has come in for a well earned break.
1618: Gasly has posted a personal best to go P10, but it's pretty much all long runs and race sims at the moment.
1605: Vettel, who is still quickest, has just hit 100 laps. A good day for him and Ferrari.
1603: A rare sight to see…
🚩 RED FLAG 🚩

Lewis Hamilton's Mercedes grinds to a halt during #F1Testing #F1 pic.twitter.com/fX5o6jU5ma

— Formula 1 (@F1) February 27, 2020
1556: The session is back underway, with six cars heading straight back out.
1550: Red flags mean less running, which usually teams would be unhappy about, but we feel like this one may have made Red Bull and Ferrari just a little happy…
1539: While going through Turn 5, Hamilton's car simply shut down and he was forced to pull over and get out.
1537: Red flag, and you'll never guess who caused it!
1526: God we're excited for these to no longer be practice starts in a few weeks.
Time for a practice start 🚥

Stop. Clutch. Bite point. Build the revs…

… RELEASE & AWAY WE GO! 🏎💨#F1Testing #F1 pic.twitter.com/SJV5jfdZQs

— BWT Racing Point F1 Team (@RacingPointF1) February 27, 2020
1522: He looks to be doing a long, fuel-heavy run, so don't expect blistering lap times just yet.
1515: Hamilton is out at last! He's rocking the C3 tyre. Are we about to see a change in the leadership today?
1509: A new PB for the Honey Badger. He stays in P9 though.  
1507: Still no sign of Lewis Hamilton's Mercedes this afternoon…
1455: Not something you see every day. Such is the deg of the C5s, Norris was using the wheel spin to slide his MCL35 into the corners with very sharp steering wheel movements.
1440: Vettel is on the C2s – he appears to be doing a race simulation.
1429: Norris went out on the fastest C5 tyres but returned to the pits after a very subdued tour around the circuit. What a let down.
1421: Latifi is testing out those special Zandvoort front tyres which Pirelli have brought to this test.
1420: Stroll is back out on the track following an impressive morning session. He has the C3s bolted on.
1400: Welcome back everyone. The afternoon session here in Barcelona is now underway.
1300: And that's it for a very stop-start morning session – Vettel survives his trip into the gravel to lead at lunch. The action will all start again in just under an hour, but before then check out our report for a full recap of the morning's action.
1245: Vettel goes for a flyer on the C5s, but he only finds a few more tenths. The Ferrari man is the first driver today into the 1:16's.
1243: He is running the C4s but that is a solid effort from Latifi who jumps up to P3, 0.22s down on Vettel's efforts using the same compound.
1236: Bottas reports a potential engine problem as he returns to the Mercedes garage. That PU is causing problems.
1224: Back to green.
1219: Red flags again while that gravel is swept away.
Bad luck Dany! 🤷‍♂️ @kvyatofficial heads out to the track to see some cars, only for the session to be red flagged 😅#AlphaTauri #F1 pic.twitter.com/gzNacPAszq

— Scuderia AlphaTauri (@AlphaTauriF1) February 27, 2020
1216: What is going on with Turn 5? Vettel goes fastest but is the next big name into the gravel down there. Luckily the momentum saves him from beaching it like Verstappen. Clearly the soft rubber is too soft for the track today.
1158: Stroll increases his gap at the top to over seven tenths with a 1:17.249 on the C3s.
1155: Right then, here we go again, the circuit returns to green-flag conditions.
1133: The times are tumbling now, as is Bottas. A big slide coming out of Turn 5 sends the Mercedes man for a trip across the gravel. Moments later Verstappen does the exact same thing, but he's going nowhere. That RB16 is beached and the red flags are out.
🚩 RED FLAG 🚩

Max Verstappen is beached in the gravel at Turn 5#F1 #F1Testing pic.twitter.com/WKZch0oDpS

— Formula 1 (@F1) February 27, 2020
1131: Bottas is on the C3s like Norris and takes P1 back by just 0.027s.
1125: Dietrich Mateschitz, the man who owns 49% of Red Bull, has arrived at the team's garage. No pressure guys and girls.
1122: Norris pumps in a 1:18.740 on the C3s to return to P1.
1116: All cleaned up – the track is green again.
1107: Oops Giovinazzi pushed a little too hard there and has put his C39 into the barriers. He somehow manages to escape the gravel with his battered rear wing and limps back to the pits. We have a red flag.
That's not how it's supposed to look like…#AMuS pic.twitter.com/WY6nNkjt5R

— Tobi Grüner 🏁 (@tgruener) February 27, 2020
1105: Now…Vettel goes P1. A solid 1:19.373 on the C3s at this stage. But that doesn't last long thanks to Lance Stroll.
1101: Vettel comes very close to taking over P1 but falls just 0.038s short on the C3s. No such trouble for Giovinazzi though who smashes Bottas' effort by almost eight tenths, but he was on the fastest C5s.
1053: Now the times are coming down. A 1:20.454 puts Bottas back on top.
1046: McLaren are determined to guard their true performance. Lando Norris goes P1 with a 1:24.981 on the C4s, and despite going purple in the first two sectors on the following lap he returns to the pits.
1043: A spin for the Dutchman at the final chicane – a very odd one at such slow speed. He recovers and returns to the pits.
1040: Verstappen returns to the track – the aero rakes are still on the sides of his Red Bull.
1034: Very little happening out there. Verstappen is back in the pits now after that aero run.
1013: Max Verstappen takes to the track on the slick tyres, the aero rakes are on the RB16.
0958: The times are coming down now as Bottas dips into the 1:28's.
0953: Giovinazzi is back out there, as is Bottas. Still inters for both.
0942: All pretty quiet out there right now.
0933: Nicholas Latifi tries a timed lap, but major oversteer sends him into the gravel – he manages to keep going. The rookie desperately needs some smooth running after his latest setback yesterday when that FW43 broke down on him.
0926: Sebastian Vettel has been putting in a few laps on the inters and sets the second-best time, it's 4.6s down on Bottas though.
0917: Bottas sets a 1:31.928 to go into P1 early, but Ocon is the only other driver to set a time.
0913: Valtteri Bottas emerges onto the circuit with the intermediate tyres.
0912: After a couple of big slides Ocon makes the wise choice to return to his garage. He's had this fun.
0908: Antonio Giovinazzi was out there too but heads back into the pits. Don't blame him, the circuit it very slippery right now.
0904: That RS20 is sliding all over the place, but already a dry line is forming on the main straight.
0900: The track goes green. There will be some intermediate-tyre running early on with the track damp. Esteban Ocon does the honours.
0845: Here is who you can expect to see in action today. Slightly less hectic than yesterday where we almost had a full 2020 line-up on show.
Mercedes: Bottas/Hamilton
Ferrari: Vettel
Red Bull: Verstappen/Albon
McLaren: Norris
Renault: Ocon/Ricciardo
AlphaTauri: Gasly
Racing Point: Stroll
Alfa Romeo: Giovinazzi
Haas: Magnussen
Williams: Latifi
0830: Hello and welcome back to the Circuit de Catalunya in Barcelona for day two of the second test. Only 16 hours of track time remain before teams will pack up and head for the season opener in Australia. The first four hours will begin at 0900 local time.
Follow us on Twitter @Planet_F1 and like our Facebook page.