Day 1 of F1 testing: As it happened
The wait is finally over! See how the first day of F1 testing unfolded at the Circuit de Catalunya in Barcelona.
All times local (Morning session begins at 0900 and ends at 1300; Afternoon session runs from 1400 to 1800). Manually refresh to update the page.
Day 1 timesheet: 1. Lewis Hamilton, Mercedes, 94 laps, 1:16.976; 2. Valtteri Bottas, Mercedes, 79 laps, +0.337; 3. Sergio Perez, Racing Point, 58 laps, +0.399; 4. Max Verstappen, Red Bull, +0.540; 5. Daniil Kvyat, AlphaTauri, +0.722; 6. Carlos Sainz, McLaren, +0.866; 7. Daniel Ricciardo, Renault, +0.897; 8. Esteban Ocon, Renault, +1.028; 9. George Russell, Williams, +1.192; 10. Lance Stroll, Racing Point, +1.306; 11. Charles Leclerc, Ferrari, +1.313; 12. Nicholas Latifi, Williams, +1.406; 13. Robert Kubica, Alfa Romeo, +1.410; 14. Kevin Magnussen, Haas, +1.490; 15. Antonio Giovinazzi, Alfa Romeo, +3.120
1807: Thanks for following PlanetF1's coverage from the opening day of pre-season testing. See you again on Thursday at 0900 local time for Day 2. In the meantime, check out the full Day 1 report right here.
1800: The first day of the 2020 Formula 1 season is over, with Lewis Hamilton topping it.
1751: Nope, he's back out again. He just can't get enough can he?
1744: Lewis Hamilton comes into the pits to presumably call it a day. Given he's done 86 laps and gone quickest, it's not been a bad one for him.
1735: With just over 20 minutes left, there's still been no red flag or major reliability issues of any kind from Williams, a Honda engine or anyone else.
1723: It's been a positive first day for Kvyat and AlphaTauri, with the Russian currently sat in P5.
1717: Just under 45 minutes left here until the end of the session.
17:08: Verstappen has now done his best time of the day, a 1:17.5, half a second down on Hamilton.
1653: Hamilton improves again while Verstappen goes off track for the third time. Either he's just really pushing or that car is a bit of a diva today. Still, considering he's done more laps than anyone, I wouldn't be worried.
1639: It's been nearly half an hour since Leclerc was out on track. He's now in the garage out of his car, are there some issues with it? Perhaps, but either way the team would have been hoping to do more laps this afternoon.
1607: Hamilton has taken us into the 1:16s, doing a 1:16.978.
1559: Stroll, replacing Perez in the Racing Point, moves into the top 10. 
1550: We're treated to a bit of wheel to wheel racing as Verstappen tries to pass Sainz for track position. The Spaniard refuses to yield however and the Dutchman backs off at Turn 13.
1547: Williams have already surpassed the number of laps they did in testing last year.
1537: Hamilton goes top with a 1:17.293.
1529: Ricciardo is now out on track and setting his first times. Maybe it was just a really, really slow driver changeover?
1519: In case you missed it earlier, Kimi was having the time of his life in the first testing press conference.
Kimi: 'Why the f*ck am I here?' #F1 https://t.co/2swXSW2tAx

— Planet F1 (@Planet_F1) February 19, 2020
1506: Ricciardo has yet to do a lap this afternoon and isn't in his car. There's definitely some issues in that garage.
1503: Hamilton has moved into the top three, going a tenth quikcer than Verstappen on medium tyres.
1445: Lots of long runs at the moment but nobody going green on their lap times.
1442: Verstappen hits 100 laps for the day.
1418:  Hamilton goes P11 with his first lap of the season while Verstappen spins at Turn 13 on his first of the afternoon.
1413: As well as Hamilton replacing Bottas, Daniel Ricciardo has come in for Ocon, new boy Latifi for Russell and Antonio Giovinazzi replaces Kubica
1408: Everybody have a good lunch? Good. The afternoon session is underway, with a certain Lewis Hamilton first out…
1305: Read all about how the session panned out in our report here.
1300: That's that for the morning session of today's testing, with Bottas topping it ahead of Perez and Verstappen. The afternoon session begins in just under an hour.
1257: We have our first spin of the season! It comes courtesy of Magnussen who does so at Turn 9. No harm done though.
1252: Kvyat has just set a personal best, but he's still sat in P10, just behind Kevin Magnussen.
1233: Just under 30 minutes to go until lunch.
1230: Verstappen goes wide at Turn 10 before Stroll locks up. In terms of driver errors, that's just about all we've seen this morning.
1203: Verstappen has completed the race distance of the Spanish GP already, 66 laps. Not a bad morning shift from him.
1159: Bottas is now P1 with a 1:17.313. An hour to go until the break.
1147: In terms of the cars, we reckon this is the best looking grid in years. Head over to our gallery to see for yourself. 
1144:  A brief issue for AlphaTauri as Kvyat grinds to a halt at the end of the pit-lane. However, after pushing it back to the garage they've discovered a coding issue and fixed it promptly.
1135: The temperature is beginning to warm up rather significantly, will that cause issues for anyone?
1121: Bottas has gone quicker than Verstappen and moved into P2.
1103: Two hours to go until the day's lunch break and no red flags or breakdowns as of yet…
1052: Perez, on the medium tyre, retakes top spot and Verstappen goes P2 on hards.
1043: Bottas clocks a 1:17.833 to go top on the hard tyre.
1037: Call me crazy, but I bloody love the look of that Williams. And hey, looking at that all morning, you definitely won't forget to brush your teeth.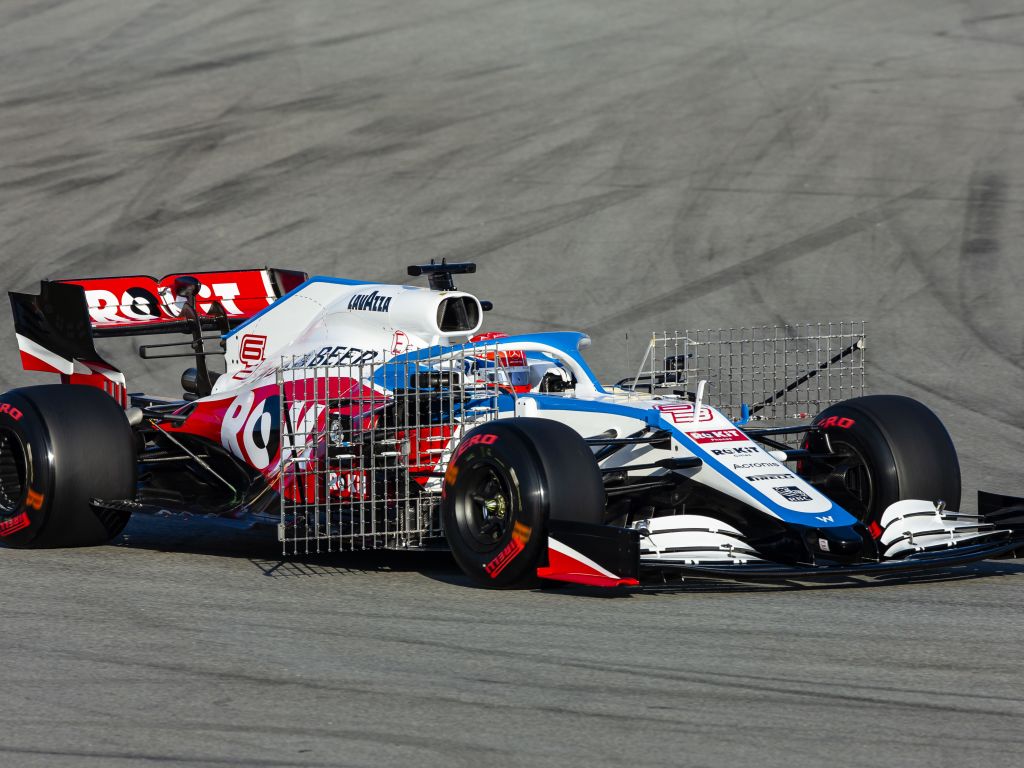 1030: Sergio Perez now moves top with a 1:18:037.
1020: Charles Leclerc moves up to P2, two tenths behind Sainz.
1000: The first hour of pre-season is complete and *whisper this* it's gone by without a hitch. Alfa, AlphaTauri and Williams don't have timed laps on the board yet but all 10 teams have been able to get out on track straightaway.
0945: That is one funky looking nose on the Renault RS20. Don't get too excited by the all-black livery – the yellow will return in Australia.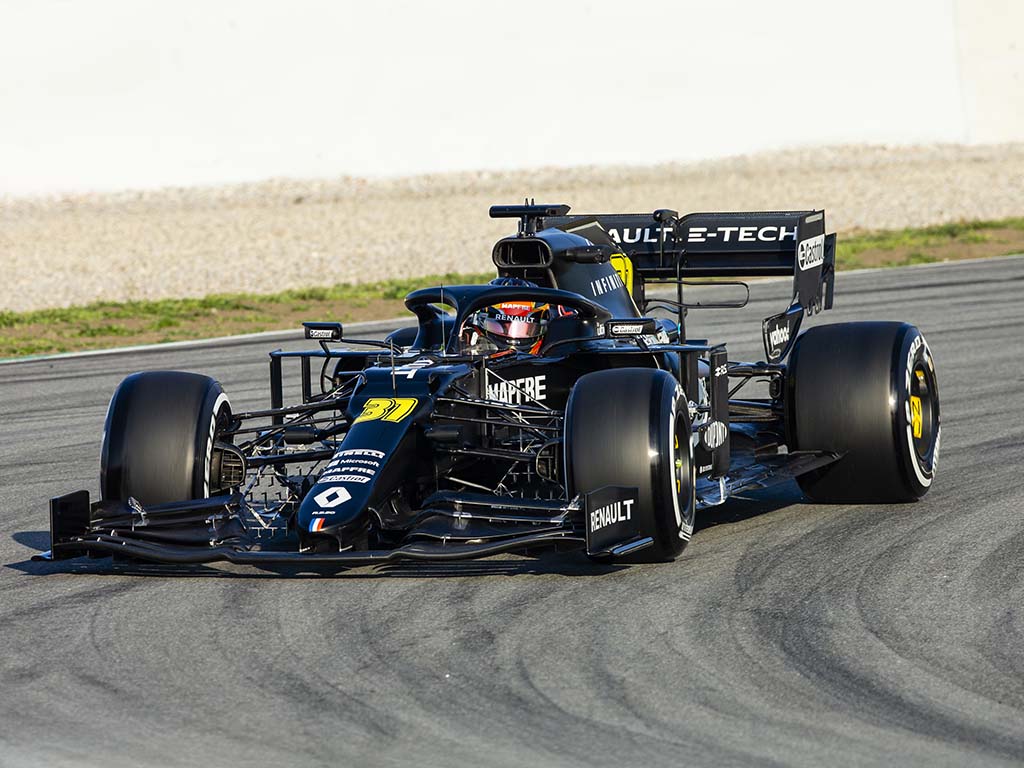 0935: Good to see Kimi Raikkonen hasn't lost his enthusiasm for all off-track activities during the winter break.
New season, same old sh*t for Kimi. #F1 pic.twitter.com/d0Cnj2fGqx

— Planet F1 (@Planet_F1) February 19, 2020
0925: Max Verstappen and Carlos Sainz join Bottas and Leclerc on the leaderboard. Sainz is the first driver to drop into the 1:18s in his McLaren MCL35.
0915: Mercedes and Ferrari are getting straight down to business. Bottas and Leclerc are the only two drivers with timed laps on the board so far.  A 1.21.7 is Bottas' best, with his W11 absolutely covered in aero rakes.
0903: The first car out on the track? George Russell in the Williams, of course. They are officially a full two-and-a-half days ahead of last year's pre-season schedule!
⏰ 8:59am.@GeorgeRussell63 is the first car out on track 🤜🤛#F1Testing pic.twitter.com/5OZfP5Bjye

— ROKiT WILLIAMS RACING (@WilliamsRacing) February 19, 2020
0900: FORMULA 1 IS BACK! The track light is now green. Let the first of six days of pre-season testing commence! Now where are those sandbags?
0845: Before the track action gets underway, there are a couple of boxes to tick off from the 2020 launches. Alfa Romeo and Haas have taken the covers off their 2020 challengers in the pit lane prior to starting their on-track programmes. You can check out all pics right here…and here.
0840: A slight change to today's driver line-up to tell you about…Charles Leclerc is replacing Sebastian Vettel in the Ferrari SF1000 as the latter is feeling a little under the weather.
#F1Testing Change of plan: #Seb5 not feeling great this morning so #Charles16 is taking over driving duties for the day. pic.twitter.com/md4WEhnUm1

— Scuderia Ferrari (@ScuderiaFerrari) February 19, 2020
0830: Hello and welcome to PlanetF1's live coverage of pre-season testing. In exactly 30 minutes, track lights will officially go green for the first time in 2020. Bring it on!
Whilst we wait for that special moment, here are the drivers you can expect to see in action over the course of the opening day:
Mercedes – Bottas (AM)/Hamilton (PM)
Ferrari – Leclerc
Red Bull – Verstappen
McLaren – Sainz
Renault – Ocon (AM)/Ricciardo (PM)
Racing Point – Perez (AM)/Stroll (PM)
Haas – Magnussen
AlphaTauri – Kvyat
Alfa Romeo – Kubica (AM)/Giovinazzi (PM)
Williams – Russell (AM)/Latifi (PM)
Follow us on Twitter @Planet_F1 and like our Facebook page.