Revealing that he is in a "moment of reflection", Martin Brundle reckons Toto Wolff is "fed-up" with F1 and its politics.
The good news, though, is even if the Austrian does decide to walk away, Brundle doesn't believe Lewis Hamilton will follow him.
Wolff is out of contract with Mercedes at the end of this season with the 48-year-old believed to be considering a move to Aston Martin, teaming up with his good friend Lawrence Stroll.
But while Wolff is on very good terms with Stroll, the rumour mill claims things are not great between the Mercedes motorsport boss and Daimler chairman Ola Kallenius.
Wolff has also publicly had a go at his rival team bosses for backing the new Concorde Agreement, revealing that the only reason Mercedes decided to re-sign is because he realised the teams would never unite against Liberty Media.
Official F1 Shop: Black and white face coverings
Throw in the Ferrari engine saga and its secret agreement as well as Racing Point's copycar controversy and Wolff has not been happy of late.
"I have not taken the decision yet," he told the media when asked about his future at the Spanish Grand Prix.
"These are discussions that are ongoing, they are positive and I enjoy them and I don't want to give it a spin that I am leaving.
"It's not the case. I am just in a moment of reflection."
He added: "Reflection where F1 is heading to, what is happening with COVID and also personal reasons.
"Susie (Wolff's wife) is in a good place running a Formula E team, that means she is away a lot. I've been on God knows how many races and that's something we are thinking about.
"It's down to the discussion between Ola and myself. We want to do the best for the team, to continue to see the team prosper.
"I really enjoy the role, my plan is to continue but I never want to be in the situation that you are becoming from very good to good."
There are, however, concerns that Wolff's future could determine Hamilton's.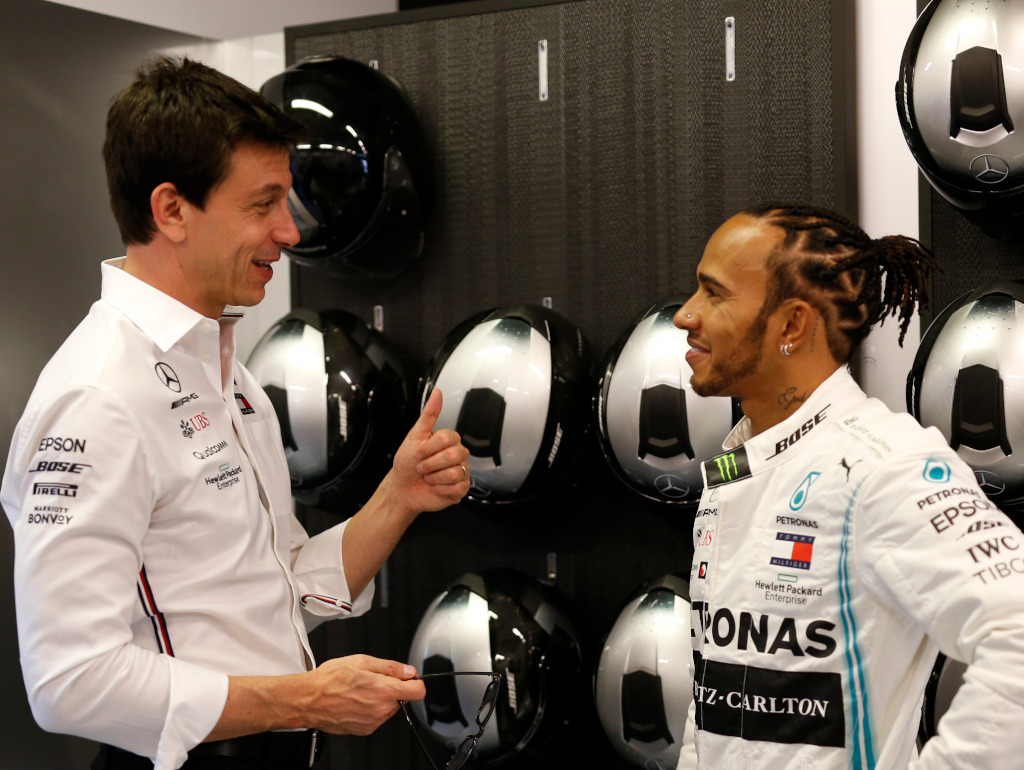 The six-time World Champion is also out of contract at the end of this season and, despite Valtteri Bottas putting pen to paper on a new deal, has yet to agree one himself.
He, however, has stated that his future is "not just down to one person, one individual. So yes, that's not determining whether or not I stay."
Former driver turned commentator Brundle reckons that even if Wolff does leave Mercedes, that doesn't mean Hamilton would follow him to Aston Martin or out of the sport.
As for the possibility of Wolff walking away from the Brackley squad, the Brit says the team boss is showing a lot of signs of being "fed-up" with Formula 1 today.
"I think Lewis will be watching it," he told Sky F1
"It's interesting – something's up because I've always found Toto very open and arrestingly honest if you ask him a direct question. And he's saying 'I'm thinking it over whether I want to stay in F1 or not'.
"Maybe that's part of a brilliant negotiation he's playing but I think he's a bit fed-up. Fed-up with all the stuff that's going on around Racing Point, the new Concorde Agreement and some other things.
"When he missed the race at Hockenheim last year he 'died' sitting at home watching it on the TV and felt kind of left behind so he has a passion – he's a petrolhead as well as a financier. So he's just fed-up with something at the moment.
"Andy Cowell is leaving the team, maybe Toto, but there's such a great group of people there that will just pick up the mantle and run with the team that I don't think it would affect whether Lewis stays or not.
"Lewis says he's in the final stages of his career anyway, his own words."
Follow us on Twitter @Planet_F1 and like our Facebook page.