Fernando Alonso will need Red Bull's help to take elusive 33rd career win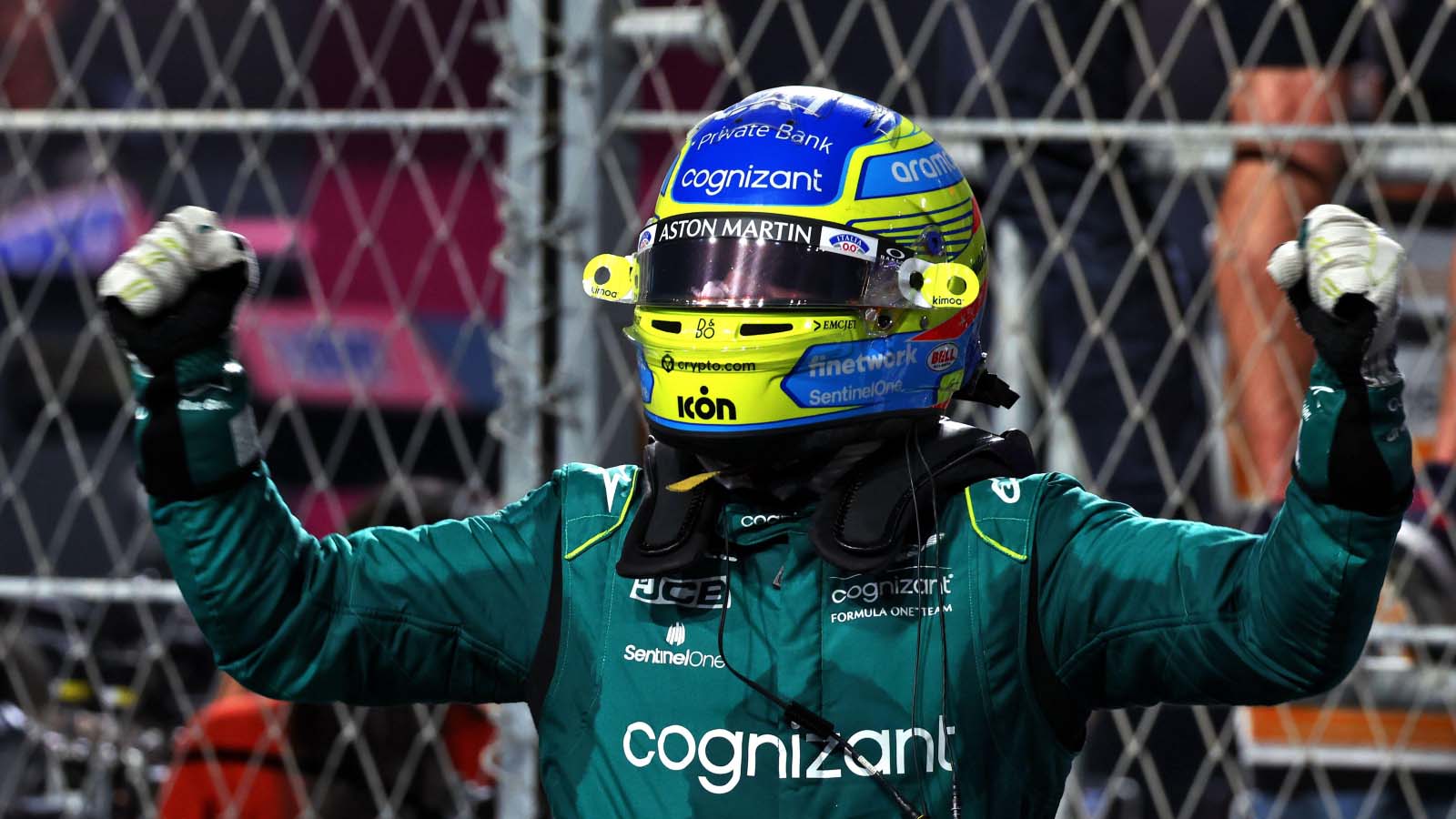 Stuck on 32 career wins for just shy of 10 years, Fernando Alonso believes his AMR23 will win a grand prix but he'll need "some help" from Red Bull.
Although Alonso's decision to join Aston Martin from Alpine over the winter raised a few eyebrows, it has proved to be an inspired call.
The Spaniard has two podiums in two races, P3 in both Bahrain and Saudi Arabia. But while the gap in Bahrain was massive, the driver 38s behind race winner Max Verstappen, at the Jeddah circuit it was down to 20s.
It has given the double World Champion belief that his 33rd victory, which he has been waiting for his last P1 back at the 2013 Spanish Grand Prix, is around the corner.
But, he concedes, he'll need something to go wrong for the Red Bulls to make it happen.
"We need some help from them," he said as per The Race, "but it will happen eventually, when they cannot always finish first and second.
"One day it'll be a [botched] pit stop, one day it's a gearbox. Max had Saturday [a failure] – if he'd had it Sunday, he'd have had to retire the car.
"So there's going to be some circuits where maybe reliability or whatever could help us and hopefully in those races we take the opportunity."
For now he'll draw some comfort from having reduced the deficit in Saudi Arabia with the RB19 a little less untouchable.
"I think in Bahrain if they'd pushed they'd have been very far ahead. And here they were ahead, they were untouchable for sure, but a little bit closer," he said. "So that was good.
"We led the race so we have the first picture of Aston Martin leading the Formula 1 field for two laps and hopefully not the last one."
PlanetF1.com recommends
Fernando Alonso fails to see logic behind Red Bull/Mercedes copycat claims
George Russell responds to Fernando Alonso tweet after Jeddah podium confusion
Fernando Alonso penalty debacle exposed yet another FIA rulebook weakness
Former driver goes one better: 'He is a title contender, of course'
Former F1 driver turned pundit Robert Doornbos believes Alonso won't only win races this season, he'll also fight for the World title.
His back-to-back third places have put the Spaniard third in the Drivers' standings on 30 points, 14 behind championship leader Verstappen.
"He is a title contender, of course!" Doornbos enthused to Motorsport.com. "You have to admit that. When you have such a good car… [Lance Stroll's car] wasn't reliable, but it's fast.
"On two different types of track, Alonso could really just compete for the podium.
"They still lack a bit of speed compared to the Red Bull, but over a whole season…. Of course it's a marathon, not a sprint."
He added that the 42-year-old has a "serious chance. He feels that himself, because you see him shining and beaming. I have not seen a picture that he looks grumpy."
But, and there's always but, Doornbos says: "I think he realises very well that he doesn't have Verstappen's pace in terms of speed in the car. Max is also the man on the grid now. If Alonso can join and benefit from a mistake, like what happened on Saturday, then of course he does it immediately."
Mike Krack doesn't believe Red Bull can maintain their advantage
Although Red Bull once again had a marathon gap between themselves and Aston Martin, the Silverstone outfit's Mike Krack believes the gap will close in time.
But whether it's Aston Martin who do it or the Ferrari and Mercedes remains to be seen.
"The season is long," he told Sky Deutschland. "I don't think Red Bull will keep the gap.
"We still have two big teams behind us who will do everything to catch up. The spectators should be patient and keep watching Formula 1."
As for when Aston Martin will bring their first big upgrade package of the season, the German admitted that's a bit of a balancing act.
"We have to weigh up," he explained, "what do you do when and where do you stand with the costs.
"If you take too many shots directly, you won't have any later. You have to decide depending on where your car is. It parts will definitely come."