Fernando Alonso: Appeal ruling will dictate if we are going in the right direction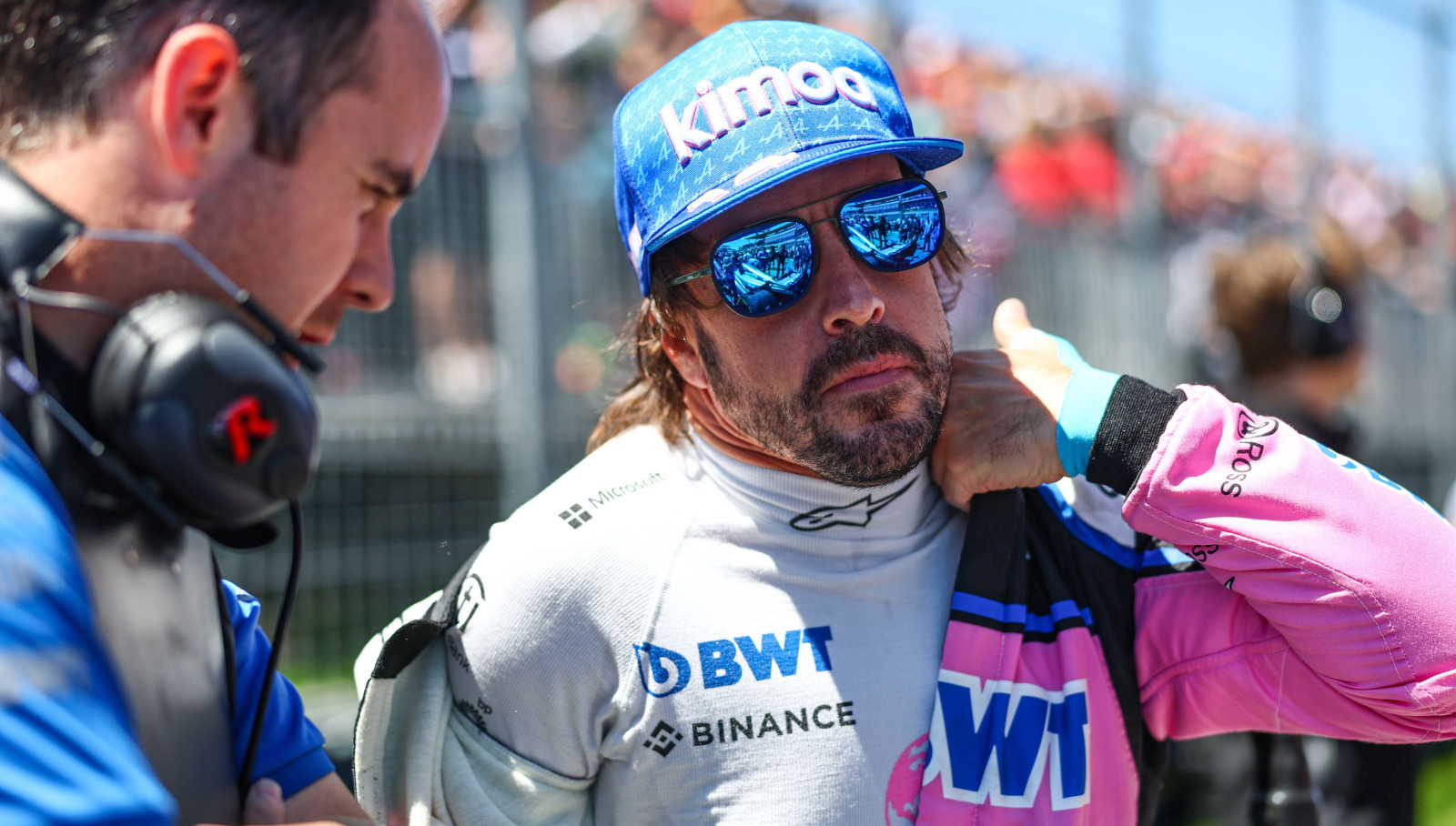 Denied a points-finish after his Alpine was left with a loose mirror in a high-speed crash in Austin, Fernando Alonso says Thursday's appeal hearing will "dictate if we are going in the right direction for the future".
Alonso was sent airborne by Lance Stroll in the United States Grand Prix, the Canadian making an aggressive defensive move on the back straight as he jinked to the left with Alonso having no time to react.
Amazingly the double World Champion was able to continue in the grand prix, his Alpine having only suffered front wing damage while his right side mirror was hanging from the car before eventually falling off.
That loose mirror, though, ultimately led to him losing the points he had scored through his heroic seventh-placed drive.
Haas protested the A522 after the grand prix, believing Alonso should have been shown the black and orange flag when his mirror was hanging off the car.
The protest was successful, FIA technical delegate Jo Bauer declaring the car was "unsafe" with the stewards handing Alonso a 30-second penalty.
Time penalties in Formula 1 cannot be appealed but Alpine found a loophole, protesting Haas' protest as it was "lodged 24 minutes past the specified deadline".
Fernando Alonso: "The fear is still in my stomach. After the crash, I couldn't stop thinking about it for the rest of the race."

[DAZN] pic.twitter.com/ndw9ITdXmP

— PlanetF1 (@Planet_F1) October 24, 2022
The dispute will be heard on Thursday with Alonso saying it will be an "important day" for Formula 1.
"Thanks for all the messages I received yesterday and today," he wrote.
"It's one of those rare times in sport that I feel we are all on the same page and share the same opinion towards rules and regulations.
"Therefore, Thursday is an important day for the sport we love so much, as this decision will dictate if we are going in the right direction for the future.
"Thanks again for all your support."
Alonso feared 'dangerous' IndyCar style crash
Alonso has also spoken about the crash, his A522 pointing skywards after the contact.
He says he feared an IndyCar style crash where the car meets the fencing and the driver is sent into a spin.
"It was not nice because when you are up in the air obviously you are not aware of where you are on track," he said.
"I felt that I was much more on the left, and obviously if you catch the lateral fence, the metallic one, then you spin in the air 360 [degrees].
"You see this kind of accident a lot in IndyCar and they are quite dangerous. So I thought that I was ending up on that fence."
He thankfully walked away with just a "little bit of pain".
Alonso and Stroll come together 💥😮#USGP #F1 pic.twitter.com/H8Wbs0GaXL

— Formula 1 (@F1) October 23, 2022
Team bosses at odds
Alpine team boss Otmar Szafnauer was not impressed with the protest.
"I think it's ridiculous," he said. "I mean, it's obvious accident damage. And, you know, the cars are allowed to finish with accident damage, it happens all the time."
However, Guenther Steiner, with his Haas team having thrice between shown the black and orange flag for loose parts hanging over the car says this isn't about Alpine, it's about consistency.
"I'm not targeting anybody," Steiner told Motorsport.com. "I mean, for me, it needs to be consistent. The FIA are the regulator and they need to get consistent.
"If there is a mirror missing and the rule says you need to have two mirrors, why can you say we had an accident, there's only one? You still need to have two.
"Sometimes it's okay, sometimes it's not okay. We need to find a way to make it okay or not, that you know what you're doing and that's what we tried to find out, if it's consistent or not."
He added: "We saw it flapping and then they should get a black and orange [flag] and then it flew off. And then he should be disqualified because he has no safety equipment. It's the same as if your headrest comes up, you need to go out."
Read more: Kevin Magnussen calls 'bulls**t' as Haas' Red Bull protest is denied