Fernando Alonso's wind tunnel prediction that will worry Mercedes and Ferrari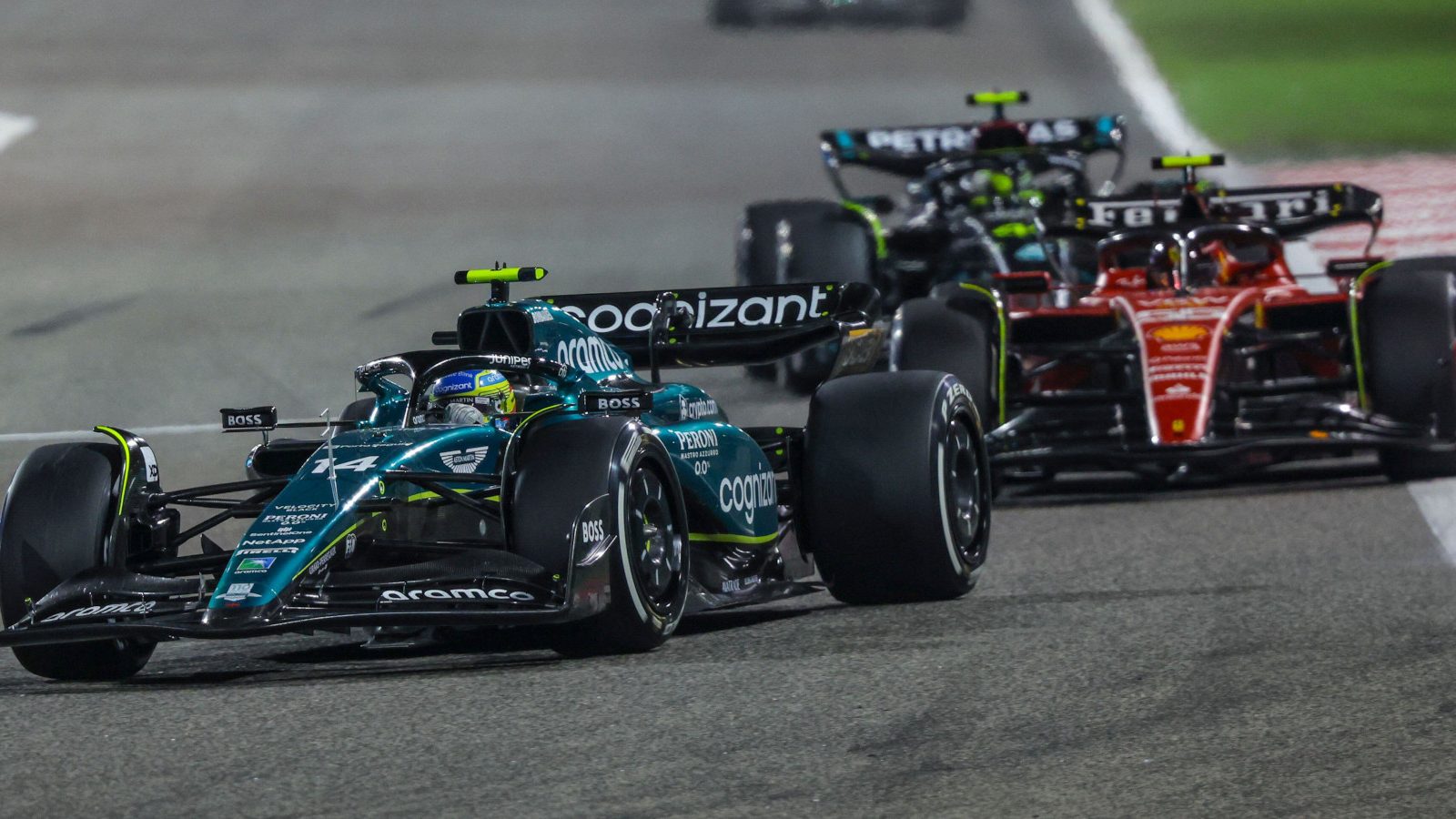 On the podium in his Aston Martin debut, a bullish Fernando Alonso predicted Aston Martin "won't get much" wind tunnel time next season as he expects they'll be up near the top of the standings.
Swapping Alpine for Aston Martin in the off-season, some pundits questions Alonso's decision but head-grabbing performances during pre-season testing hushed those comments.
But the question remained, could Aston Martin translate that into points? Alonso went even better at the season-opening Bahrain Grand Prix as he bagged a podium finish.
Proclaiming his Aston Martin to be a "lovely car", in Alonso's hands it's also a podium-finishing one as the Spaniard went from a first lap tangle to third place at the Sakhir circuit.
His race could have been over on the very first lap when he was tagged by his team-mate Lance Stroll, his AMR23 luckily not suffering any damage but it did drop him down to seventh place.
He set about recovering, hunting down the Mercedes of George Russell, passing him, before doing the same to Lewis Hamilton and finally taking Carlos Sainz to run P3.
"Amazing for the team, it was a great weekend and a podium on the first race of the year," he said after the race.
"What Aston Martin did over the winter to have the second best car at race one, this is unreal."
Alonso finished the race half a minute down on race winner Max Verstappen, the reigning World Champion leading a Red Bull 1-2 on the day ahead of Sergio Perez.
As for his tussles against Mercedes and Ferrari, Alonso concedes while it would have been good not to lose places at the start, it definitely added " more exciting, more adrenaline" to the race.
In fact one could say it was the Fernando Alonso show on Sunday.
"I would love to start in front of them and use that pace but we didn't have the best start so had to pass on track," he said.
"But it felt like it was more exciting, more adrenaline, so if people enjoyed it, we did as well."
PlanetF1 recommends
Race: Max Verstappen untouchable but the Bahrain GP was the Fernando Alonso show
Two race weekends in 2023 set aside for additional revised qualifying format
Max Verstappen has 'no desire to deny' that Lewis Hamilton is 'one of the greatest drivers ever'
Aston Martin made it a double points-finish with Lance Stroll crossing the line in sixth place. He did so despite carrying a broken toe and having undergone surgery on his wrist just two weeks ago.
Alonso was proud of his team-mate.
"Congrats to Lance, my team-mate, had the surgery 12 days ago and now he's fighting with everybody," he said.
Of course what he has to say to Stroll about the Canadian him on the opening lap remains to be seen, Alonso not even blinking when shown a reply of the incident in the cool-down room.
Second in the championship after Sunday's season-opener, Alonso is hoping for a great season ahead for his team even if it means losing wind tunnel time in 2024 under F1's ATR scale.
Asked if his team could put this year's extra time to good use, he replied: "I hope so but we'll not get much next year."