Alonso glad to have avoided Kimi/Schumacher-style comeback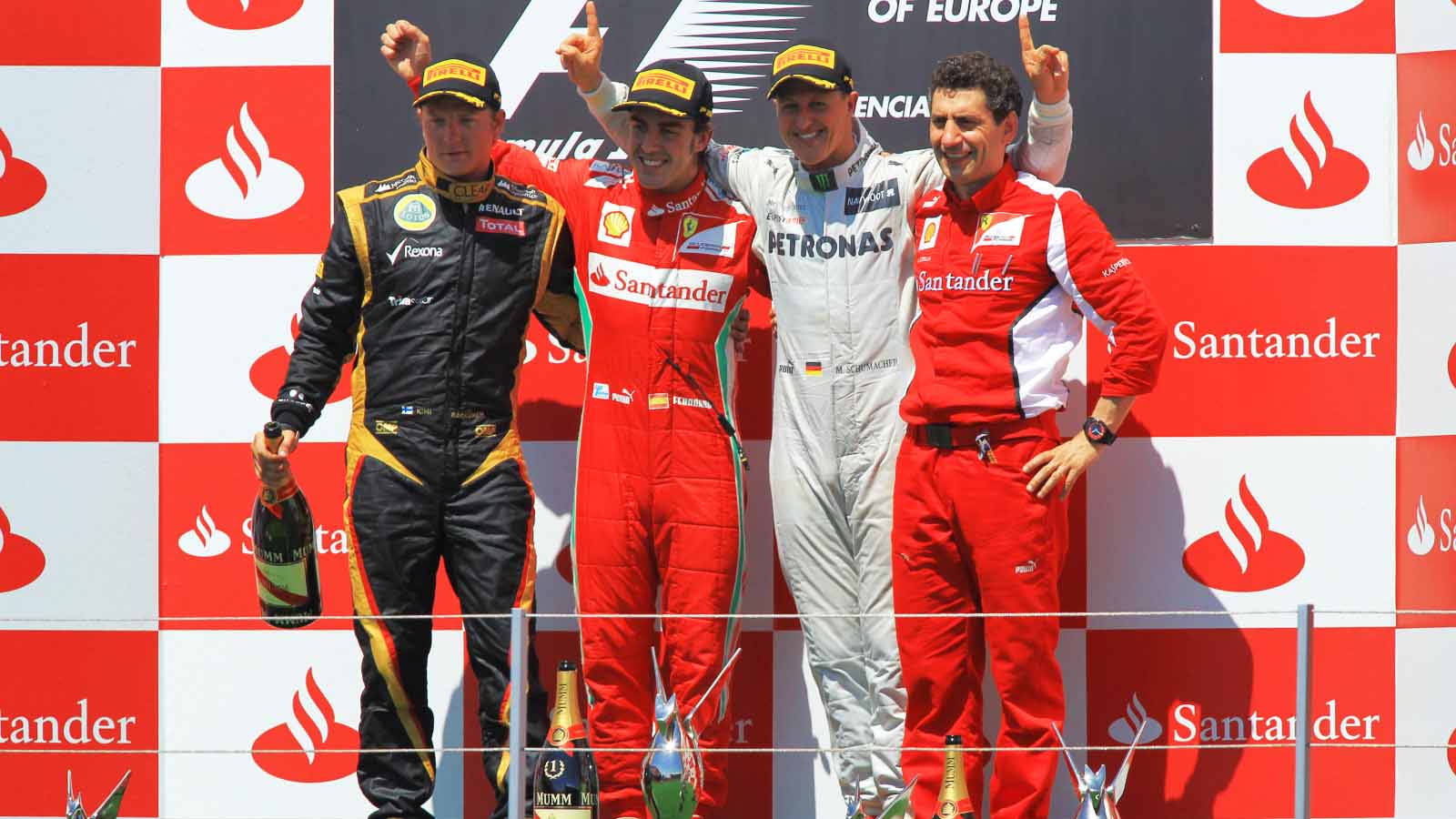 Fernando Alonso said he is pleased at how he has been able to keep his speed up after returning to Formula 1, after alluding to his opinion that fellow World Champions Michael Schumacher and Kimi Raikkonen were "not the same as before" they left the sport for the first time.
Like Schumacher and Raikkonen, Alonso came back to Formula 1 after a couple of seasons away at the beginning of 2021 and, after taking a few races to get back up to speed, has since gone on to show that he is driving as quickly as he did before.
So much so, the man himself claimed recently that he is driving at one of the highest levels of his career.
Upon his comeback with Lotus in 2012, Raikkonen won his first race back in Formula 1 after taking a two-year sabbatical to sample other forms of motorsport, but his eventual move back to Ferrari saw him largely play second fiddle to four-time champion Sebastian Vettel, before seeing his career out with Alfa Romeo.
Schumacher, meanwhile, made his return with Mercedes after three years away, but was beaten in the Drivers' Championship by team-mate Nico Rosberg in each of their three seasons together and scored a solitary podium in that time – when Alonso and Raikkonen shared the podium with him in Valencia in 2012.
But Alpine driver Alonso has continued to show flashes of his undoubted talent, despite having driven midfield machinery since his return.
He took a podium on merit in Qatar last year, and followed that up with a front-row start at a wet Montreal earlier in the season, having also been on course for a similar result in Australia before a hydraulic issue saw him crash out of Q3.
The two-time World Champion said it has been "important" to him to show that he has not lost his outright speed since coming back, and moments like in Canada have helped him prove it.
Alonso said in an interview with The Race: "I know the first row [of the grid] is not the end of the world and I have been in that position a few times already, but it meant a lot because when you decide to come back, you need to put away a few things in life – family, friends again – and have full dedication for the job you do, travelling, the physical aspect, the mental aspect, everything and the pressure that you feel in your shoulders.
"Because you are Fernando Alonso, and everyone will look at you if you are doing well.
"And I know that there were a couple of examples in the past that people were coming back, Kimi or Michael, that they were maybe… we all had the feeling that they were not the same as before. And I didn't want that in my comeback.
"I think, more or less, I'm achieving that. I'm the same as I was before. And that was important for me.
"Even if I felt inside that I was the same, I have to prove it from time to time and weekends like Canada help to have this feeling in the paddock."
He went on to explain that the audience in Formula 1 has changed in the last decade since he launched a full title challenge, eventually narrowly losing out to Vettel in 2012.
Having now passed his 40th birthday and his pedigree on show to a new set of fans coming to the sport, Alonso admitted that weekends such as in Montreal have shown what he can still bring to the sport today.
"You are aware of things and you are aware of maybe the opinion of the people," he said. "And you have to do hundreds of interviews, and they are asking you how you feel at 40 and if you are exactly the same as before.
"And what is the ambition now? Now you come back at 40, this is just for fun, or do you really feel fast?
"It's not that you get angry… but of course, I feel fast. If not, I will never come back."
Torquing Point: Mid-Season Awards with Josh Revell
Formula 1 YouTube star Josh Revell joins Henry Valantine to look at the best and worst of the 2022 so far, after 11 of 22 races.