Fernando Alonso quizzed on Aston Martin's pole position chances after eye-catching practice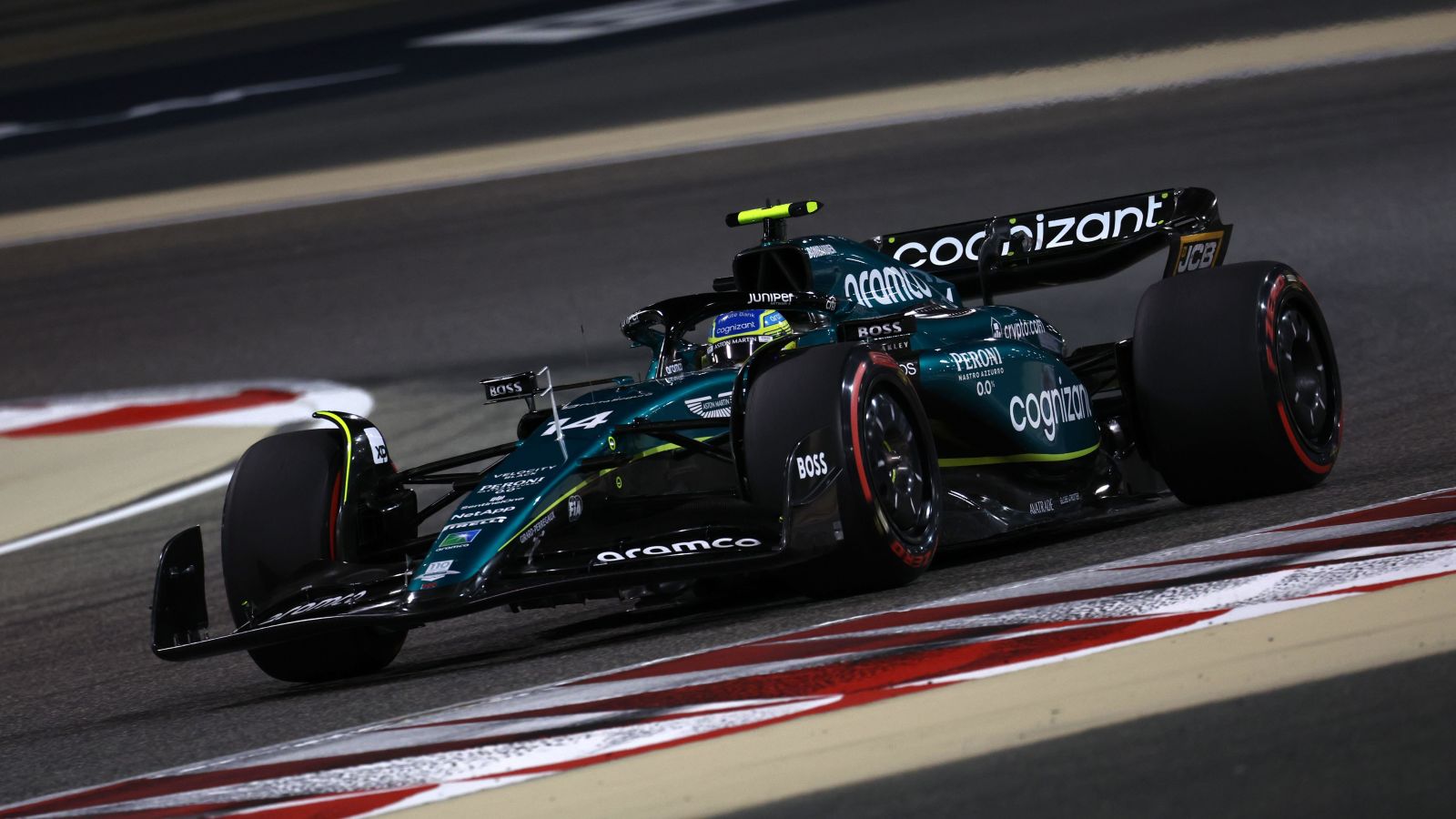 Fernando Alonso ended Friday on top ahead of the first qualifying of F1 2023, but he is not going into that session with ambitions of pole.
The two-time champ bought into Aston Martin's vision for future title challenges as he made the switch from Alpine, but such times were not expected to arrive instantly. However, could that be on the cards?
Aston Martin were the talk of the paddock in Bahrain after a positive three days of testing there, and with chatter that they could start out around the leading outfits, Alonso gave further fuel to such expectations by topping the second practice session of the weekend under the lights of the Bahrain International Circuit.
In conditions similar to those that will greet the drivers for qualifying and the race, Alonso was almost two-tenths clear of the Red Bull duo of Sergio Perez and Max Verstappen.
So, Alonso was asked after FP2 whether he fancies his chances of repeating that P1 in qualifying, which would give him his first pole position since Germany 2012.
"No, not at all, I'm not thinking that high to be honest," he told media in Bahrain.
"Actually, I don't know exactly what position will be a good one for us."
Alonso went on to confirm that getting both cars into Q3 was what Aston Martin had decided would be a good achievement, but stressed that this is just the start of a process which he hopes will eventually result in title glory, eventually being the operative word.
"After testing, we were thinking to be in Q3 with both cars, score as many points as possible in these first couple of races, try not to make mistakes," he said.
"It's very easy to make a mistake, it's not the same fighting for P12, P14 than fighting for top five positions because the pressure is different, the adrenaline is different.
"So there are a lot of things that we as a team, we have to grow together in this process, so I suspect that we will unfortunately make some mistakes, I make maybe some mistakes, it's a completely new team, new procedures, the team as well, so we have to be with the feet on the ground.
"The target has to be fighting for the championship but you know, in a long term, I don't think in this year yet."
PlanetF1.com recommends
FP2: Fernando Alonso keeps Aston Martin hype train rolling with P1 in Bahrain
Charles Leclerc, George Russell cast doubt on talk of half-second deficit to Red Bull
Lewis Hamilton dismisses Mercedes W14 Plan B talk as 'complete rubbish'
And with that in mind, Alonso said that the AMR23 is still by no means a perfect challenger, saying the balance was a little off during Friday.
"At the moment, we are just concentrating on ourselves, still a lot of things to improve in the car," he said.
"The balance was not completely perfect today. And I think also the team, you know, has to change a few things, we are in the process of trying to reinforce every area of the team."
Additional reporting by Thomas Maher