Critical of what he sees as different rules for different drivers, Fernando Alonso wants black-and-white regulations.
Alonso was unhappy with race stewards at the United States Grand Prix, feeling that Kimi Raikkonen had overtaken him off the track, and yet when he did that to Antonio Giovinazzi, he had to give the position back.
Giovinazzi suffered a similar fate, also forced to give Alonso a position back when they tangled again a few laps later.
Alonso called the regulations "random" with Masi saying he'll speak with the Alpine driver and the rest of the field ahead of this weekend's Mexican Grand Prix.
But while Alonso is "opening to listening", he feels the only solution is for Formula 1 to tighten the regulations.
"If you are talking in football and you take the ball inside the area with your hands, it will be a penalty," he said. "So, you don't need to bring this to every match.
"Every time you touch the ball with your hands in the penalty area it's going to be a penalty – every match you do."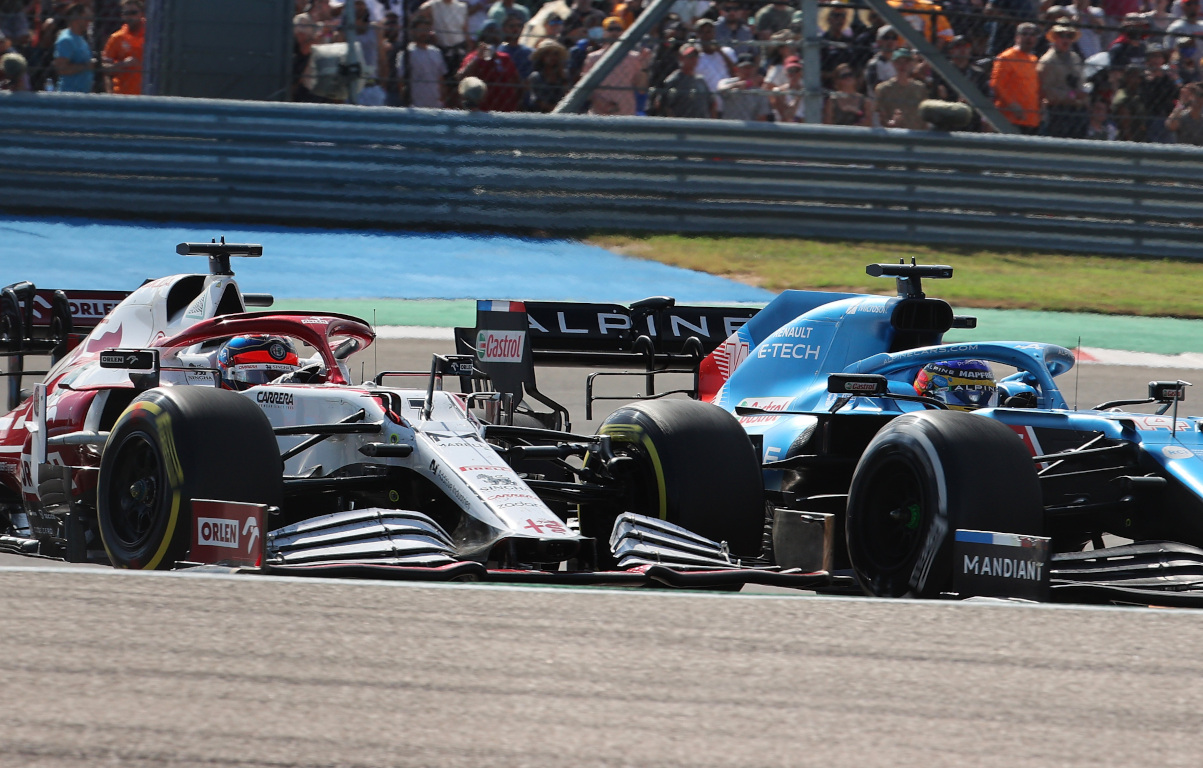 He also doesn't feel a need to discuss it in the drivers' meeting as "we will have the same answer" from the FIA.
He added: "I don't want that to happen, I think there are many other things that we should discuss in that meeting."
Instead of talking about when passing off the track is okay and when it is not, he reckons the incidents of drivers running wide at Turn 1 on the opening lap at Austin should be discussed.
"Like the lap one [incidents at Austin]. They removed the bumps on the outside after the problem with F4 or whatever – the car that launched outside of Turn 1 – and there were three or four cars going wide in Turn 1.
"So, I would love to talk about those cars, as we talked in Sochi."
But while Alonso is not happy with the way the stewards interpret the rules, he does seem to concede that some tracks make it a bit more difficult to define the regulations.
"The answers are always very constructive and very positive because we all want to race as fair as possible and we try to address all the problems," he said.
"Because sometimes it's not only the drivers input or the race itself, it's just the nature of the circuit.
"In Sochi, you will always have more problems than Silverstone or different circuits. We try to work together for a better solution. So, yeah, let's see.
"On the other side, it's not frustration. Don't be confused. It's just trying to race fair and to put a good show [on] for the people in the grandstands and on TV.
"We have a lot of fans around the world and we saw the race in Austin how fantastic it was to witness the grandstands full of people etc. So, we try to put a fair show [on] for everybody."