Fernando Alonso, Esteban Ocon were told anyone else would be fired after sprint clash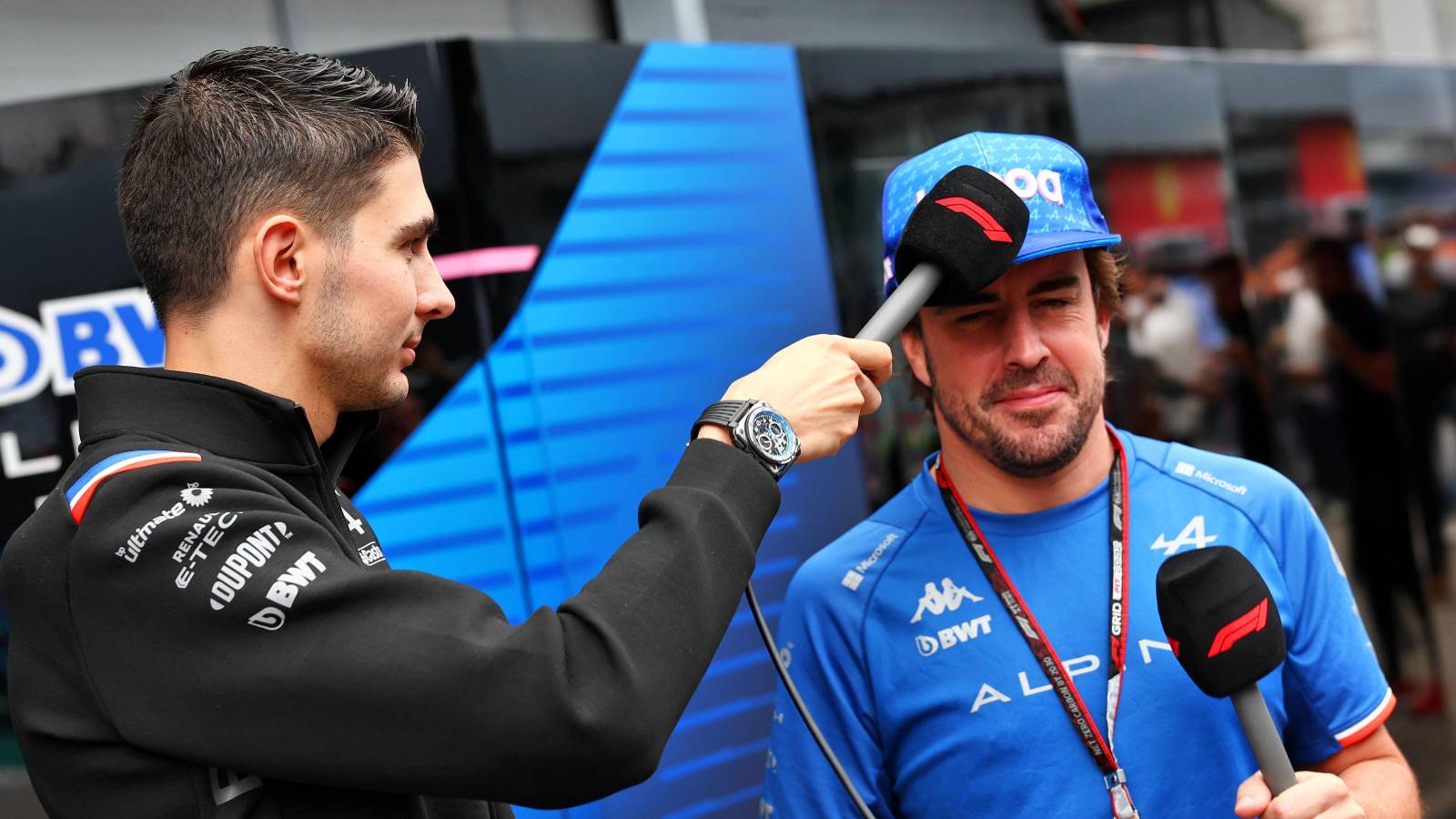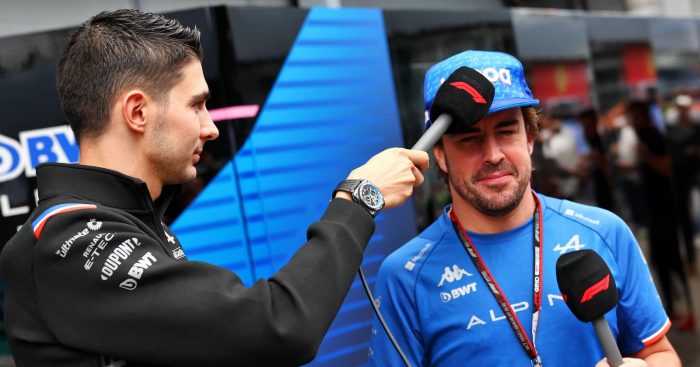 Fernando Alonso and Esteban Ocon were told by Alpine CEO Laurent Rossi that their Brazil antics were a sackable offence for anyone else.
Not for the first time this season, Alonso and Ocon were making the Alpine crew very nervous as they went to battle in the opening stages of the Sao Paulo sprint.
But unlike Jeddah, this time there was contact. First at Turn 4 Alonso just about rescued a slide to avoid collecting Ocon, but then down the main straight he would lose his front wing as he hit the back of his team-mate's Alpine.
Alonso received a five-second penalty and two penalty points on his Super Licence for that incident.
So, on a crucial weekend in Alpine's bid to secure P4 in the Constructors', Ocon was left starting the Sao Paulo Grand Prix from P16, and Alonso P17.
Ahead of the race Alpine team principal Otmar Szafnauer publicly slammed both drivers, but speaking on the F1 Nation podcast, he revealed that it was Alpine CEO Rossi leading the stern warning of Alonso and Ocon in the debief.
And, as part of the debrief, Szafnauer said Rossi told Alonso and Ocon that should anyone else in the Alpine team have behaved like this, they would have been let go for "gross misconduct". Szafnauer agrees.
"I would have said the same, but it was Laurent Rossi who gave them the talking to in the briefing," said Szafnauer.
"And he just made the good points that this is a team and we've got over 1000 people between Viry and Enstone working tirelessly to give them the equipment, the car, the upgrades that they all longed for. And then they have to play their part as team-mates too to bring the cars home and score good points, which is what he said.
"And he also told them that they're privileged to be racing car drivers, and if they had any other job in the company, and they did something like that, they would be let go for gross misconduct. And it's true."
1996 World Champion Damon Hill then gave his response to this reveal from Szafnauer, arguing that it is part of a racing driver to have this "me, me, me" voice in their head.
He then asked Szafnauer whether he sees the system of a lead driver, alongside a subordinate team-mate, as the right dynamic to approach a championship with?
"No, I think if you're trying to maximise the team effort, the drivers have to be part of the team and even though there is that me, me, me in their head as you say, sometimes you've got to put that aside because even you are better off when you don't think me, me, me."
Szafnauer said the proof in the pudding was the main race in Sao Paulo, where Alonso and Ocon kept it clean to score a combined 14 points, Alonso finishing P5 and Ocon P8.
Alpine now head into the season-ending Abu Dhabi Grand Prix with a buffer of 19 points over McLaren, making them strong favourites to secure P4 in the standings.
"Just like today [Sunday], say they would have crashed again today, 14 points that the team didn't get," Szafnauer continued. "A fifth position that Fernando wouldn't have gotten and an eighth position that Esteban wouldn't have gotten.
"So we've got to look at it from an efficiency standpoint, and where we can become Pareto efficient, meaning making the team better off without anybody worse off."
Abu Dhabi will be the last race of the Alonso-Ocon partnership at Alpine, Alonso then moving on to Aston Martin, revealing in Brazil that he is counting down the days to when his Alpine stint is "finally over".
Pierre Gasly will replace Alonso at Alpine from 2023, and Szafnauer says that a more competitive Alpine car will help with keeping this Gasly-Ocon pairing harmonious.
"The most important thing for next year is we improve the car even more relative to our competition," said Szafnauer. "And if the car can be more competitive, it will make it even easier with a driver pairing.
"The good news is we have two fast drivers that are still young and yet experienced."
As Hill told Szafnauer he'd heard that Alpine must taste title glory by 2026 to achieve their aims, Szafnauer replied: "Yeah, we'll do it, we have plenty of time."
Read next: Fernando Alonso scoffs at serial crashers narrative, 'we only made contact once'