Fernando Alonso on latest Esteban Ocon clash: 'One more race and it's finally over'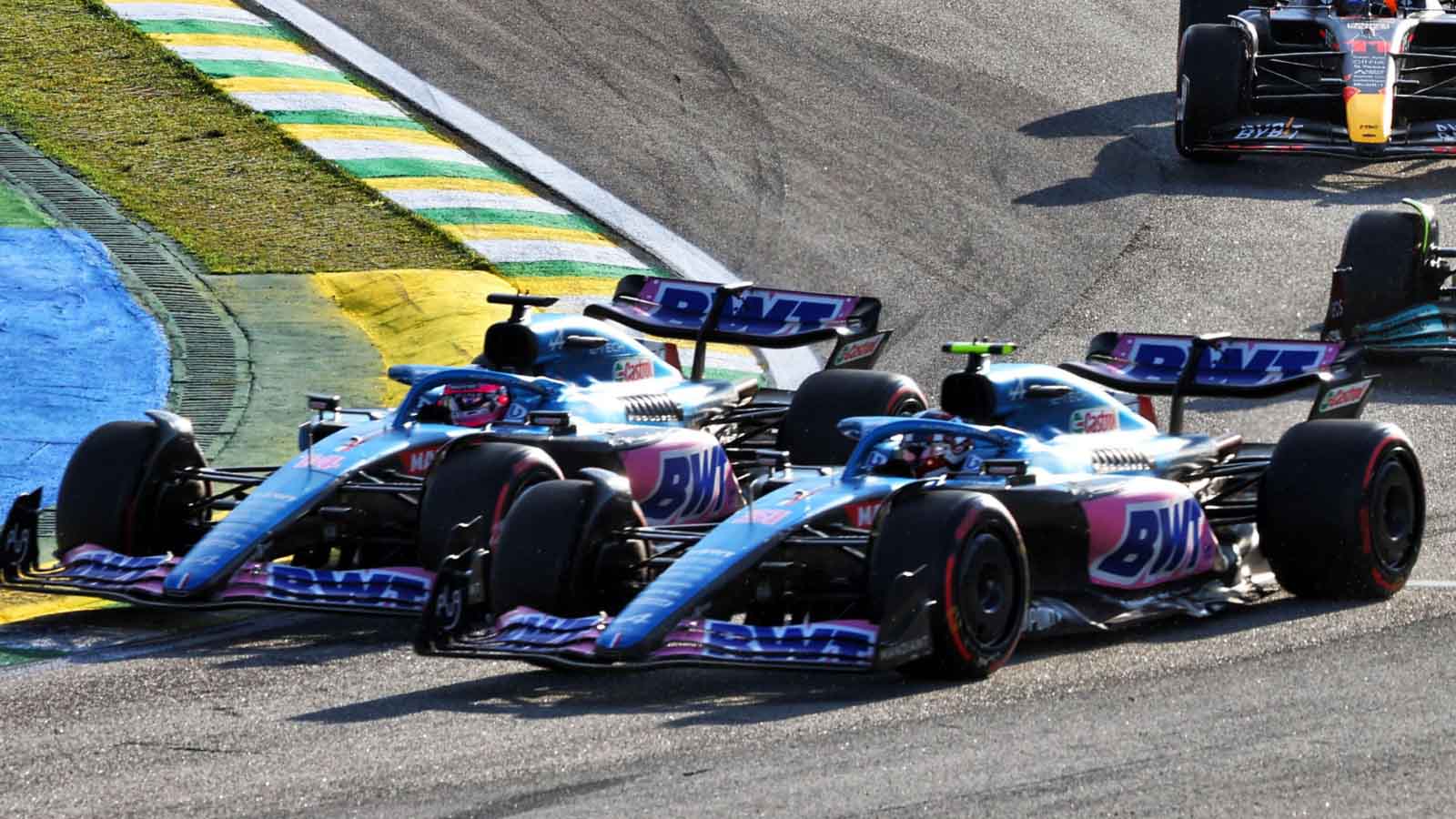 Fernando Alonso bit his tongue as best he could when describing his feelings about his contact with Esteban Ocon during the Interlagos sprint, simply counting down the races until his time as team-mates with the Frenchman is done.
The two Alpine drivers came to blows on the first lap while running side by side into Turn 4 on the first lap, with Alonso going over the kerb on the exit and suffering wheelspin as a result, tagging his team-mate's bodywork in the process.
He voiced his anger on team radio about the first incident before the two came together again on the start-finish straight, with Alonso catching his front wing on the rear of Ocon's car and damaging it.
"Just lost the front wing, thanks to our friend," came the sarcastic radio message afterwards, before he was forced to pit for a new front wing as a result of the damage.
Alonso was able to claw his way back to the pack and with Ocon's car also damaged, he was able to overhaul his team-mate and finish 15th, with Ocon ending up three places behind the Spaniard before his car overheated and caught fire in parc fermé – with marshals extinguishing the flames after the Frenchman had exited his A522.
But Alonso was subsequently punished for the pit straight incident, being awarded a five-second time penalty and two penalty points on his Super Licence for causing a collision.
After the sprint, however, he remained optimistic about the underlying pace in his Alpine at least.
"Obviously far from ideal when you touch on the first lap in the sprint because it's too short just to come back without any Safety Car or anything," Alonso bluntly told Sky Sports F1.
"So on the positive side, the car, the pace, was very good today – close to the leaders, actually, so we could recover a few places.
"P15 tomorrow to start the race, and if we have this pace we can still score good points."
Alonso made sure to highlight it was not the first time the two had been at close quarters this season, with the two having fought hard against each other in Saudi Arabia at the beginning of the year.
The two-time former World Champion also spoke of Ocon's previous record in wheel-to-wheel combat and the dices he has had in the past, and sounded relieved at the prospect of no longer having to share a garage as of next season.
When asked if he had spoken to Ocon after the incident, Alonso responded: "No, not really. I don't need [to], I think. It's one more race and then it's over. Finally.
"I was very close to the wall in Jeddah, I think, close to the wall in Budapest, today in Turn 4 now here.
"So either way, these things are, you know, sometimes it's very competitive inside the team – and it happened to him with [Sergio] Perez, with [Max] Verstappen here unlapping himself…
"So, it's one more race."
Read more: Haas confirm Mick Schumacher decision is made, announcement 'coming next week'