Alonso eyed Hamilton battle before podium finish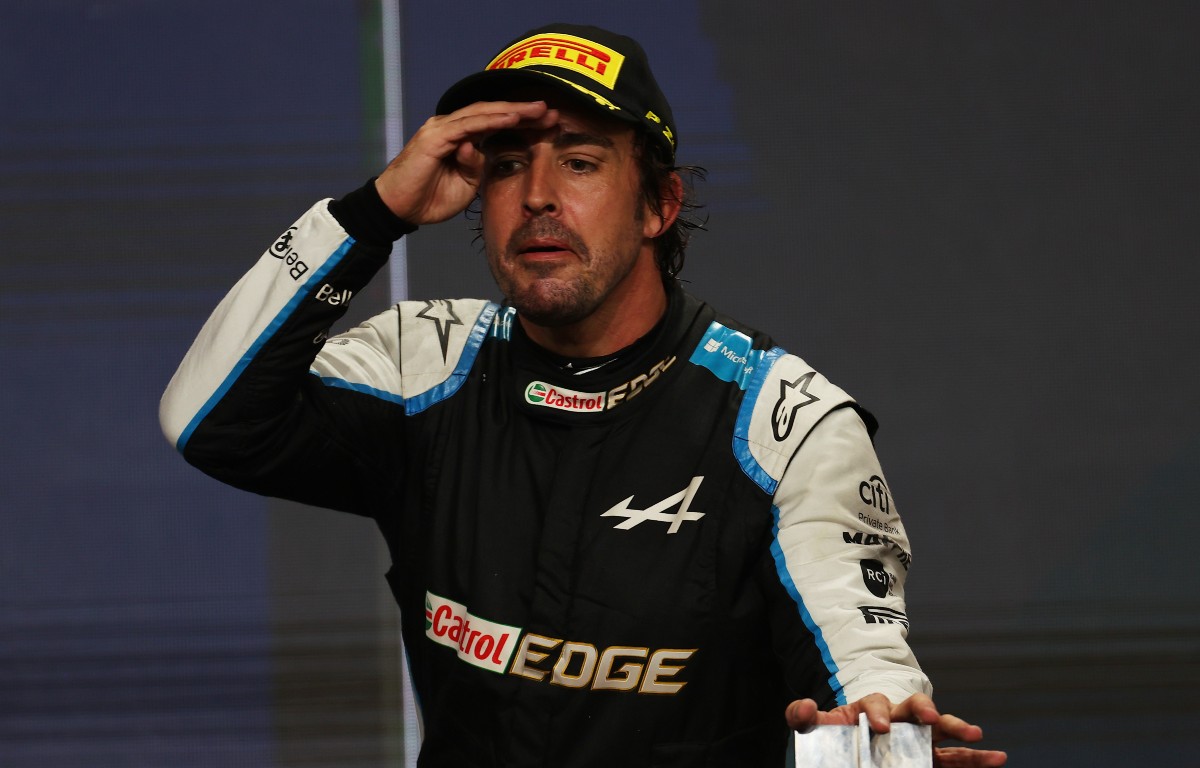 While delighted with a first F1 podium in seven years, Fernando Alonso had hoped to challenge Lewis Hamilton for the early lead in Qatar.
A two-time Formula 1 World Champion and considered one of the best all-round drivers on the F1 grid, Alonso for a long time had been absent from the top three in Formula 1.
A difficult spell at the underperforming McLaren team between 2015-18 came and went without a podium, but after two seasons away from the series, Alonso returned for 2021 with Alpine.
Although Alonso's focus is predominantly on the new 2022 regulations, a podium in this preparatory 2021 campaign had been so close on several occasions, and finally it arrived upon Formula 1's first visit to Qatar.
Starting from P3 thanks to grid penalties for Max Verstappen and Valtteri Bottas, Alonso initially ran as high as P2, picking off the AlphaTauri of Pierre Gasly.
But starting on the soft rubber, Alonso was actually hoping that he could have taken a shot at pole-sitter and eventual race winner Hamilton, but it wasn't to be.
This is what it means!
Team work, El Plan, everything! Olé olé olé @alo_oficial! #QatarGP pic.twitter.com/sqwkFf6RKJ

— Alpine F1 Team (@AlpineF1Team) November 21, 2021
"Unbelievable, seven years, but finally we got it," Alonso told Sky F1 as he reacted to a first podium since Hungary 2014.
"We were close a couple of races, but not enough, Sochi was the last possibility.
"And here today, honestly I thought to be leading after Lap 1, I thought with the red tyre I could have a go on Lewis, but I couldn't."
Alonso would move onto the hard tyre in what proved to be his only pit stop of the race, a bold move with punctures impacting several drivers.
But told to stay clear of the kerbs, Alonso nursed his Alpine to the end, escaping Red Bull's Sergio Perez who was closing in during the latter stages of the race.
"Checo [Sergio Perez] really close at the end, but so happy for the team, also Esteban [Ocon] P5 so a good Sunday," said Alonso.
"We planned a one-stop from the beginning, but we never knew how bad was the wear and the degradation, it's a new race for everybody.
"But I think it was quite well executed the race, pit stop was fantastic, the team was great, the reliability of the car is superb and they deserve it."
Asked if he was enjoying being back in Formula 1, the F-bomb which Alonso dropped certainly added further weight to the claim that he is.
"I'm enjoying, f*** I was waiting so long for this, so I'm happy," he colourfully affirmed.
Ocon tried his best to hold Perez up who was set on chasing down Alonso's place on the podium, referring back to Hungary this season where Alonso's defence against Lewis Hamilton was vital to ensuring Ocon's first career victory.
Alonso's team radio order was "tell Esteban to defend like a lion", and overall the P5 finisher felt like he did a decent job, considering that the main straight at Losail was longer than the Hungaroring equivalent.
"It's trying to give back what he gave basically in Budapest, and I tried to do the best that I could," he said.
"Defending against Perez I made him lose a good two-and-a-half seconds I think on that lap on defence, but the straights are longer than Budapest unfortunately, so not as easy to defend against a Red Bull with new tyres."
PlanetF1 Verdict
Alonso shows form is temporary, class is permanent
Fernando Alonso was finally back on the podium after a long seven years.