Alonso still finding Formula 1 'too boring'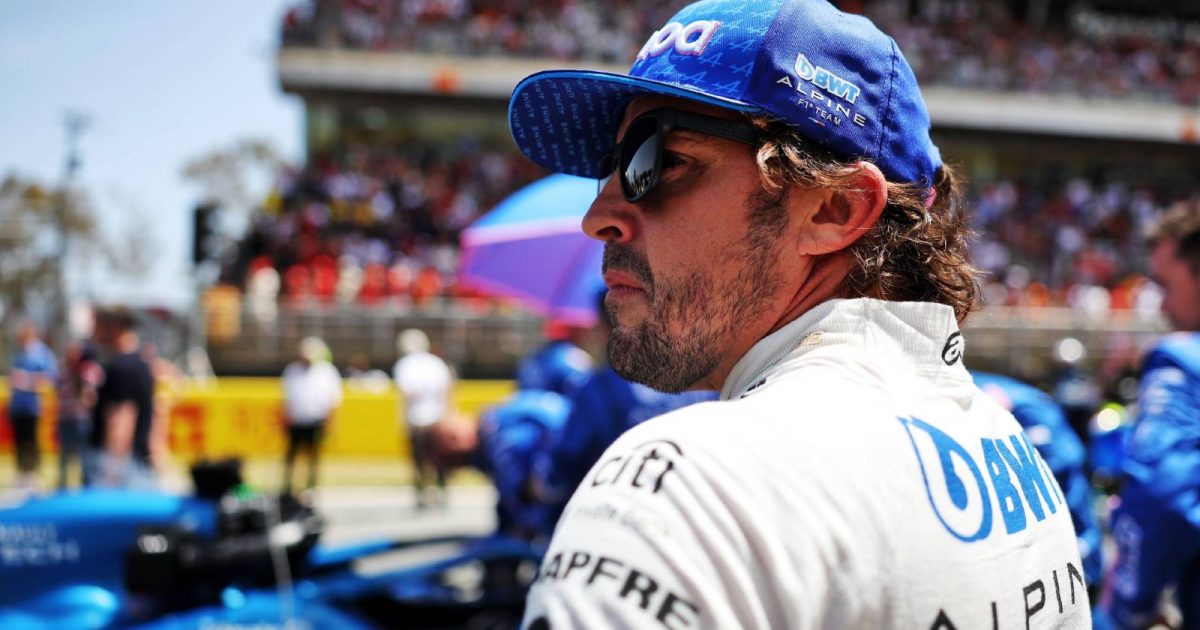 Fernando Alonso believes Formula 1 is "predictable" to a level unseen anywhere else in sport, so thinks the series is still "too boring".
The Spaniard returned to Formula 1 in 2021 with Alpine after a two-season hiatus, that season set to see in the introduction of all-new regulations, designed, working alongside the budget cap, to bunch up the pack and make overtaking easier.
The global pandemic forced the delay of those regulations by a season, but now they have arrived, there is yet to be any sign of a more competitive fight at the front of the pack.
In fact, it has arguably become even more clear-cut than before, with Red Bull and Ferrari leading the way ahead of the midfield teams.
Only Mercedes so far have been able to threaten that top two on occasion, though Alonso himself was contending for pole in Australia before crashing out due to a hydraulics issue.
He would qualify on the front row in the wet conditions at the Canadian Grand Prix.
All in all though, with Alonso feeling that Formula 1 is yet to rediscover an unpredictable feel, he criticised the excitement levels being produced.
Asked by NOS if the new cars, which tempted him back promising more competition, have been successful, Alonso replied: "It's so-so. Unfortunately, Formula 1 is still very predictable.
"It's all about Red Bull and Ferrari. Only Max Verstappen, Charles Leclerc, Carlos Sainz and Sergio Pérez can win. I don't know of any other sport where it goes like this.
"The GPs have become more fun and with these cars you can fight better. Still, I think it's too boring, but it's also part of F1. There will always be teams that are faster than others."
Silverstone was arguably the strongest example yet of the new regulations taking effect, as Leclerc on old tyres tried to fight off the chasing pack after a Safety Car period.
Alonso was a part of that gaggle of cars hunting Leclerc and a place on the podium, ultimately finishing P5.
But, while he described that scene as "sensational", before that he was in "no man's land", so he could not be too excited.
"The final stage at Silverstone was sensational, but that was mainly because the Safety Car put the field together," said Alonso.
"Suddenly I was an eyewitness and I had a view of the leaders, but there was also a downside – halfway through the race I was sixth in no man's land. Not very exciting."
Alonso admits that the joy of his comeback has been tarnished slightly by the dominance of Ferrari and Red Bull, but he remains motivated to prove that he is a better driver than he was in 2021.
And when he can upset the odds, like in Canada, that also gives him a feeling of great satisfaction.
Asked if Red Bull and Ferrari are ruining his comeback buzz, Alonso replied: "A little bit. Of course, I miss the fierce podium duels.
"Of course it feels great when I can excel for a while, like in Canada when I started next to Max on the front row. That's great about this season, I can show things that people don't expect from me anymore. That was always my strength and it makes me proud. It's what drives me: being a better driver than in 2021. You also race against yourself in this sport."
Nonetheless, Alonso does believe that Alpine have moved considerably closer to Red Bull and Ferrari, thanks to an upgrade package which his team introduced at the British Grand Prix.
A double-points finish in Austria followed, where Alpine were clearly the fourth-fastest team on the grid, with Mercedes their current target.
"I am quite happy with this season," said Alonso. "We are quite competitive, but we have made some mistakes and had a lot of bad luck, like at the start of the sprint race [at Silverstone].
"The car is not reliable enough, as a result we have not harvested enough [points]. Still, things are going in the right direction.
"At the last race in England, we made a big step through big updates. Red Bull and Ferrari are still a size too big, but the gap has narrowed a lot. We still lose ground in slow corners. There is room for improvement there."
Ocon thriving in Alonso's shadow
Esteban Ocon is doing a sterling job at Alpine, even if it is going slightly unnoticed in some quarters.