Hungary rolled back the years to 2003 for Alonso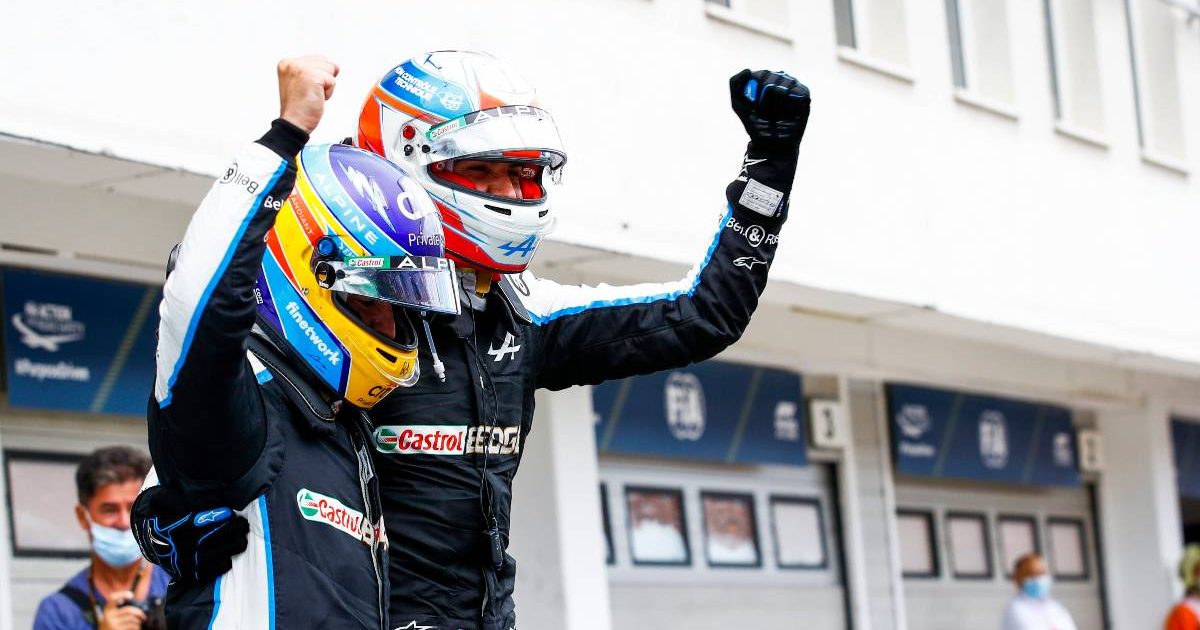 Fernando Alonso was delighted for Esteban Ocon, seeing shades of 2003 as the Frenchman claimed a first career win at the Hungarian GP.
The Hungaroring is a track which has created many Formula 1 memories over the years, and one of Alonso's greatest came there back in 2003 when he became a Formula 1 winner for the first time with Renault.
Skip forward to 2021, and now it is Ocon celebrating a maiden Formula 1 victory, at the same track, and with the same team now under their Alpine banner.
It may have been a victory which was helped hugely by Valtteri Bottas' first-lap blunder, but it was a stroke of luck which Alonso said the team had to capatalise on.
The Spaniard has also played a huge role himself, having held up Mercedes' Lewis Hamilton with some superb defensive driving for long enough to leave Ocon free to take the chequered flag.
"I'm super, super happy," said Alonso.
"Not only for Esteban, because it is a day that he will never forget, the first victory. But for the guys, all the people in Enstone, in Viry, they're working flat-out and the results are not easy to come by.
"We're in a very, very tough and competitive environment in Formula 1, so to have this kind of result is a motivation for everybody.
"It's a lucky place for Renault and now Alpine, so thanks Budapest, thanks Hungary.
"We have some kind of history in this track. Winning with Renault in 2003 and now winning as Alpine in 2021… We'll take it. Sometimes we've been lucky, sometimes unlucky, today was a lucky one, and we have to maximise these days."
👏👏👏 Fernando picks up #F1DriverOfTheDay

What. A. Day.#HungarianGP https://t.co/FUS2WNLCCy

— Alpine F1 Team (@AlpineF1Team) August 1, 2021
Check out all the latest Fernando Alonso merchandise on the official Formula 1 store
Alonso was voted Driver of the Day, capping off a fine Sunday in Budapest where he had crossed the line P5, but could end up officially elevated to P4 if Sebastian Vettel's disqualification is upheld after an Aston Martin appeal.
But the Spaniard felt he had lost out at the start, having got stuck on the outside, and that cost him what could well have been a better result.
And so, his ambition is to in the future make himself the Alpine driver who is chasing a podium.
"It was a tough, a very long race, fighting all the way through," he said.
"Unlucky at the first start… I was on the outside, today that was the wrong choice. I saw cars crossing from the inside to the outside… everything was a mess in that moment, and I was there on the outside.
"When I tried to re-join the track, another three cars collided, with [Lance] Stroll and [Charles] Leclerc. So that unlucky moment dictated the rest of the afternoon, because I was seventh and you cannot fight for the podium anymore.
"But nevertheless, top five is the best result of the year for me, and [Esteban] winning the race for the team is the best result ever! We tried. But I would one day love to be lucky enough to be on the podium."