Fernando Alonso on what impressed him most about Michael Schumacher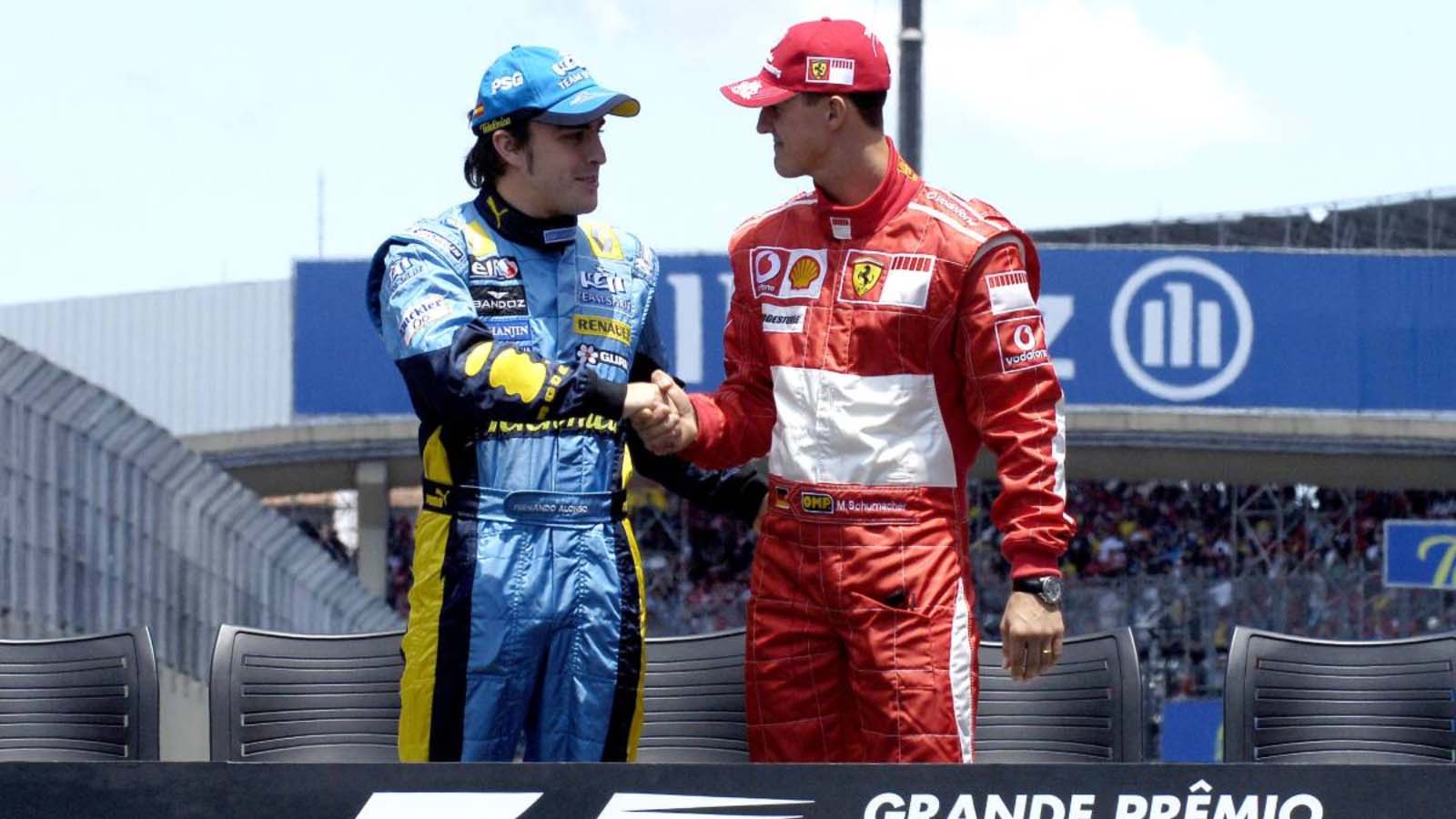 Fernando Alonso has long spoken of his admiration for Michael Schumacher, and he feels what set the German apart from the rest is that he "didn't have bad days."
Alonso became the sport's youngest ever World Champion when he ended Schumacher's dominant streak of five titles in a row in the 2005 season, with Ferrari uncompetitive and knocked from the perch upon which they and Schumacher had controlled the sport from the front for several years.
Schumacher and the Scuderia roared back against Alonso and Renault the following year, setting up a tight finale as the young protegé and the sport's master did battle for glory again in 2006, with the Spaniard just about coming out on top before Schumacher retired from Formula 1 for the first time.
While he returned to lesser success with a Mercedes team which ran predominantly in the upper midfield from 2010-12, Alonso has continually cited the 91-time race winner as someone who commands a higher degree of respect when talking about fellow drivers in Formula 1.
Having overtaken Kimi Raikkonen to now sit atop the rankings for all-time race starts in the sport, Alonso has raced against a wide range of drivers in his illustrious career, and in a wide-ranging interview with the official Aston Martin website, he said Schumacher's "determination" and consistency is what allowed him to limit the damage he faced on his worst days, which in turn powered him to the success he achieved.
PlanetF1.com recommends
All eyes on New York City again as AlphaTauri launch AT04
F1 quiz: Can you name the 2023 circuits by their layouts?
Ron Dennis' words should be echoing in McLaren's ears as Honda rumours hot up
Alonso said of his best qualities: "Michael didn't have bad days. Michael never underperformed. That's what impressed me most when I got to Formula 1 and especially when I fought with him for the championship.
"Previously, in all my career and different categories, my rivals had some bad days and those were the days when you would capitalise – you would score many more points than them.
"With Michael, that didn't happen. He and Ferrari were unbeatable most of the time, but even when they didn't have the car, the tyres, or whatever working in the right window, Michael still finished second or third.
"Even after a bad free practice or a bad qualifying, you would still find Michael on the podium on Sunday.
"He had this tenacity, this willingness to exploit any opportunity – to minimise the damage on the bad days and maximise the good days. His determination was outstanding."