Fernando Alonso had 'insider info' for George Russell about the Jeddah P3 outcome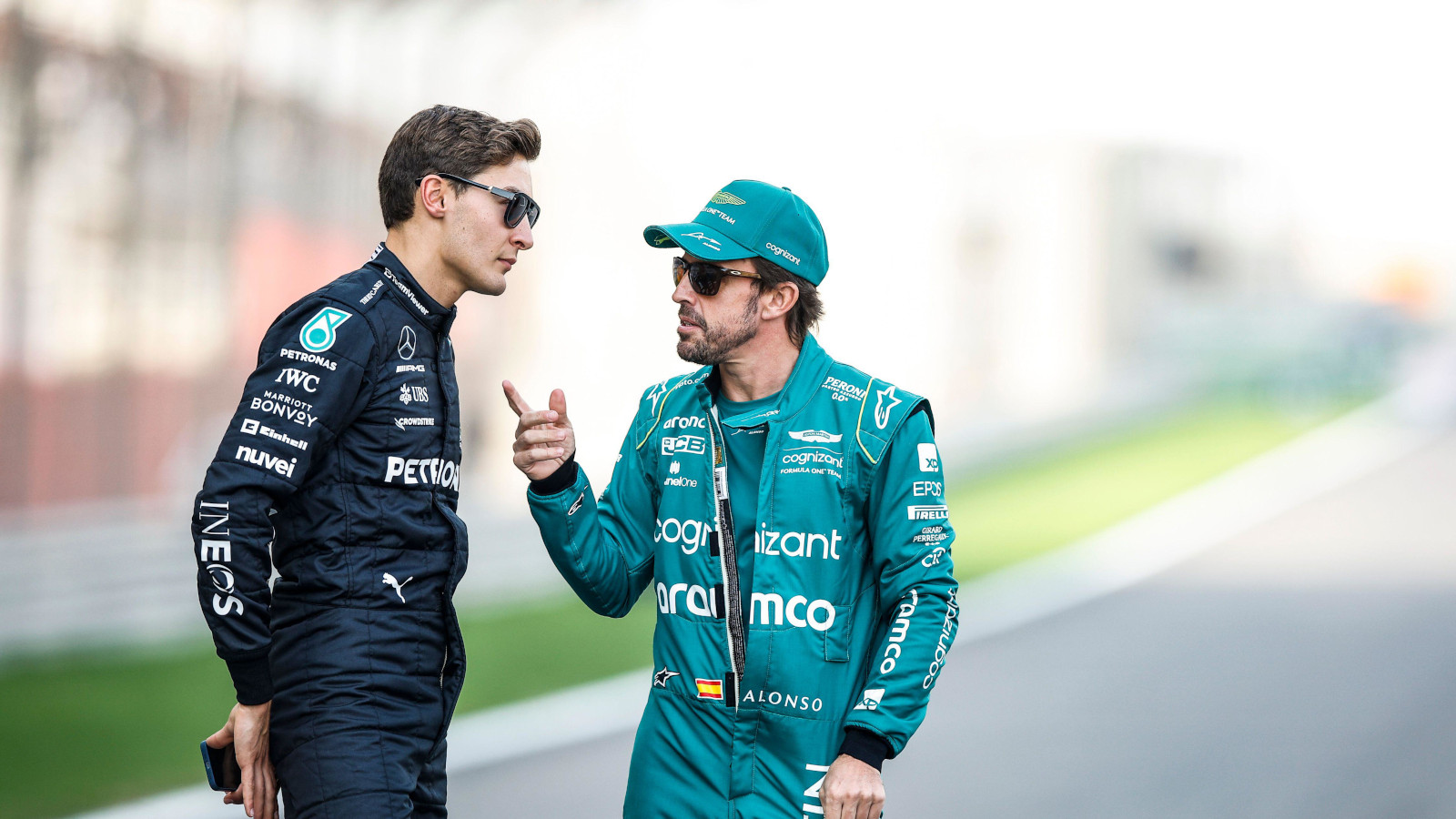 George Russell ran into Fernando Alonso at the airport as they were leaving Saudi Arabia, the Aston Martin driver's "insider information" letting him know the P3 trophy belonged to Aston Martin.
Alonso crossed the line third at the Saudi Arabian Grand Prix, the Spaniard up on the podium as he celebrated his second top-three result of the season.
However, as he climbed off, news broke that he'd been hit with a 10-second penalty for the team working on his car when he came in for his 5-second grid box penalty. The stewards had relooked at his stop, noting his rear jackman had slid the jack underneath the car as he pulled it into the pits.
That meant Russell was elevated to third, the Mercedes driver attending the post-race press conference with race winner Sergio Perez and second-placed Max Verstappen.
There he called Alonso's penalty "very harsh", adding that "some of these penalties have been a little bit too extreme. But nevertheless I'm happy to pick up the silverware."
Alas three hours later it was no longer his, Aston Martin successfully appealing based on the ambiguous wording of the 'worked on' regulation, with Russell learning that when he ran into Alonso at the airport.
"Fernando was actually the first person to tell me that I'd lost the position because I bumped into him at the airport," Russell said in Thursday's driver press conference in Melbourne. "So he clearly had some insider info."
PlanetF1.com recommends
George Russell responds to Fernando Alonso tweet after Jeddah podium confusion
Watch: Mercedes deliver Fernando Alonso's P3 podium trophy to Aston Martin HQ
Jeremy Clarkson's most outrageous F1 quotes: Lewis Hamilton and Max Verstappen be warned
"Obviously it was the right decision. It was just a bit of a shame what a mess it was for everybody else.
"I think from my side and our side, we didn't feel like we deserved to finish in third position but obviously it's quite a nice feeling when it's handed to you. But then when it's taken away again, it was just all a bit silly."
As for Alonso, he revealed he's yet to be reunited with the trophy as he hasn't been back to the factory since Mercedes personally delivered it.
"The situation in Jeddah was not ideal," said the Spaniard, "but it was not frustrating because I was already on the podium.
"The trophy is already in the factory. I haven't been there yet."
The Aston Martin driver, however, admits the initial grid box penalty for being out of position box was entirely his fault.
"It was my mistake not to be in the right position in Jeddah," he said. "The visibility is not correct. We are focused on the yellow line and not on the position. It was not to take an advantage."
Mercedes delivered the trophy to Aston Martin's Silverstone factory in style.
After a loving polish from Russell, it was safely belted into a Mercedes-Benz to make the 13 minute drive down the road from Brackley to Silverstone where it was placed on the Aston Martin mantel.
Special delivery, @AstonMartinF1. 🙏 pic.twitter.com/3uI3HlsMtq

— Mercedes-AMG PETRONAS F1 Team (@MercedesAMGF1) March 22, 2023