Fernando Alonso jokes he 'didn't like' Lewis Hamilton's 'surprise' in P5 battle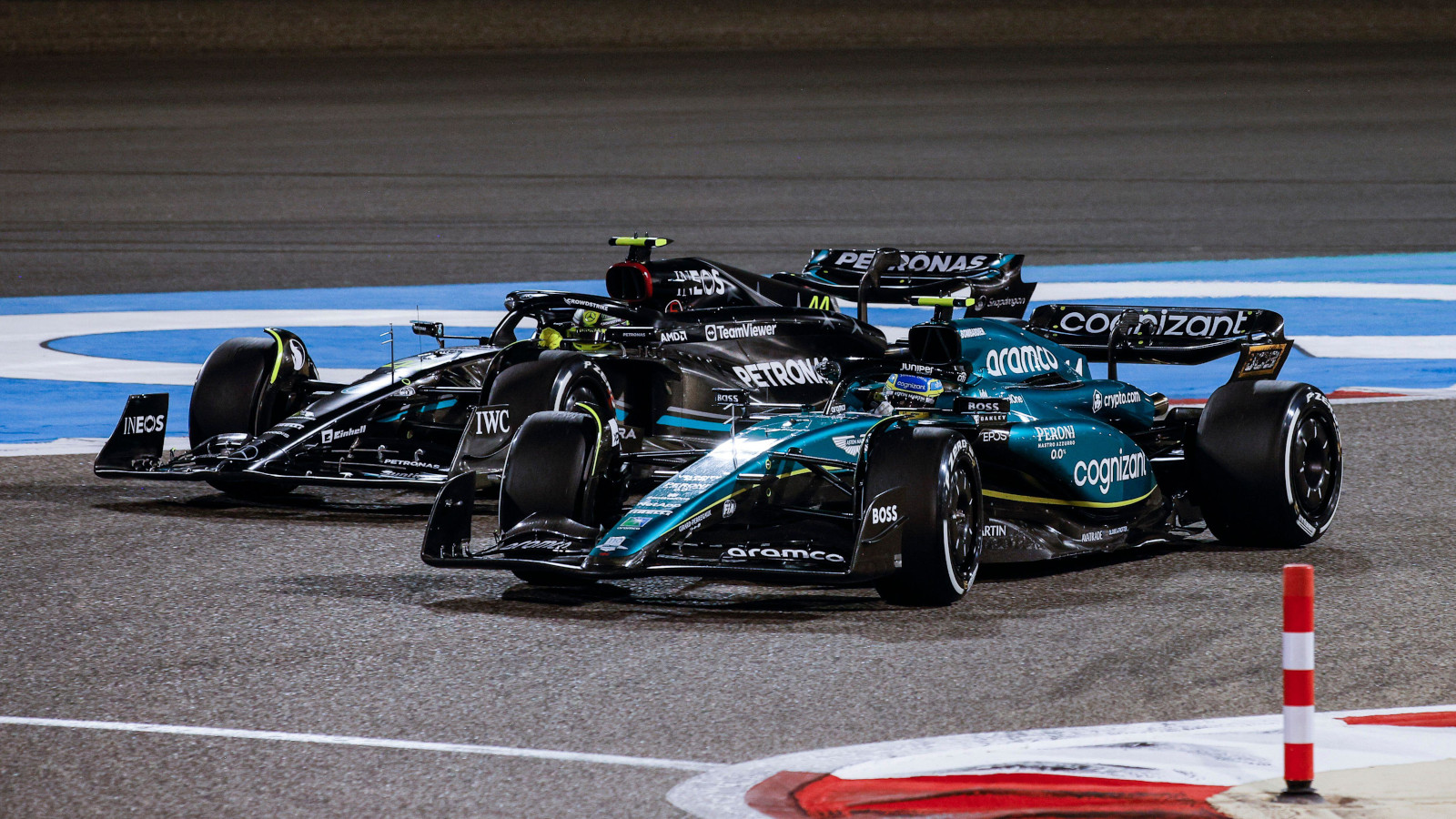 Fernando Alonso has joked he "didn't like it" when Lewis Hamilton fought back at Turn 4 at the Bahrain Grand Prix, but it ended okay for the Aston Martin driver as he then made a move stick at Turn 10.
Alonso was the star of Sunday night's Bahrain Grand Prix as the double World Champion turned Aston Martin's pre-season hype into points, and even better, into a podium.
He did it in style, pulling off three impressive overtaking manoeuvres including a pass on seven-time World Champion Lewis Hamilton.
"It was great, a lot of respect between us," Alonso told Sky Sports. "It's never the same when you fight against Lewis, one of the legends of our sport, and you know he can do something unexpected and use his talent.
"He got me in Turn Four, I was in front of him but he managed to pass me there.
"That was a little bit of a surprise and I didn't like it so I tried in another place and it worked, and I had more pace so I could pull away."
That, though, was just one of three great overtakes that Alonso made on the night.
His first was up against George Russell, the two side by side into Turn 5 before the Spaniard came out ahead, while the second was against Hamilton at Turn 10 and later Carlos Sainz for P3 into Turn 11.
Alonso says those aren't the usual places to overtake but that's where he had to as his AMR23 didn't have the straight-line speed needed to pass on the main straight.
PlanetF1.com recommends
Christian Horner can't resist light-hearted dig at Aston Martin after Bahrain GP
Fernando Alonso's wind tunnel prediction that will worry Mercedes and Ferrari
'Red Bull, Aston Martin managing tyres in a way Ferrari cannot understand'
"I think we were not very fast on the straight," he told media, including PlanetF1.com, in the post-race press conference. "So you normally pass into Turn 1 or into Turn 4. And I think I passed Lewis into Turn 10 and Carlos into Turn 11. So not the normal places, because we could not match their straight-line speed.
"We had to make some moves in the corners before Turn 10 and Turn 11 and change trajectory, and then get the overtake done, I think to Lewis was more playing a surprise move there, because no one overtakes into Turn 10, let's say.
"And then with Carlos, it was close into Turn 10 again, he closed the door, and then I have a better exit into Turn 11. But, yeah, we need to see that because obviously, we will love to pass just on the main straight like everyone does."
They were overtakes the double World Champion thoroughly enjoyed.
"I obviously did enjoy them because I ended up in front. That's always the same thing in any battle," he added.
"We say it's always the same but when you fight at the front with these great drivers, great champions, it is more intense, more adrenaline when you are wheel to wheel.
"So I didn't want to have any mistake, or any contact because obviously when you are P12, you lose nothing, but today, we were fighting for big things. And yeah, I was happy."