Not battling Lewis more 'a missing point' in Alonso's career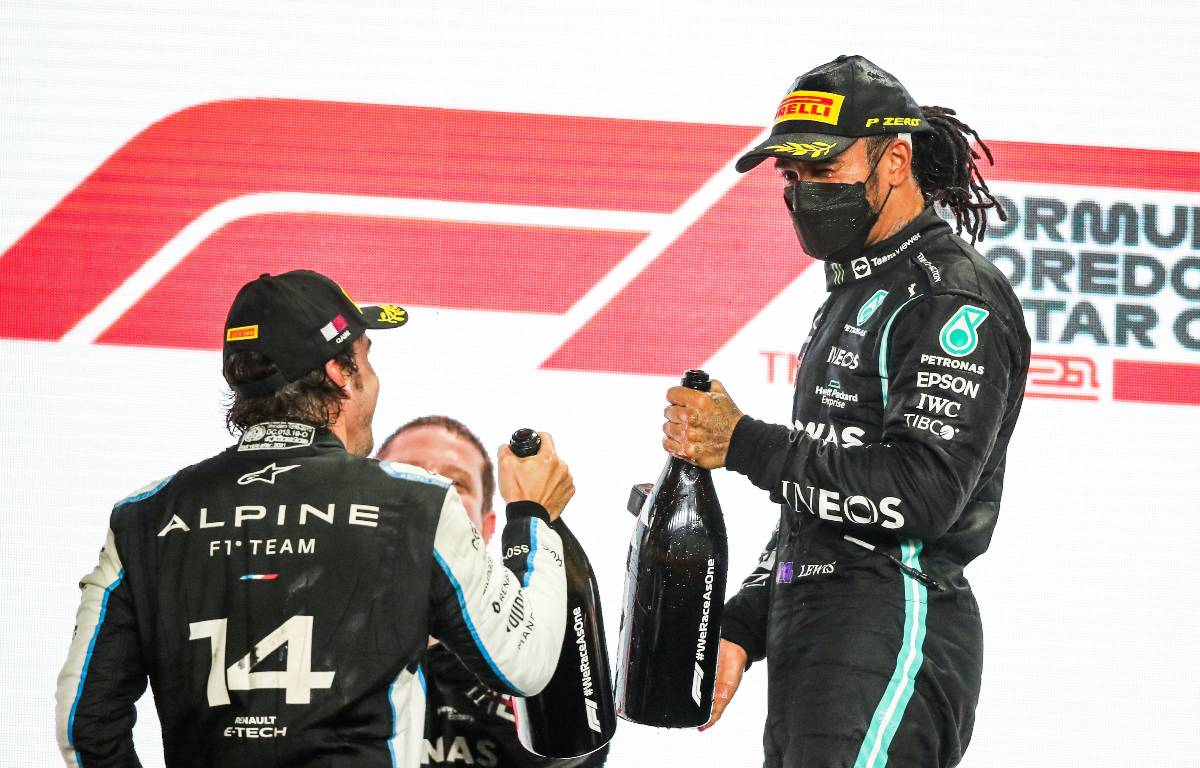 For all their years together on track, Fernando Alonso said not directly racing Lewis Hamilton more has been 'a missing point' for him in his career.
The two infamously took part in a fractious season together at McLaren back in 2007, but other than that time, they have spent the majority of the following years in different parts of the field, according to Alonso.
The two-time World Champion thinks that it's shame that they've not been able to battle it out for wins and titles at the same time, given the performance disparity between Alonso's machinery compared Mercedes in the turbo hybrid era, alongside Hamilton's time in a less competitive McLaren while the current Alpine driver was at Ferrari.
Ross Brawn said he's 'frustrated' that Fernando Alonso only has two World titles, but he's come extremely close to more:

2007: 1 point behind
2010: 4 points
2012: 3 points

Only the slightest changes in fortune and we could be talking about a five-time champion instead… #F1 pic.twitter.com/7AjBxzJzz7

— PlanetF1 (@Planet_F1) November 23, 2021
Alonso was discussing Michael Schumacher being his biggest rival during his Formula 1 career and, when asked about who else he respects most from his time in F1, he said Sebastian Vettel's name alongside Hamilton.
However, a regret of his is that he and the reigning World Champion have not been able to be at close quarters more often, and 2007 wasn't the best year for either of them to properly assess who was superior.
"I think with Lewis, we didn't have, let's say, the competition that I was looking for," the Spaniard told Formula 1's Beyond the Grid podcast.
"We shared a team and that, for the general people, is the biggest fight you could have, but in 2007 I think we both were not ready.
"Understandably, he was maybe not ready for the fight because he was a rookie and coming into Formula 1, and I was not performing at my best, not really integrated with the team.
"For sure, we had all the fights together and all the stress together to fight for the championship, and we were not well managed at that time.
"We finished with the same points in the championship, which you could see as a very big fight and [an] even fight, but I think we both could have done better.
"And then in the following years, I had a better package in Ferrari than him when he was in McLaren, so we didn't fight really directly, and now when he switched to Mercedes, he had a better package and we never had the opportunity again to fight together.
"So, that's a missing point in my career. But, obviously, he's a legend of the sport and he, like Michael, pushed you to the limit because if you want to beat Lewis, you need to perform at your best."
Alonso admitted after the race in Qatar that he had been hoping to fight Hamilton at the start while he was on softer tyres, but a first podium in seven years still left him happy with his weekend's work.
Alonso shows form is temporary, class is permanent
Fernando Alonso was finally back on the podium after a long seven years.