Is Fernando Alonso a better F1 driver than Max Verstappen and Lewis Hamilton?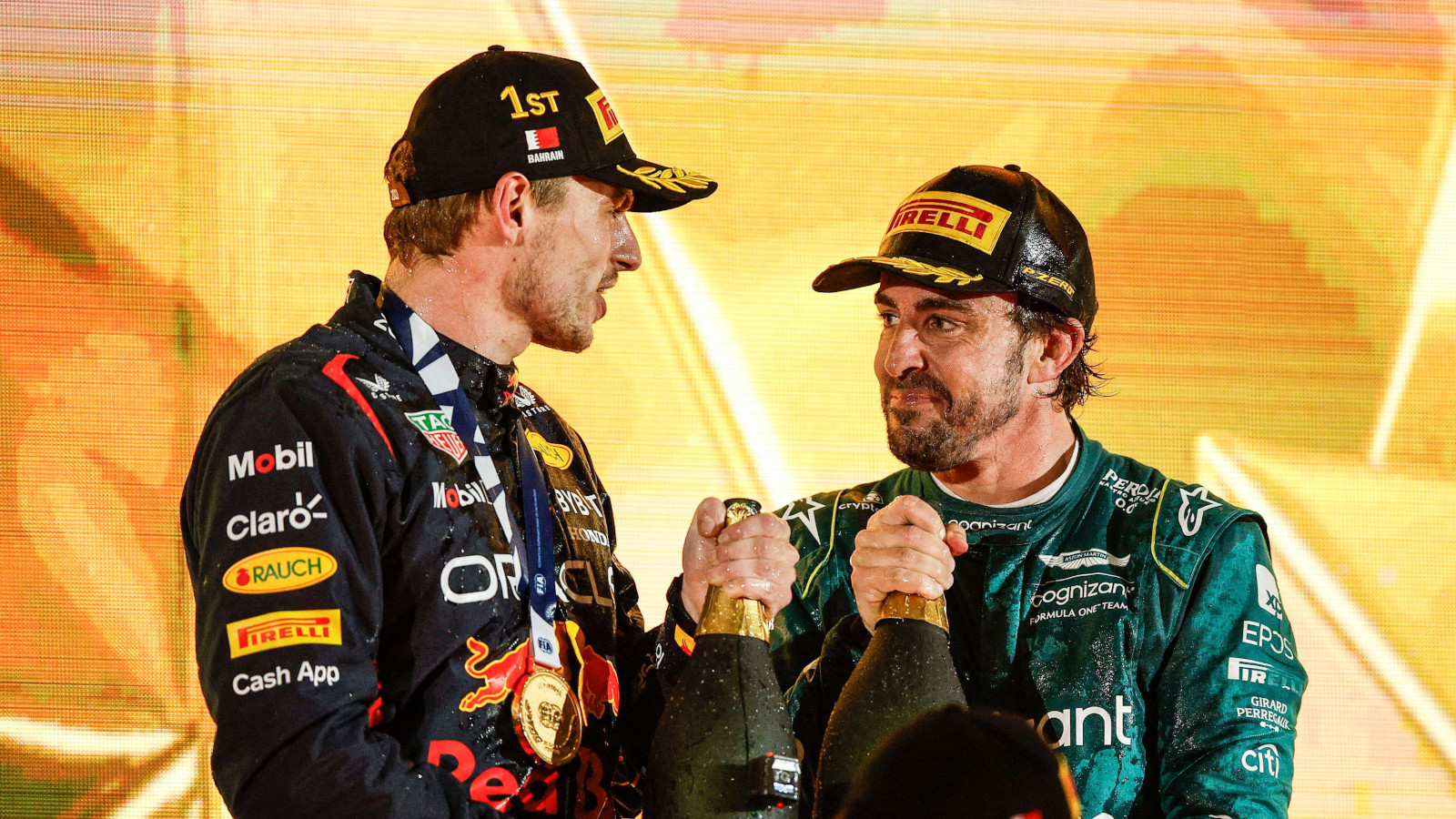 Fernando Alonso is never too far away from the spotlight and, after a podium finish in Bahrain, he was thrust firmly back into the conversation of which driver is the best on the F1 grid.
There appears to be a common consensus that Alonso, Max Verstappen and Lewis Hamilton all feature in the elite tier when it comes to assessing the overall driving ability of the F1 2023 grid – but does Alonso actually sit in a tier all on his own? Or does he perhaps sit third behind Verstappen and Hamilton?
PlanetF1.com forced kindly asked a select few of their writers to answer this tricky question.
Give me Fernando Alonso over Max and Lewis
Mark Scott: If I had to pick one current F1 driver for my make-believe F1 team then I would, without hesitation, take Fernando Alonso over both Max Verstappen and Lewis Hamilton.
That's not intended to take anything away from Verstappen and Hamilton as I do think all three belong in the same category of elite F1 drivers with Lando Norris, Charles Leclerc and George Russell in my personal second tier who could easily consider themselves elite in the seasons to come.
And the Alonso-tinted spectacles are full of more than just his two epic overtakes on Hamilton and Sainz in unconventional areas of the Bahrain circuit; this is just one of countless examples of why Alonso will go down as one of the all-time greats and why he deserves to be mentioned in the same breath as Verstappen and Hamilton.
But what separates him from Verstappen and Hamilton, I hear you ask? I think he is more ruthless than both and I think he extracts even more performance out of the car he has at his disposal.
If you think of any mind games Verstappen and Hamilton have played to further their causes in years past, Alonso has played them more aggressively, and the fact he is still at the very top of his game at the age of 41 only acts as more strong evidence on why he needs to be held in such a high regard.
As great as it was to see Alonso's charge to a podium with Aston Martin, though, it did come with a strong twinge of regret that we haven't seen this more often over the course of his F1 career. Bahrain 2023 was only his second podium in nine years.
Alonso may top my own ranking on pure, raw ability but he certainly doesn't when it comes to career choices. It looks like he has finally made a good one now though.
PlanetF1.com's recommended reading:
The seven drivers out of contract at the end of the F1 2023 season
Is Max Verstappen the modern day equivalent of Ayrton Senna?
Damon Hill: Fernando Alonso a 'master' who 'knows how to rub salt in the wounds'
Modern day Max better than both Hamilton and Alonso
Sam Cooper: Let's all just put the rose-tinted spectacles down for a minute shall we? Like a Wall Street banker, I'm looking at the numbers and the stocks of HAM and VER are far more valuable in my eyes.
Alonso has the same number of world titles as a man 16 years his junior and less than a third of the Championships that his former team-mate does. In terms of wins, Verstappen and Hamilton both have more while Hamilton has nearly 100 more podiums than the Spaniard. Points-wise, Vertsappen is likely to overtake Alonso this year while Hamilton has more than double.
Yes this is a debate about ability rather than career achievements but it is in essence the same debate that has followed Hamilton of 'are you only as good as the car you are given?' But am I mistaken or do the drivers not have to earn their seats or was Hamilton's name drawn out of a hat?
Alonso's supporters will point to the cars he has driven over the years but if he is this generational talent, would the big teams not have shown more of an interest? The last time one of the top three enquired about Alonso's services was Ferrari more than a decade ago meanwhile Verstappen or Hamilton could practically walk into any team.
These days, we are of course all impressed by the on-track battles with Alonso but is there not an argument to made that driving the midfield lends itself to more glory? Cars closer together and drivers whose skill level is a few gears down from the very best can allow the likes of Alonso to capitalise on it. Meanwhile, up front, Verstappen and Hamilton battle only the best of the best.
For me personally, the 2022 Verstappen is the best of all three. The daring nature of Alonso combined with the relentless brilliance of Hamilton and at the age of 25, time is on the Dutchman's side to surpass both of them.
Alonso trumps Hamilton, but Verstappen…
Jamie Woodhouse: All very valid arguments above. But, I would like to pick up on Sam's point about Alonso's exploits in the midfield, where before Bahrain it was starting to seem like he was doomed to remain.
Since a refreshed and rejuvenated Alonso returned to the F1 fold in 2021, you can probably count on one hand the number of times that the Spaniard has not pumped in one of the leading midfield performances, and I'm still gutted about that hydraulics failure in Melbourne where he was in the hunt for pole.
But, as Verstappen grew into the all-round racing juggernaut that he is today, we saw that same ability from him to maximise pretty much every opportunity within, and at times beyond the actual limits of his machinery.
As for Hamilton, well, when the uncompetitive Mercedes W13 was trying to swat away the midfield early in the 2022 campaign, he was not exactly setting the track alight. While Verstappen and Alonso have shown that they can still impress hugely in a car which is not at the leading pace, I'm not sure we have seen that from the modern day, peak Lewis Hamilton.
For natural driving ability then, personally, I feel Verstappen and Alonso can be found a small step ahead of Hamilton. As for separating those two, well, let's have a title battle between them to settle that one shall we? Please!
Hamilton the greatest all-rounder, but Alonso the best outright competitor
Henry Valantine: Following on from Sam's point surrounding outright numbers, both Verstappen and Alonso share a similar statistic in scoring more race victories than pole positions (Verstappen has 36 wins to 21 poles, Alonso 32 victories and 22 poles) in their careers.
Obviously, getting it right when it counts on Sundays is what matters most, but Hamilton having 103 poles and wins just dwarfs the pair of them in both categories.
Yes, he's had better cars for a longer period of his career compared to the other two, but the amount of times he's pulled out one of those laps to put himself either on pole or much higher than expected on the grid is what sets him apart from the other two for me in terms of all-round ability.
What Hamilton and Verstappen are able to do is remarkable, but I'm minded to think back to what Allan McNish said at Autosport International back in January, when he explained how Alonso is able to give radio messages that are "purely for PR purposes" while going wheel-to-wheel, as proof of the "extra brain capacity" the truly great drivers have – and that point has stuck with me since.
I don't think there's anyone on the current grid who can match Alonso in terms of combined Formula 1 racecraft, knowhow, speed, creating a formidable presence and, crucially, politicking.
No, he hasn't always got it right over time in the sport's political sphere, the 2007 McLaren season was proof of that, and he has more often than not left teams with some form of acrimony and disappointment when he has not achieved his ultimate title aims, but I think that points to the ruthlessness Mark also highlighted.
If you don't give Alonso what he needs, he will let you know about it. And everyone else, for that matter.