Twitchy Alpine 'felt fast' for Alonso in practice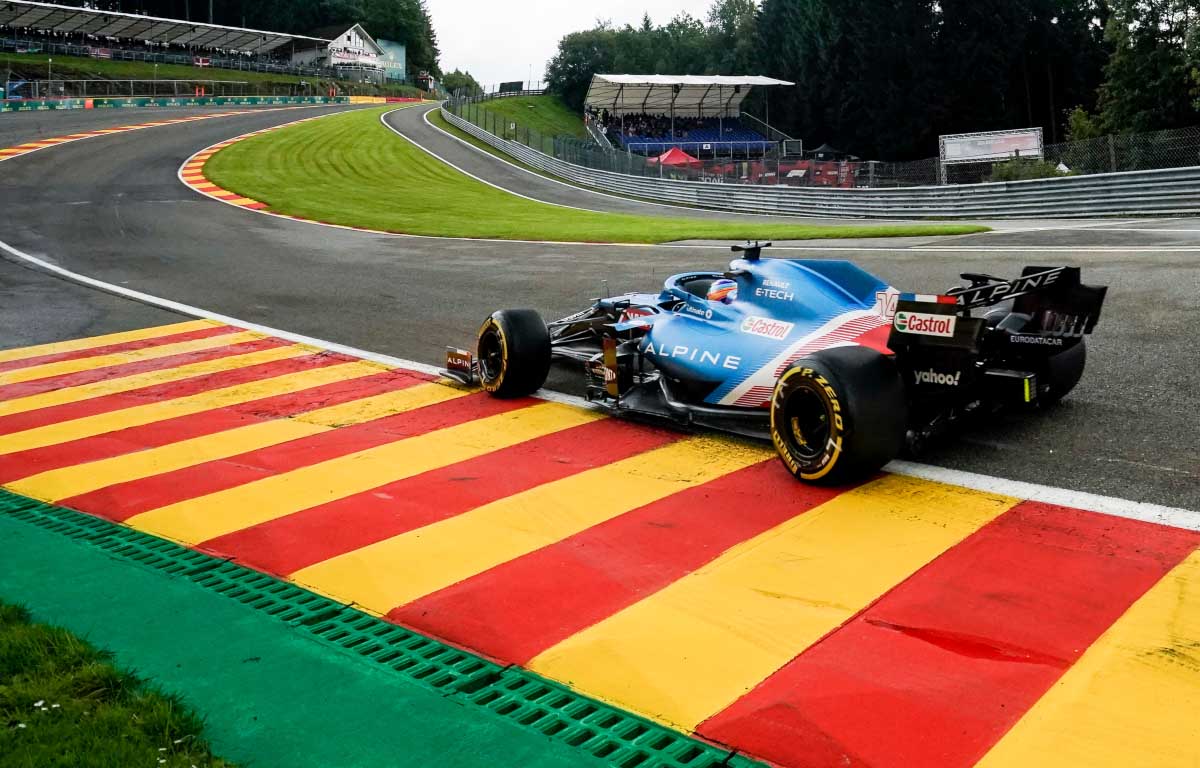 Fernando Alonso admitted his car was difficult to control in free practice, but feels like his Alpine has strong pace within it.
The two-time World Champion set a time good enough for P4 in the second practice session on Friday, when running his qualifying simulation at Spa.
Fans watching on TV were able to follow Alonso on a flying lap of the circuit through a helmet cam, which gave a driver's eye view of how the circuit undulates.
Alonso admitted that his team were tweaking the car to try and make it closer to his liking, but from the evidence shown on Friday, he felt happy with the speed of his Alpine.
"Today was a good day for us, the car felt fast," he said to Formula1.com. "It was not easy to drive, I have to say, we kept changing things on the car because we still have to fine-tune a little bit the set-up.
"But it seems the timed lap is coming quite nicely and we are fast, so that's a good sign and let's see. I think the weather is going to be the biggest thing this weekend. So far it has been dry, but we cannot be 100% sure for Saturday and Sunday."
"Spa gives you so much in terms of driving experience, with all types of corners, up and down, elevation changes, so high adrenaline laps for sure, even in practice.
"I imagine tomorrow, qualifying laps when the car is light, 100% it's going to be enjoyable."
How cool was helmet/visor cam?!#BelgianGP 🇧🇪 #F1pic.twitter.com/pFM62ldOIX

— PlanetF1 (@Planet_F1) August 27, 2021
F1 TV Pro is half price for two months! In order to claim this fantastic discount, click the following link and use the promo code SPA50 at checkout!*
*Offer expires at 23:59 on Sunday, August 29. Offer only available on Pro. Customers will need to take out a monthly subscription and this offer can only be redeemed on web. Offer not available in NL, FR or NZ.
As for Esteban Ocon in the other Alpine, he had a trickier second practice session as he suffered a snap of oversteer out of the Fagnes chicane. This sent him sideways heading up towards Stavelot, but his car appeared to suffer minimal damage.
Like Alonso, F1's newest race winner is pleased with how fast his car seems to be – and feels there is more pace to unlock in qualifying.
"We looked competitive today, both cars in the top 10 easily, purple sector 1 for me, so it's been pretty interesting as a day overall," Ocon said.
"Of course, pushing the limits, I went a little bit over them, but no damage so that was the most important," said the Frenchman about his spin.
"We have a bit more to come for tomorrow. I don't think we put everything together today, neither for me, neither for Fernando, so that's good news.
"It means we're competitive and that we can find a little bit more for tomorrow. The aim is still going to be to get into Q3.
"Last year we got a really good result in qualy. Of course, if the car is handling the same – we hope it will be – then let's see where we end up."