Fernando Alonso fails to see logic behind Red Bull/Mercedes copycat claims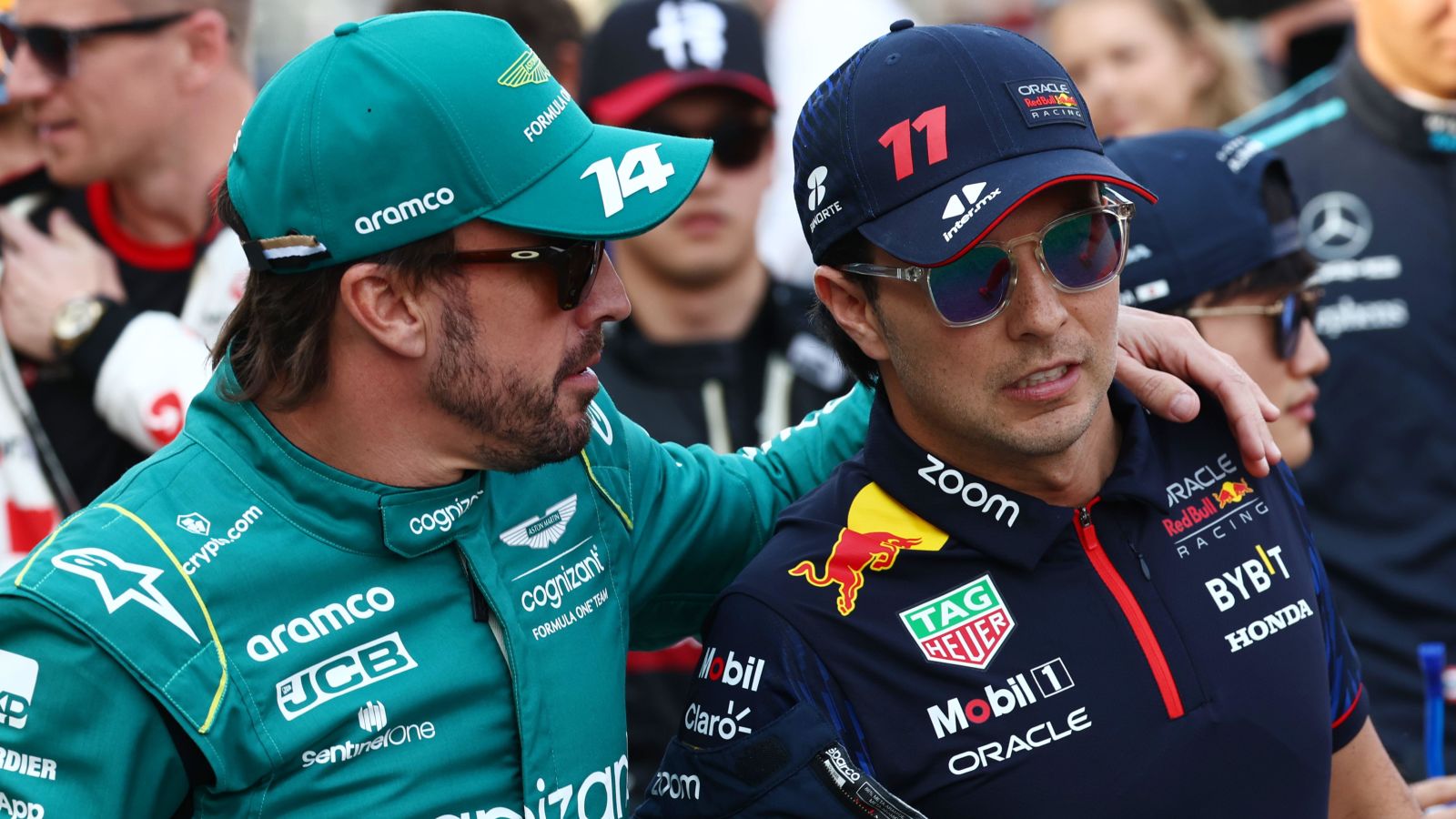 With both Red Bull and Mercedes taking partial credit for the Aston Martin AMR23, Fernando Alonso cannot see where either team is coming from.
Aston Martin have been the surprise package at the start of F1 2023, jumping from being the P7 finisher in last season's Constructors' Championship to now having the second-fastest race car behind Red Bull.
Alonso has joined the Red Bull duo of Max Verstappen and Sergio Perez on the first two podiums of the season in Bahrain and Saudi Arabia, P3 finishes for Alonso on both occasions.
And it was after the Bahrain GP when Red Bull started pilling in with the banter about that AMR23, claiming its design bares great similarity to their double title-winning RB18 of last season.
"They say imitation is the biggest form of flattery, and it's good to see the old car going so well," said Red Bull team boss Christian Horner, while Bahrain's P2 finisher Perez would joke "we are all Red Bull drivers" when he, Verstappen and Alonso faced the media together post-race.
It was a two-pronged effort on Aston Martin though, as Toto Wolff, whose Mercedes team supply Aston Martin with a power unit, gearbox and access to their wind tunnel, pointed all of this out as they came to terms with being behind a team that "gained two seconds in six months and their car is half ours".
Alonso though says there is "definitely something wrong" with the theories of both teams. Mercedes went with their unique zero-pod concept for the start of F1's new ground-effect aerodynamics and stuck with it for F1 2023, instead of following a proven concept like Red Bull's.
And so, with Alonso saying that the Red Bull and Mercedes concepts "cannot be more different", he fails to see how either can support their respective claims about the AMR23.
Asked by Channel 4 for his take on Red Bull's Bahrain comments, Alonso replied: "Yeah, I heard that, but I think visually the car is very different, so I don't know exactly what that comes from.
"In a way also Mercedes said that 50% of our car is from Mercedes because they obviously prepare our power unit and gearbox so you know, it cannot be more different concepts than the Mercedes and the Red Bull, and both of them they claim that we have half of their car, so definitely something wrong there."
PlanetF1.com recommends
Helmut Marko 'just joking' about questioning legality of Aston Martin AMR23
Ted Kravitz thinks all eyes will be on Red Bull 'with 20mph straight-line speed advantage'
Fernando Alonso requests podium trophy back from George Russell with hilarious tweet
Regardless of what the other teams are saying though, the fact is that Aston Martin have done a remarkable job with that AMR23 to leap up the order so suddenly, though understandably ahead of the first qualifying and race day of F1 2023 in Bahrain, they made a great effort to keep a lid on expectations, having impressed in testing.
Alonso said that the "very good feeling" with the AMR23 actually started all the way back at the Silverstone launch and shakedown run, but at that stage, so many things "in your head" served to rein in any expectations from him and the team.
Of course, now that it is clear that they were right to have that very good feeling, naturally, "motivation is very high" at Aston Martin.
"It was good to confirm all the good feelings that we had about the car at the launch," said Alonso.
"And we had a very good feeling in Silverstone, but it was like too good to be true. So we start thinking if it was the demo tyres that you have to use on those shakedowns? If it was the very cold conditions in Silverstone in February? That may be how.
"You start finding things in your head that maybe boosted a little bit of performance that day, because you don't want to get disappointed when you go testing and racing, but obviously now, the expectations and the motivation is very high."