Alonso needed risks to build on blistering start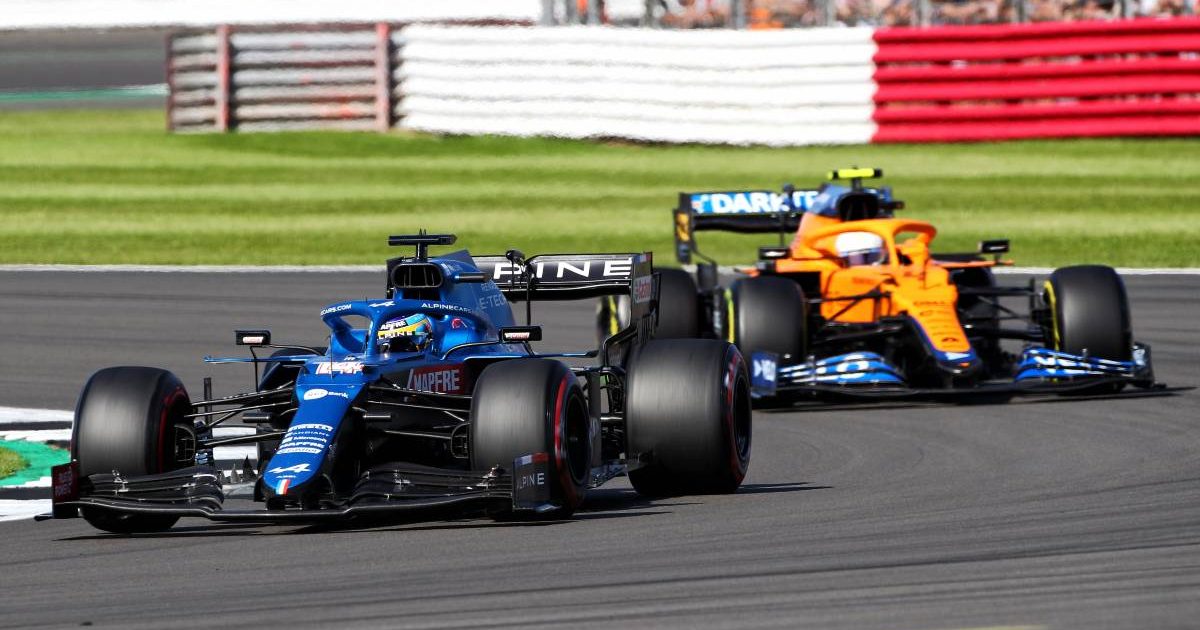 Fernando Alonso's sublime opening lap put him in the thick of the British Grand Prix sprint qualifying action, but then came the real fight.
After qualifying P11, Alonso was one of few drivers to take a chance by starting on soft tyres for this 'race' with no mandatory pit-stops.
And it was a call which worked to perfection at the start as Alonso made lightning progress all the way up to P5. Not bad for a strategy call which Alonso was "50-50" about following Saturday practice.
"It wasn't easy. I think after this morning's practice we were 50-50," he told Sky F1 of the choice to take the soft tyres for the start.
"We knew the advantage potentially at the start and first corners on the red tyres were potentially better, but then over the distance of the race at the end it could have a little bit more degradation, so we took that gamble and it seems it was the right call.
"The launch was good, good enough to pass Carlos [Sainz] and Sebastian [Vettel], and then we started taking some risks."
The risks were essential, with Alonso feeling he did not have the pace to justify running P5, and later in the sprint he indeed came under pressure from those behind.
Ultimately, the McLarens of Lando Norris and Daniel Ricciardo completed moves on Alonso, with the two-time former World Champion receiving a warning for weaving down the straights in defence, but he did enough to hold off Vettel and secure P7 on the grid for the British Grand Prix.
"We were out of position, we were not the fifth-quickest car today so we had to fight a little bit, and at one point we gave up with the McLarens because they were just too fast," Alonso explained.
"We were using a lot of battery to defend and at one point that was slowing down our pace a lot, because you are not using the energy in an efficient way. It was okay to hold Sebastian, but Lando and Daniel were too fast."
Alonso remains hopeful of holding on to the P7 where he will start on Sunday, but is wary of drivers like Sainz and Sergio Perez behind whom he expects to come through the pack.
"I hope so," he said when asked if he can keep a grip on that P7.
"I think there are some fast cars behind us and I think Sebastian we saw today had more pace, Carlos will start behind us, Checo had a problem today but he will eventually come towards us.
"The points will not be easy, but we will try."
One for the history books 🇬🇧 Our first #F1Sprint in the bag.

P7 // Fernando
P10 // Esteban#BritishGP #F1Sprint pic.twitter.com/EEz8Rd2hBy

— Alpine F1 Team (@AlpineF1Team) July 17, 2021
You can follow all the action from the brand-new sprint race weekend via F1 TV Pro! Subscribe here for the ultimate F1 viewing experience.
F1 TV Access, meanwhile, is available in over 30 territories and the full list of eligible countries can be found here.
Sprint qualifying was the main feature of this experimental race weekend and the reaction to it among the drivers has been mixed.
Alonso though was positive, arguing it was a format which gives fans more meaningful on-track action.
"Yes, I think I did enjoy it because we have three days of action," he confirmed.
"Usually free practice is very useful for the teams and drivers, but not for the spectator because they see just cars passing around.
"So yesterday they had qualifying, today they had the sprint race, tomorrow they have the main race. I think it is a good format."
Follow us on Twitter @Planet_F1, like our Facebook page and join us on Instagram!