Alonso coped with 'so much stress' in wet qualy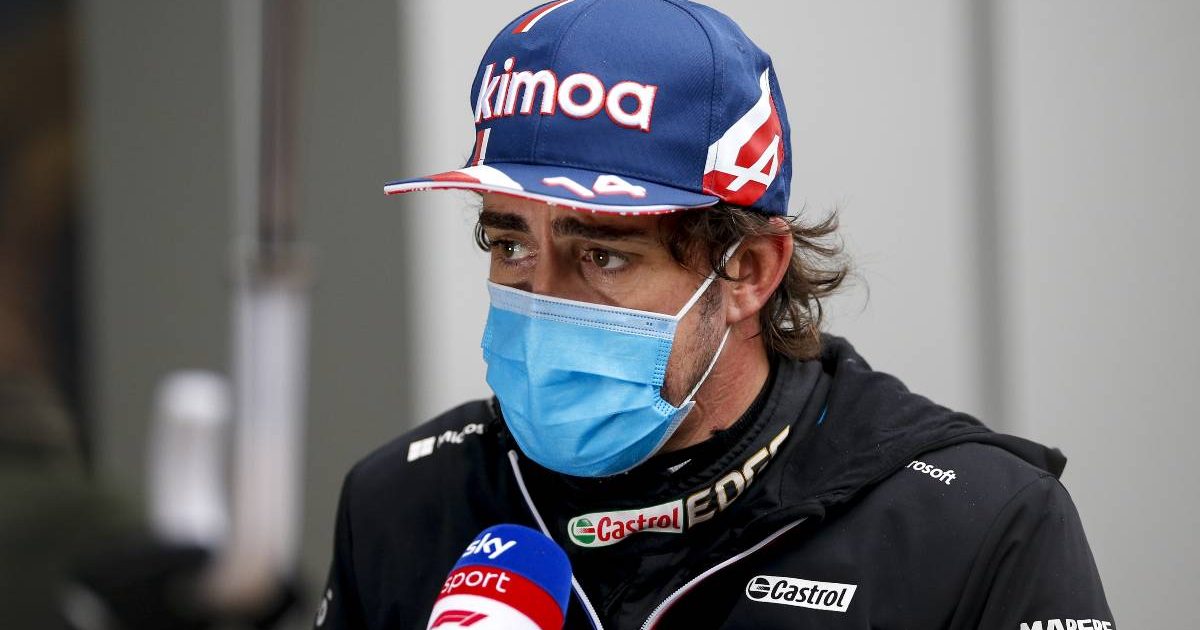 Fernando Alonso was more pleased than his team-mate Esteban Ocon about how Alpine had handled an unusually wet Russian Grand Prix qualifying session.
Rain is rare on a Formula 1 weekend at Sochi, but thankfully the washout that had been feared due to an ominous weather forecast did not materialise and qualifying took place as scheduled.
The circuit was still damp, but it dried enough to allow a final run on slicks in Q3 and that resulted in Alonso setting the sixth fastest time with Ocon down in 10th.
"It was not enjoyable," Alonso told reporters afterwards. "There was so much stress out there because we've never run in the wet here at Sochi – after seven years it's the first really wet part of our weekend.
"You don't have any warm-up – you go into Q1 and it's the first timed lap [in the wet]. There is no time to experiment or test different lines or different things. You are flat-out, trusting the grip will be okay, and the walls are very close here in Sochi as well.
"[But] everything went fine and we felt competitive in the wet, also in the damp, so I'm happy with the result. I think in a normal dry qualifying we would probably never be P6, so I'm happy with this."
Tricky conditions today. Happy with P6 on the grid tomorrow. Let's goooo 💙. #alpine #f1 #sochi https://t.co/wqQKZrMaKR

— Fernando Alonso (@alo_oficial) September 25, 2021
F1 TV are offering PlanetF1 readers 10% off both monthly and annual subscriptions! In order to claim this fantastic discount, click the following link and use the promo code PLANETF10 at checkout!*
*The offer ends at midnight on September 26 and excludes Netherlands
In the race, the Spaniard expects to be passed by both Valtteri Bottas, starting just behind him in the Mercedes, and also Max Verstappen even though the World Championship leader will be right at the back of the grid after taking an engine penalty.
"Yesterday felt competitive in the dry, so I think we are not too far away from our natural position," said the two-time former World Champion.
"Bottas starting P7 will pass us eventually and Max as well, even starting last.
"We saw at Monza, Bottas started last and eventually finished on the podium, so I guess Verstappen will be in a different race as well. That puts us in P8, which is our natural position maybe for tomorrow."
Ocon, meanwhile, thought a better position than 10th had eluded him because the team had not quite got the strategy right as the track evolved for Q3.
"I'm frustrated, for sure, but just taking the positive out of it we have both cars in the top 10 so we are already in the points, which is not a bad starting position," said Ocon, who at one point was looking set to start ahead of Alonso.
"We didn't take the right tyres at the right time in Q3 and didn't put ourselves in the best position we could. There was a lot more possible today and unfortunately we missed that opportunity.
"I think it will be dry tomorrow but it doesn't really matter what conditions come, I will be ready for it."