Alonso: 'You always lose' playing against Mercedes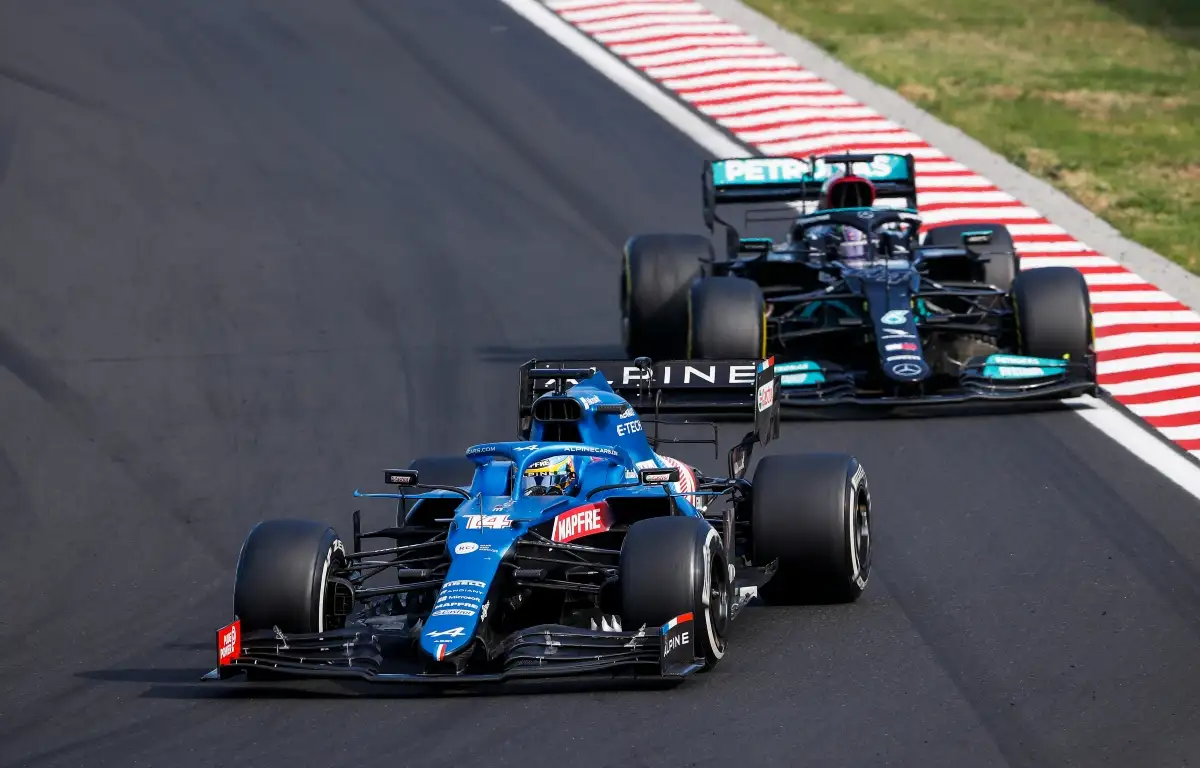 Fernando Alonso feels "you always lose" going against Mercedes, who he says play with a "bigger basket" than the rest of the grid. 
The German team have become one of the most dominant forces in the history of the sport since the start of the hybrid era in 2014, winning every single Drivers' and Constructors' Championship since then and always sealing both long before the final round of the year.
That won't be the case this year with them only leading Red Bull by 11 points and Max Verstappen 14 ahead of Lewis Hamilton with three rounds to go, but they've remained comfortably and consistently at the front of the field nonetheless.
The same can't be said for Alonso who has found himself in midfield machinery at best in the hybrid era, and he says you "always lose" when you try to take on Toto Wolff and co.
"As a driver, it's like playing basketball and there's one basket for you and one for the others," Alonso said as quoted by Speedweek.
"They score their points with a bigger basket and you have to score yours with a smaller one, so you always lose.
"I am lucky to have won two championships and I was privileged to have been in that position. I was also at Toyota in the WEC and had that kind of superiority in the car.
"But I just imagine young children watching this sport and seeing one car pass two others in the straight line. We shouldn't let them lose hope that they can be champions.
"We are all as committed to the sport. We train a lot, we work in the simulator, we risk our lives every time. But we're still one lap behind in every race, and we know before we even go to Qatar.
"It's really the only sport in which something like this happens."
Lewis Hamilton on the charge at Interlagos! 🚀#F1 | https://t.co/8PdPZlBesT pic.twitter.com/PXvGWNXIZ3

— Formula 1 (@F1) November 16, 2021
While Red Bull have often been more than a match for them this year, Mercedes were hugely dominant last time out in Brazil with Lewis Hamilton going from P20 to P5 in the sprint after being disqualified from qualifying for it before winning the race from P10 on the grid.
The performance came at a circuit where, given the higher altitudes, Red Bull were widely expected to be the strongest of the two teams as their Honda engine usually thrives in such conditions.
Even after witnessing their superiority for so many years, Alonso admits he was surprised by just how fast Hamilton and his car were.
"I was surprised on Saturday," the Alpine man said.
"I mean, I think we were all surprised that a driver has 25 penalty places on the grid in one weekend and still wins the race but it is what it is.
The war continues between Mercedes and Red Bull
The war of words continues between Mercedes and Red Bull.