Alonso's 2022 preparations are now on 'another level'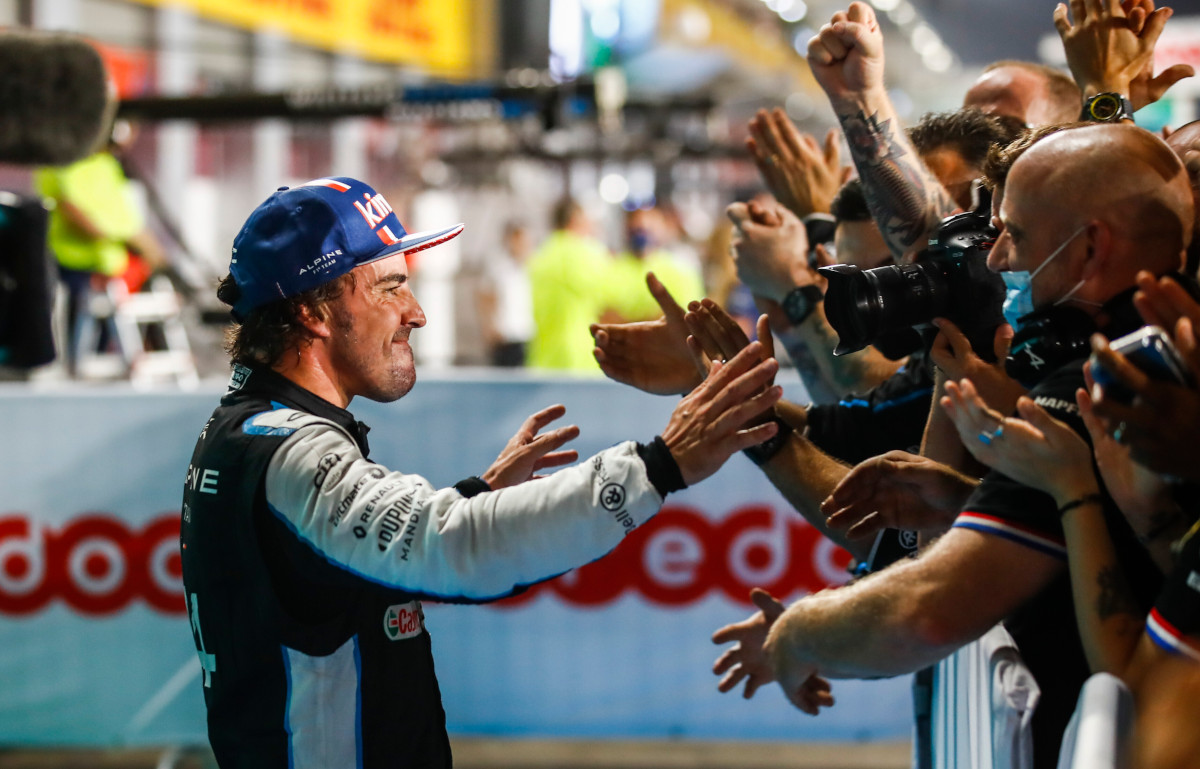 Declaring that "f***" he'd been waiting a long time to return to the podium, Fernando Alonso feels he is at "another level" in his 2022 preparations.
Alonso returned to Formula 1 this season with the aim of securing podiums, race wins and fighting for a third World title. But, he conceded at the time, the latter was 2022's goal with this year's focus being on preparing for next year.
Arriving in Qatar as the highest-placed driver in the standings without a podium result on the board, Alonso changed that on Sunday as he raced his way to third place.
In doing so he secured his first podium for Alpine and his first in Formula 1 since the 2014 Hungarian Grand Prix, 105 races ago – a record interval between consecutive podiums.
Asked whether the Losail weekend was his best since coming back to the sport, he says it was probably on a par with his Russian Grand Prix performance.
"I don't know," he replied. "Difficult to know.
"Probably as a weekend in general, this one was the best because Friday, Saturday, Sunday, it was very consistent.
"Sochi, I think was quite well executed as well. Only the rain at the end stopped us from the podium there.
"I think the last part of this 2021 for sure… it's another level compared to the first part, so I'm happy with this year of comeback and the preparation into next year is definitely another level now."
Back where he belongs 🤩#QatarGP 🇶🇦 #F1 @alo_oficial pic.twitter.com/lyDPC43NrC

— Formula 1 (@F1) November 21, 2021
And 2022 is what is it all about.
Joining Lewis Hamilton and Max Verstappen on the podium, the latter having his first but potentially not his last champagne moment with Alonso, the Spaniard was asked for his thoughts about taking on Hamilton and Verstappen next season.
The 2022 championship sees Formula 1 introducing all-new cars that Alpine, and pretty much every time barring Mercedes and Red Bull, hope will upset the form book.
"It's difficult to predict what is going to happen in the next few years," said Alonso, "but yeah, I would love to be in the fight with them and whoever makes a good car next year.
"I think it's a reset for everybody and it's up to us to produce a fast car.
"It's not like this year, which was a continuation of the last campaign but in 2022 everyone has the same cards so we need to play smarter and hopefully produce a fast car and if we are in that position.
"I feel strong, I feel ready to take the battle and let's see."
Alonso's podium together with Esteban Ocon's P5 means Alpine have pulled 25 points ahead of AlphaTauri in the fight for P5 in the Constructors' Championship.
"We didn't expect this," Alonso admitted. "We honestly were thinking of very little points between us here, Saudi and Abu Dhabi but obviously this 25 points and margin makes things a little bit easier for us.
"But we cannot relax. Anything can happen on the next two events, and we need to keep the focus high and hopefully deliver more points for the championship."
PlanetF1 Verdict
Alonso shows form is temporary, class is permanent
Fernando Alonso was finally back on the podium after a long seven years.