Fred Vasseur reveals stance on Ferrari driver status between Charles Leclerc and Carlos Sainz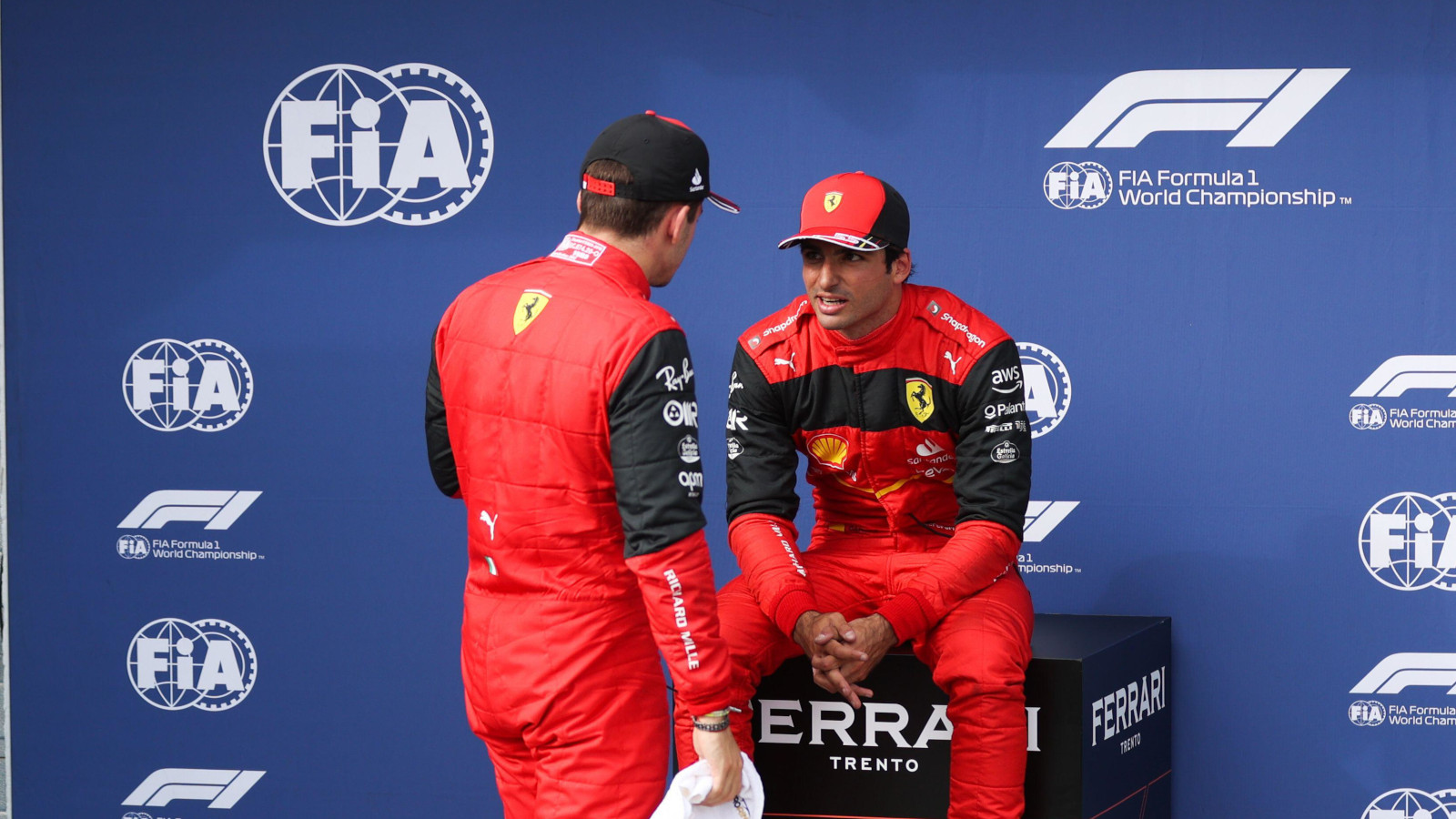 Fred Vasseur's arrival at Ferrari has not elevated Charles Leclerc to the number one driver status, the new team boss saying "there will be no number one or number two".
At least not yet, and then if the time comes it could swing either way.
In a season marred by criticism, driver status was added to former team boss Mattia Binotto's list when the Italian refused to back Leclerc over Carlos Sainz for the World title.
As it turned out it wouldn't have mattered, Ferrari's reliability issues and strategy blunders costing both drivers a shot at the Drivers' Championship.
There were, however, suggestions that could change this season with Leclerc's former team boss replacing Binotto as the new Scuderia chief.
The Frenchman has been quick to quash any suggestion he'll favour Leclerc.
"I think it's the same everywhere that we have two very good drivers and both of them are able to do the job," he said in Thursday's media briefing.
"We will have the capacity to provide them with exactly the same car and the same structure and the same support.
"What is clear is that the target is to win with Ferrari, there will be no number one or number two.
"But if at one stage we have to take action, I will take action.
"It doesn't matter if it's one or the other, if at one stage in the season I have to do something then I will do it."
PlanetF1 recommends
Ferrari wrap up 'wake-up' test at Fiorano as Fred Vasseur watches on
F1 2024 driver line-up: Who is confirmed for next season's grid?
F1 team principals: How long has each team boss been in charge?
Carlos Sainz has a fan in Fred Vasseur
Vasseur revealed he has long been a fan of Sainz's.
While Leclerc has a history with the Frenchman, having raced for Vasseur's ART team in the GP3 before making his F1 debut with Sauber in 2018, the new Ferrari team says he was interested in signing Sainz back in 2016 when he was in charge at Renault.
He also spoke to the Spaniard's management when he took over at Sauber.
"I started a discussion with Carlos and Carlos's management when I was at Renault, to attract him and to sign the contract," he said. "Then he joined a bit later.
"When I was at Sauber I tried to sign Carlos again without success."
Jokingly, he added, "I then said okay if I want to (work with) Carlos the best way is to join the team where he is."
The 54-year-old is confident Sainz, who broke his duck last season with a victory at the British Grand Prix, can add more wins to his board this year.
"We always had a very good relationship," he said. "I trust him and I think he showed in the last couple of years that he's a potential winner that's very important for the team.
"We won't have a number one and number two. The organisation is crystal clear that they have to do their job and if at one stage I will have to take action for Carlos or for Charles I will do it."
'Positively surprised' by Sainz/Leclerc relationship
Vasseur has already had sit-downs with both drivers, revealing he spoke with them separately and then together.
All in all he believes they have a good working relationship, one he says is "much stronger" than it probably looks to those standing outside the inner circle.
"I would add that I was very positively surprised by the relationship between the two guys," he said.
"I had dinner with them separately, then all together, and we've had the chance to spend a lot of time together over the last few weeks.
"I have to say that compared to the Carlos I remembered, I found a more mature person, and the same goes for Charles after these years at Ferrari.
"I think the collaboration between them is much stronger than it appears from the outside."
Sainz believes he'll benefit from Vasseur/Leclerc history
Although all the talk prior to Vasseur's arrival was of his relationship with Leclerc, Sainz reckons he'll benefit from their former partnership.
Rather than be daunted by it, the Spaniard told Autosport "his well-established relationship with Leclerc will also be very useful for everyone to speed up his acclimatisation here."
He believes the former Alfa Romeo team boss in the right man to help Ferrari rebound from last season's disappointments.
"Yes," he said, "from what I've been told and the way I've got to know him, I think he's the right ma. Everyone knows him in the paddock and I'm sure he will do well.
"There will be a period of adaptation, but Fred knows Formula 1 and also Ferrari very well. Now there will be this preparation phase and then we will start working with him at full speed."