Ferrari defend strategy after Horner's 'lucky' comment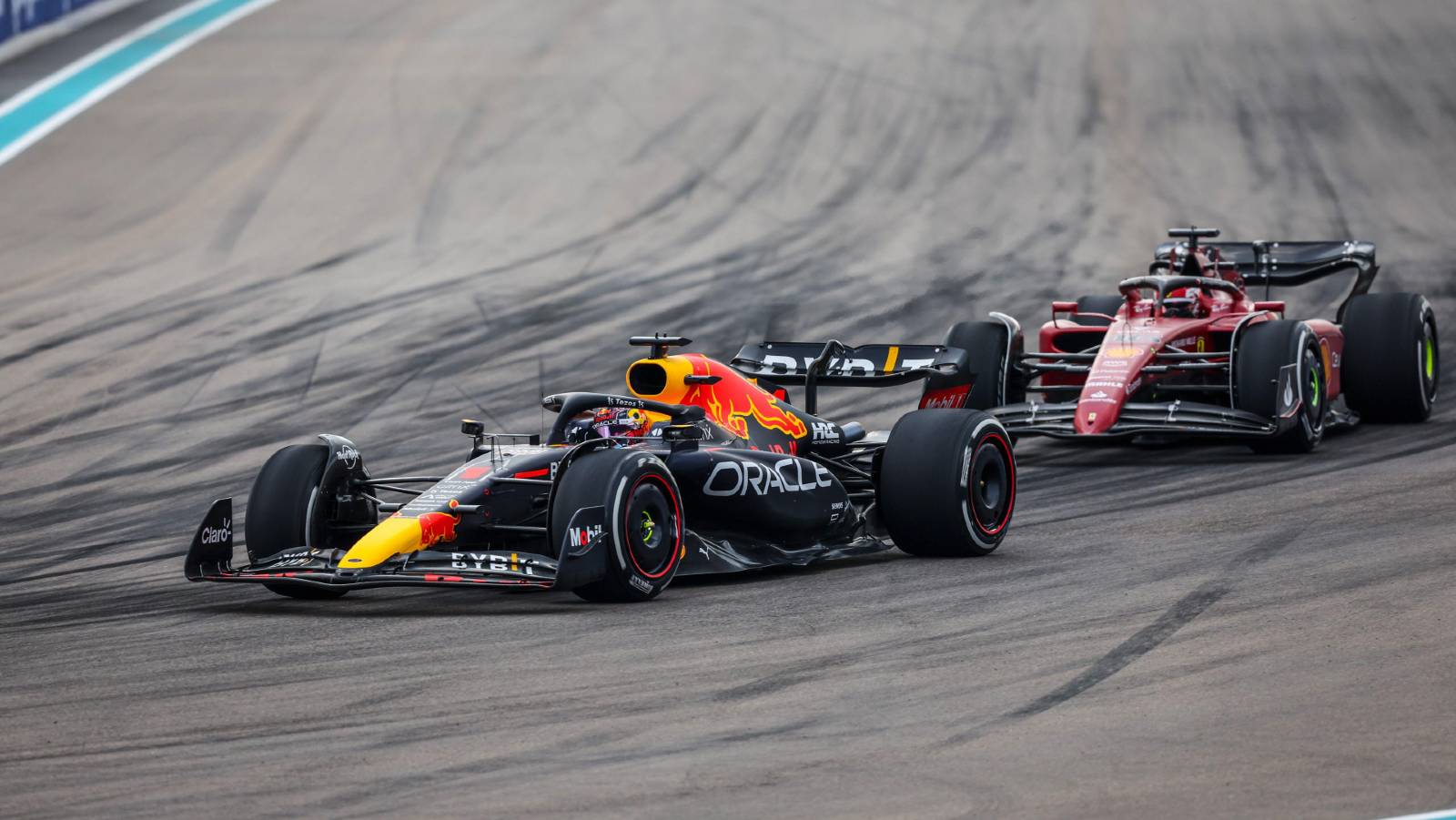 Ferrari have defended their strategy not to stop during the Safety Car period in Miami after Red Bull boss Christian Horner conceded his team had been "lucky" as a result.
With Max Verstappen comfortably in the lead, the only chance for Charles Leclerc and Ferrari to snatch the race win came with a Safety Car late on during the Miami Grand Prix.
However, instead of one or both drivers stopping for fresh tyres which would have allowed them to challenge Verstappen, they stayed out – meaning the Red Bull strategy, which until that point had worked, could continue until the end of the race.
Leclerc at one point managed to close the gap to Verstappen to under a second but once the Red Bull's tyres were back up to speed, the Dutchman disappeared into the distance once more.
After the race, team principal Christian Horner said he and his team were "lucky" Ferrari did not choose to pit during the Safety Car period.
"We got lucky," Horner told Sky Sports F1. "Max had crossed the pit line while it was a VSC. Then your worst nightmare… it went full Safety Car and that gives Leclerc and [Carlos] Sainz a free stop.
Leclerc leads but Verstappen has momentum
Charles Leclerc is leading the championship, but all the momentum is very much on Max Verstappen's side.
"Thankfully they missed it with both of their cars, so we were effectively still on the same strategy or they would have had a significant advantage.
"We were let off the hook by Ferrari just through timing. They could have put a soft [tyre] on and they had a free stop.
"That's the frustrating thing. You just don't know when it will go from a virtual to a full and that's your risk at the front of the field. Thankfully, it was all neutralised."
However, Sainz and team boss Mattia Binotto defended Ferrari's strategy, with the driver suggesting he would have been overtaken by Sergio Perez had he elected to come in.
"I would have lost position to Checo," said Sainz of the decision not to stop, as reported by pitpass.com. "You want to keep track position, especially if you are on the podium. You want to keep that position.
"Our alternative was I use softs or new hards, which for me, both of them were not good enough for 10-12 laps to go.
"So we were better off staying out on used hards, which I think was the right call because in the end we managed to keep him behind."
Binotto agreed and said they had decided to stay out as they believed that was their best chance to attack Verstappen.
"We believe that in terms of format, our used tyres would have been stronger to new ones," Binotto said.
"So we decided simply to stay out because we believe that was the best chance for us to have a good warm-up and try to attack in those first laps, which is what happened."