Ferrari leaving Imola 'disappointed and bitter'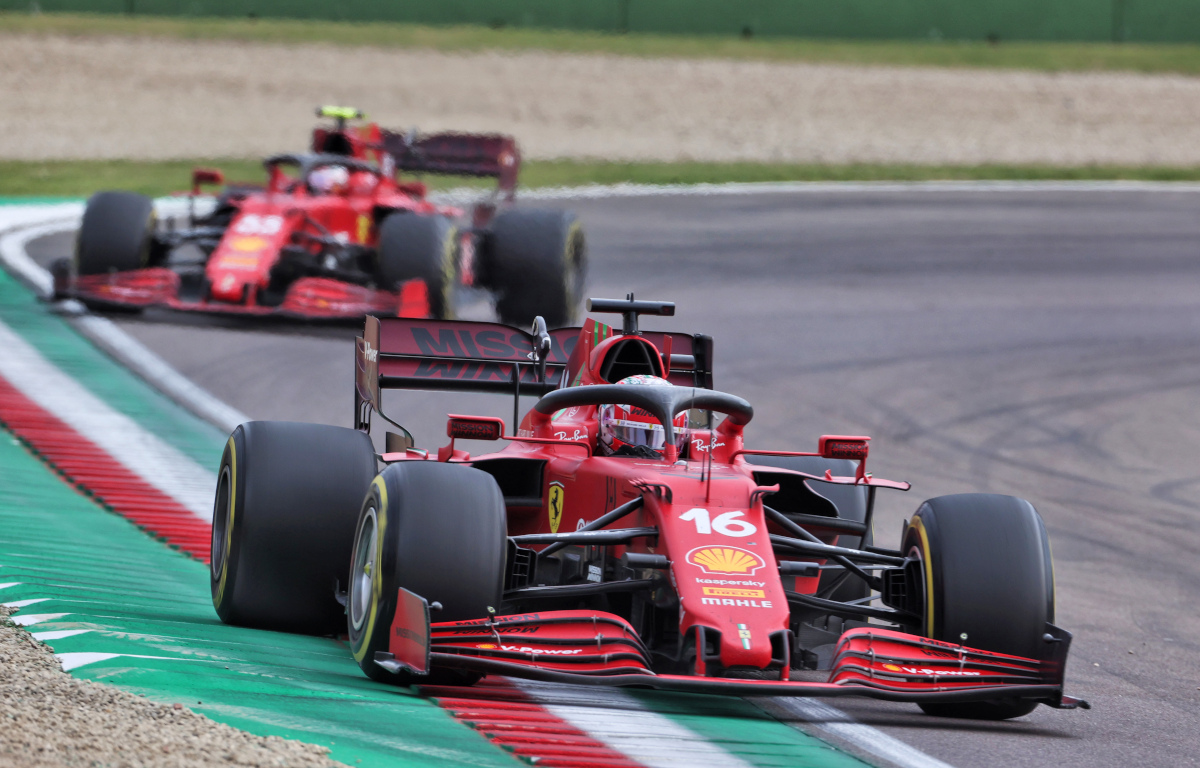 Leaving Imola disappointed despite a double points-haul is a "good thing" as it shows Ferrari's desire to win, says team boss Mattia Binotto.
Running third and fourth with 10 laps to go, Ferrari were dreaming of a potentially double podium only for Lewis Hamilton, who had fallen down the order after crashing, to pass first Carlos Sainz and then Charles Leclerc.
With Hamilton then taking Lando Norris, Leclerc could have still made it onto the podium, he just needed to beat the McLaren driver.
That didn't happen with the Monégasque unable to close the final few metres despite being within DRS range for several laps.
Leclerc crossed the line in fourth place, two seconds off the podium, with Sainz P5.
"The whole team is a bit disappointed and that's a good thing I think," Binotto told Sky Italy, "because without the red flag, we are sure that our potential could have led us also to a better result.
"And so seeing a disappointed and a bitter team is a positive sign, because the mentality is to win. This is a good sign."
The red flag, out for George Russell and Valtteri Bottas' high-speed crash, was a huge assist for Hamilton as it allowed the Brit to unlap himself and fight his way from ninth to second.
Close to the podium but just lost out with the red flag. We'll get 'em next time. pic.twitter.com/41kwmpexcw

— Charles Leclerc (@Charles_Leclerc) April 18, 2021
Kit yourself out in Ferrari colours via the official Formula 1 store
Binotto, though, was overall happy with Ferrari's performance as the team secured its second double points-haul in two races.
"We're happy for the performance," he said. "As we always said it's a starting point, but if we look at last year where we were one second from the pole position, we did a good qualifying, in different conditions compared to the ones in Bahrain.
"We went well in the wet, and in the dry as well, all things considered.
"So we're happy, we still have some flaws, but we know where to work to improve that. The goal is always to improve."
As for Leclerc's complaints about Ferrari's straight-line speed, Binotto explained that the Scuderia opted for "more rear wing, this did not help, we know that we lack something on the straights. That being said, we'll try to improve."
Speaking about Leclerc's race, with the Monégasque driver up in second place after the red flag, Binotto revealed that Leclerc had an issue with his radio.
Leclerc was heard complaining about a buzzing sound prior to leaving the pits, the issue resulting in Ferrari not being able to communicate with their driver.
"Also after the restart," he said, "when Charles was behind Verstappen, he did not have the radio. So he was speaking with us, but we didn't manage to speak with him.
"And Charles in that situation was distracted from the radio, he knew he couldn't communicate with us, he didn't even know it was a rolling start, he thought the race restarted from the grid.
"Then he noticed that when they were going. But for a driver these are all conditions that make things even more complicated in an already difficult moment."
About the long break before deciding how to restart the race: "I don't know. I think the times have been technical, then I don't know."
As for Sainz, Binotto says he was "really good" despite a few spins along the way.
"I think that Carlos is learning more and more, he's settling in," he added.
"Today in the wet, in difficult conditions, he went really fast. So really good, I'm happy, the qualifying yesterday has been an exception. So I expect a really strong Carlos also in the next races."
Additional reporting from Luca Brambilla
Follow us on Twitter @Planet_F1 and like our Facebook page.