Ferrari drivers pay tribute to departing Mattia Binotto after he resigns as team boss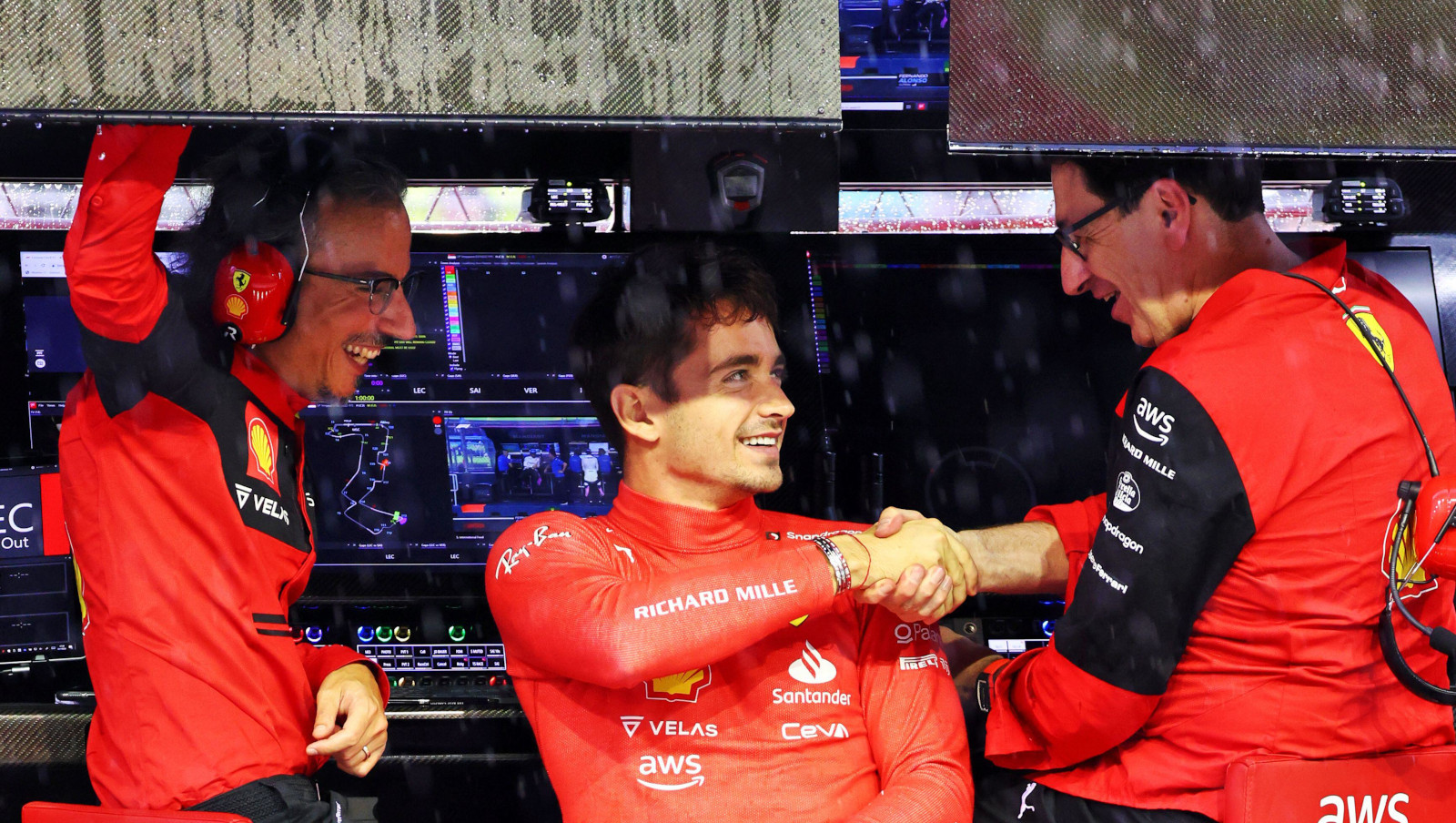 As news of Mattia Binotto's resignation made headlines, Charles Leclerc thanked the Italian for their "intense" but "challenging" four years together.
Ferrari announced on Tuesday that, after 28 years together and four as the team principal at Ferrari, Binotto would leave the team at the end of the season after handing in his resignation.
"I am leaving a company that I love, which I have been part of for 28 years, with the serenity that comes from the conviction that I have made every effort to achieve the objectives set," said the Italian.
"I leave a united and growing team. A strong team, ready, I'm sure, to achieve the highest goals, to which I wish all the best for the future."
Binotto's tenure ends after four years without a World title and although this season Ferrari won races, something they didn't manage in 2020 nor 2021, it wasn't enough for the higher-ups or the Tifosi.
The Scuderia went from leading both championships after the Australian Grand Prix to a barrage of reliability and strategy mistakes that ultimately saw the title challenge fizzle out even before the summer break.
They still finished P2 in both standings, but that was never the goal for Ferrari with Binotto paying the price for their blunders.
Leclerc, runner-up in the Drivers' Championship for the first time in his career, has paid tribute to the 53-year-old.
"Thank you for everything, Mattia," he wrote on Instagram.
"We have spent four very intense years together, of great satisfaction and also, inevitably, of moments that have challenged us.
"My esteem and respect for you have never waned, and we have always worked with full dedication to achieve the same goals.
"Good luck with everything."
Carlos Sainz also paid tribute to the team boss who brought him over to Ferrari.
"Grazie Mattia," he said. "It's been a pleasure to work alongside you to push the team and ourselves forward through thick and thin.
"Thanks for the great memories and moments we shared in and out of a racing track and all the best in your future endeavours!"
Binotto will remain in charge of the Formula 1 team until 31 December, Ferrari already working on securing his replacement.
Ferrari test driver Antonio Giovinazzi also offered his supportive words, calling the team boss one of the "really important" people in his life.
"There aren't many really important people in everyone's life," said the Italian. "We are not always aware of it and know how to seize the right moments to say thank you to them.
"Mattia you have always been a reference, you will be and I will always be grateful to you."
Binotto paid the price for a season of what ifs
2022 will go down not as the year Ferrari returned to winning ways but as the season they threw away the chance of fighting for the championship, some would even say the titles themselves.
Charles Leclerc was 46 points up on Max Verstappen after Australia, Ferrari leading Red Bull by 49 points, but just three races later that advantage had been overturned and Ferrari were chasing.
With five retirements, four of which were car related, in the opening eight races it quickly became clear that both Leclerc and Sainz would be taking engine penalties before too long, the drivers also not helped by poor strategy calls.
Between DNFs, engine penalties, botched strategies and, let's be fair, several driver errors too, Ferrari's chances of winning the titles were shot even before the summer break.
What wasn't expected, as far as Binotto was concerned, was that they wouldn't even add a single win to their tally of four in the back half of the season.
Their on-track troubles were compounded by a lack of money in the budget cap to continue upgrading the F1-75, a decision to turn their unreliable PU down, and a wrong step with the floor when TD39 came into effect.
In a season that began so brightly for Ferrari, it was the age old story of what could go wrong did go wrong.
Perhaps it was also a case of not remembering how to win or how to fight for World titles, but whatever the reason Binotto has paid the price.
Read more: Sebastian Vettel reveals the 'biggest natural talent' he ever raced against